game of thrones – Strawberry Goma Mousse Cake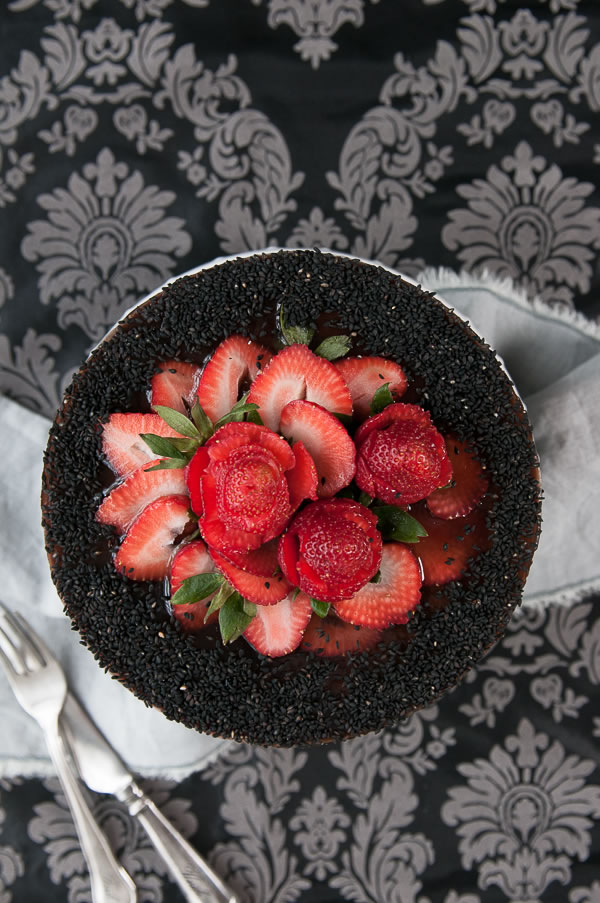 Spring and winter have been at war, struggling for the climatic throne. Spring marched in with an escape from the winter months, but winter rebuffed the advance with snow on the equinox.
This unpredictable weather patterns affected my inspiration for baking. Though I posted spring-like desserts such as Mango Mousse Tart and my Easter theme Pineapple Coconut Carrot Cake, I was still yearning for desserts of the cooler months.
I'm not talking about pumpkins and apples, though I'm happy to eat them any time of the year. Maybe, it was more of a palette issue—a desire for desserts that are not all pastels. The solution came via the New York wardrobe rule: when in doubt, wear black.
First, the light and airy strawberry mousse represents spring while contrasting with the moist black sesame cake that reflects the winter realm. Second, a thin layer of black sesame glee tangles with fresh strawberries. Together, the two flavors form a peculiar harmony in the effort to reign.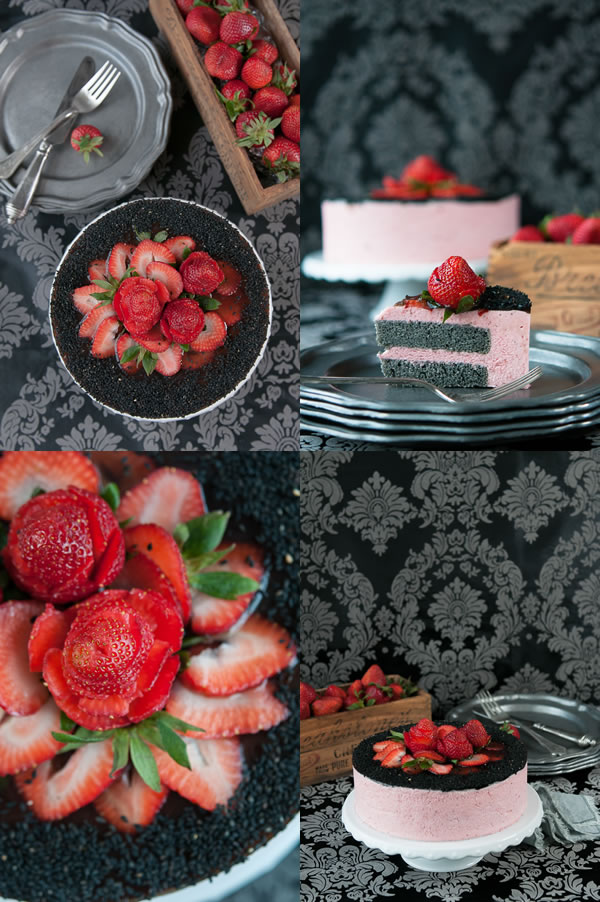 Strawberry Goma Mousse Cake
Ingredients:
Black Sesame Cake
2/3 cup (2-3/4 ounces) cake flour
1/2 cup (3-1/2 ounces) granulated sugar
3/4 teaspoon baking powder
1/8 teaspoon fine sea salt
1/4 cup coconut oil
2 tablespoons black sesame paste
1 large egg, room temperature
3 large egg whites, room temperature
2 tablespoons water
1 teaspoon pure vanilla extract
1/4 teaspoon cream of tartar
Strawberry Mousse
2 cups strawberry pureé
1 cup (4 ounces) confectioners' sugar
6-1/2 silver gelatin sheets or 3 tablespoons + 2 teaspoons powdered gelatin
2 cups heavy cream
Assembly
Black Sesame cake layers
Strawberry Mousse
Black Sesame Geleé (recipe to follow)
1 quart fresh strawberries, washed (optional)
2 tablespoons Black sesame seed, toasted (optional)
Black Sesame Geleé
2 tablespoons black sesame seeds, toasted
1 cup water
2 tablespoons granulated sugar
1-1/4 teaspoons powdered gelatin
Directions:
Black Sesame Cake
1. Adjust oven rack to middle position and heat oven to 350℉. Lightly grease two 6-inch round cake pan, line with parchment paper, and lightly grease parchment. Whisk flour, sugar, baking powder, and salt together in medium bowl. Whisk oil, sesame paste, whole egg, water, and vanilla into flour mixture until batter is smooth.
2. In the bowl of a stand mixer fitted with whisk attachment, whip egg whites and cream of tartar on medium-low speed until foamy, about 1 minute. Increase speed to medium-high and whip until soft peaks form, 2-3 minutes. Transfer one-third of egg whites to batter; whisk gently until mixture is lightened. Using rubber spatula, gently fold remaining egg whites into batter.
3. Divide batter evenly into prepared cake pans and smooth top with small offset spatula. Bake until cakes spring back when pressed lightly in center and surface is no longer sticky, 12-15 minutes. (Cakes should not brown).
4. Let cakes cool in pans on wire rack for 5 minutes. Invert cakes onto wire rack. Carefully remove parchment, then reinvert onto second wire rack. Let cool completely.
Strawberry Mousse
1. Soak gelatin sheets in ice water until softened, about 10 minutes. Squeeze gently to remove excess water and set aside.
2. Combine strawberry purée and sugar in a medium saucepan, whisk to combine and bring it to a simmer. Add gelatin and whisk to fully combine. Pour strawberry mixture into a large bowl, set aside to cool for 30 minutes.
3. In the bowl of a stand mixer fitted with a whisk attachment, whisk heavy cream to soft peak on medium-high speed. Fold some whipped cream to the mango mixture to lighten. Fold in remaining whipped cream until no remaining white streaks of whipped cream are visible.
Assembly
1. Make a parchment or acetate collar and place it around the inside of a 8-inch round and 3-inch tall ring mold. (If mold is not tall enough, you can double the 3-inch tall collar to make it sturdy. You may also use a 8-inch springform pan.) Wrap bottom of ring mold with plastic wrap and make sure it's securely adhere to the side. Place mold on baking sheet.
2.  Place one cake layer in the center of the ring mold and spoon just enough mousse to fill the side and top of cake (about 3/4-inch above top of cake). Place mold in freezer and chill for 30 minutes until sturdy. Remove from refrigerate and place second cake layer in the center, pour in remaining mousse. Refrigerate until set, about 45 minutes. While cake is refrigerating, make geleé.
Black Sesame Geleé
1. Combine toasted sesame seeds water and sugar in a small saucepan stir to combine and bring it to a boil. Remove from heat and let steep for 20 minutes and cool to room temperature.
2. Arrange strawberries (if use) in a decorative pattern and slowly pour the geleé on top of the mousse that's not covered with strawberries. Refrigerate until set, about 30 minutes. Sprinkle toasted black sesame on top of geleé (if use). Place cake on cake stand or serving platter, remove collar, serve.