Easter Bonnet – Pineapple Coconut Carrot Cake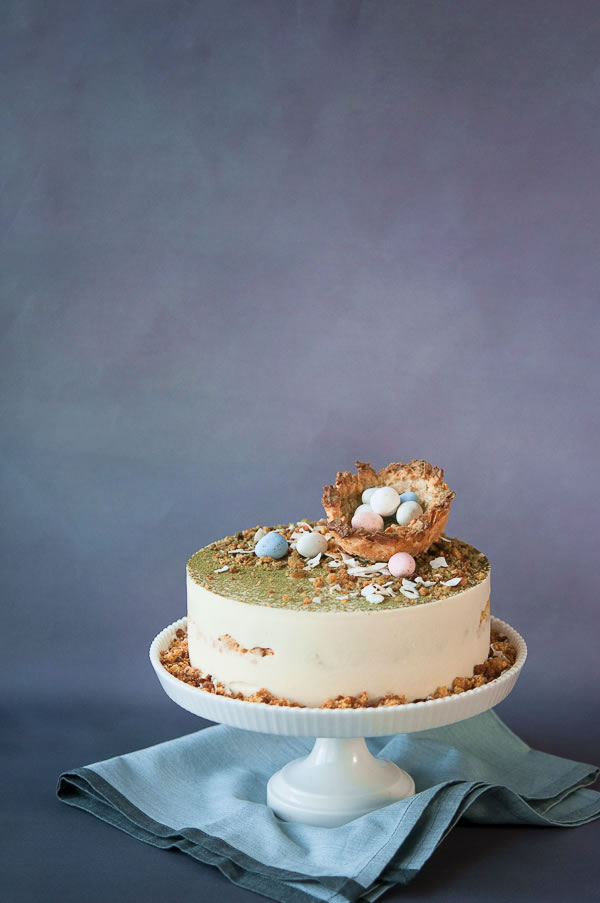 Easter decorates spring with a fling for all things pastel and seersucker.
The other traditions are newer to me. Growing up in Hong Kong, I don't recall anything about Easter egg hunts, DIY painted eggs, or the slightest mention of the Easter bunny.
New Yorkers attend the annual Easter parade, where women showcase their elaborate bonnets, men don their dramatic headgear, and everyone is in their serious or whimsical Sunday best. I put my energy into an Easter cake, instead.
For a Hungry Rabbit, carrot cake seems the natural choice. I also want to incorporate a spring break/vacation vibe with the pineapple and coconut. To lighten the classic cream cheese frosting, this topping concoction is a cross between frosting and a mousse.
With the cake as a foundation, the next step is to add a little Easter wonderland with a bird's nest and eggs. Well, you could wear the cake at the parade—where it wouldn't be the most outlandish bonnet—but wouldn't you rather just enjoy a slice?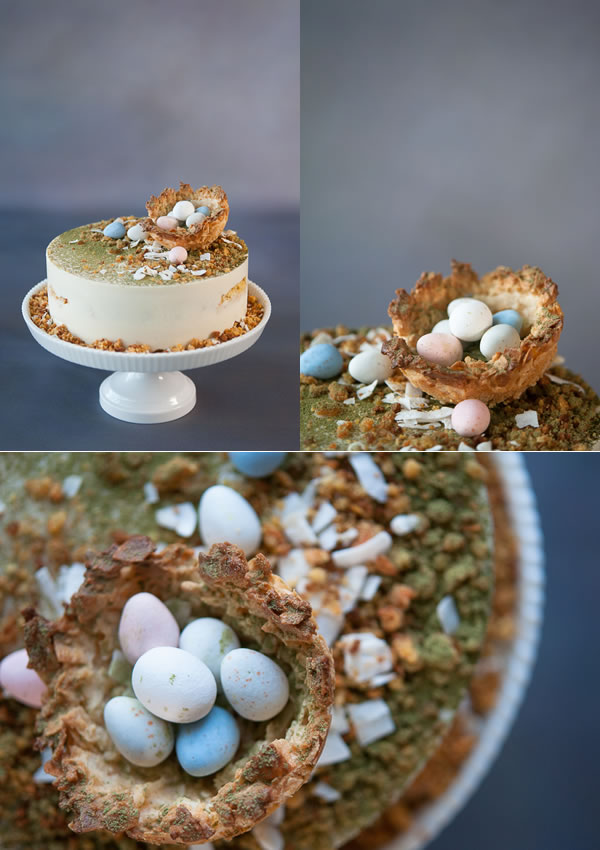 Pineapple Coconut Carrot Cake
Ingredients:
Pineapple Pudding
1 pound frozen pineapple chunks, thawed
1/2 cup frozen pineapple juice concentrate, thawed
6 tablespoons cornstarch
Carrot Cake
1-1/4 (6-1/4 ounces) unbleached all-purpose flour
1-1/2 teaspoon baking powder
1-1/2 teaspoon pumpkin pie spice
1/2 teaspoon ground ginger
1/4 teaspoon fine sea salt
6 ounces carrots, peeled and cut into 1-inch chunks
1/2 cup (1-3/4 ounces) sweetened shredded coconut
1/2 cup (2-1/2 ounces) granulated sugar
1/4 cup (1-3/4 ounces) packed light brown sugar
2 large eggs, room temperature
3/4 cup coconut oil
Pineapple Coconut Mousse
1/2 cup frozen pineapple juice concentrate, thawed
1/2 cup canned coconut milk
1/2 cup (2 ounces) confectioners' sugar
3-1/4 silver gelatin sheets or 5-1/2 teaspoons powdered gelatin
1/2 cup pineapple pudding
4 ounces cream cheese, room temperature
1 cups chilled Trader Joe's coconut cream or coconut milk (do not shake, use solid off the top)
Assembly
Carrot cake layers, trim top of layer to level, reserve cake trimmings.
Pineapple Coconut Mousse
Reserved cake crumbs, crumble and toasted
Macaroon nest, basic macaroon recipe and shape it in a muffin tin or mold (optional)
Chocolate easter eggs (optional)
Matcha powder (optional)
Coconut flakes (optional)
Directions:
Pineapple Pudding
1. Process pineapple chunks and concentrate in food processor until smooth. Transfer to medium saucepan and whisk in cornstarch until smooth. Bring to simmer over medium heat and cook, stirring constantly, until thickened, about 2 minutes. Transfer to bowl and refrigerate until cold, at least 1 hour.
Carrot Cake
1. Adjust oven rack to middle position and heat oven to 350℉. Spray two 6-inch cake pans with cooking spray. Line pans with parchment and spray parchment with cooking spray. Whisk flour, baking powder, pumpkin pie spice, ginger, and salt in large bowl, set aside.
2. Process carrots in food processor until finely ground. Transfer to large bowl and wipe processor bowl dry. Process coconut with granulated sugar until coconut is finely chopped. Add brown sugar and eggs and blend until mixture is smooth, about 1 minute. With machine running, slowly pour in oil and process until combined.
4. Transfer mixture to bowl with carrots. Add flour mixture and 6 tablespoons pudding mixture and stir until no streaks of flour remain. Pour into prepared pans and bake until toothpick inserted into center of cake comes out clean, 25-30 minutes, rotating pans halfway through baking time. Cool cakes in pans 10 minutes, then turn out onto rack, peel off parchment, and let cool completely, about 2 hours.
Pineapple Coconut Mousse Frosting
1. Soak gelatin sheets in ice water until softened, about 10 minutes. Squeeze gently to remove excess water and set aside.
2. Combine pineapple concentrate, coconut milk and sugar in a medium saucepan, whisk to combine and bring it to a simmer. Add gelatin and whisk to fully combine. Pour mixture mixture into a large bowl, set aside to cool for 30 minutes. Whisk in pineapple pudding, set aside.
3. In the bowl of a stand mixer fitted with a whisk attachment, whisk cream cheese on medium speed until light and fluffy, about 2 minutes. Add coconut cream (solids), increase speed to medium-high and whisk until soft peak, about 1-2 minutes. Fold some whipped coconut cream to the pineapple mixture to lighten. Fold in remaining whipped coconut cream until no remaining white streaks of whipped cream are visible.
Assembly
1. Make a parchment or acetate collar and place it around the inside of a 8-inch round and 3-inch tall ring mold. (If mold is not tall enough, you can double the 3-inch tall collar to make it sturdy. You may also use a 8-inch springform pan.) Wrap bottom of ring mold with plastic wrap and make sure it's securely adhere to the side. Place mold on baking sheet.
2.  Place one cake layer in the center of the ring mold and spoon just enough mousse to fill the side and top of cake (about 3/4-inch above top of cake). Place mold in freezer and chill for 30 minutes until sturdy. Remove from refrigerate and place second cake layer in the center, pour in remaining mousse to level with edge of collar/ring mold. (You will have some extra mousse). Refrigerate until set, about 45 minutes.
3. Place cake on cake stand or serving platter, release cake from ring mold and peel off acetate or parchment collar. (Run a paring knife around the edge will help release the mold.)
4. Decorate top of cake by dusting matcha powder and sprinkle toasted cake crumbs and coconut flakes. Place nest on top and add chocolate eggs. Serve.
Carrot Cake recipe adapted from Cook's Illustrated