luck be a … mango mousse tart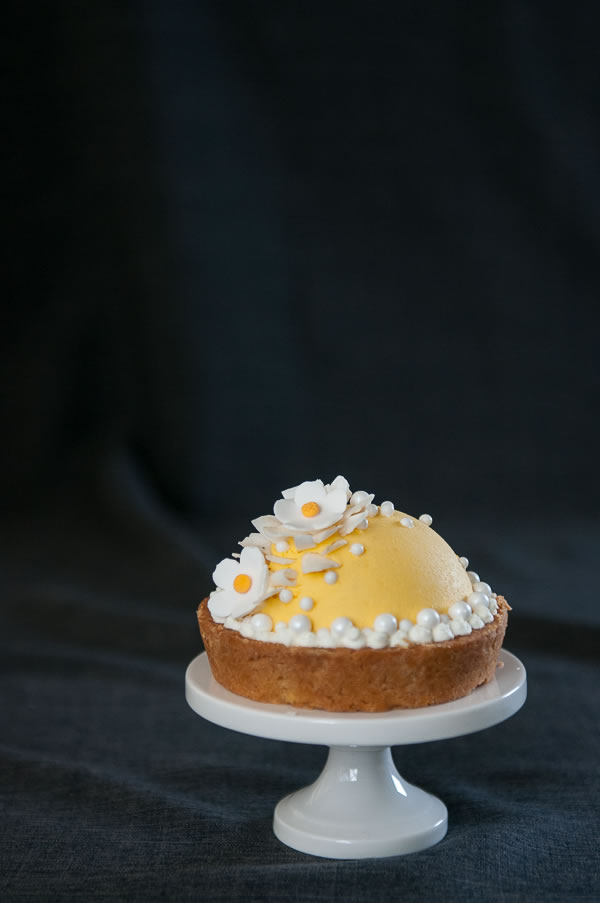 Do you believe in luck? Most of us have felt it some times in our life yet it's an unexplainable force. What is luck? Is it some kind of nature's law or is there a fairy godmother who bestows luck on certain individuals?
I regard luck as an energy booster in a particular time and space, much like nice weather—it uplifts our mood.
One day last week, though, was one of those rollercoaster moments. I tried not to give into the negative energy and shift gear to a different pace to clear my thoughts; step back, slow down to breath, and find some peace.  I envisioned a meadow of spring flowers with a light breeze and a warm sun.
In that tranquility, an image of a Mango Mousse Tart came to me. My luck was being able to make it.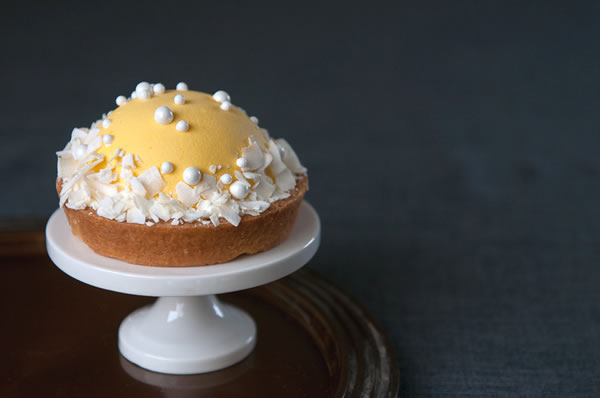 Mango Mousse Tart
Ingredients:
Pâte Sucrée
1 large egg yolk
1 tablespoon heavy cream
1/2 teaspoon pure vanilla extract
1-1/4 cups (6-1/4 ounces) unbleached all-purpose flour, extra for dusting
2/3 cup (2-5/8 ounces) confectioners' sugar
1/4 teaspoon fine sea salt
8 tablespoons (4ounces/1 stick) unsalted butter, very cold  cut into 3/4-inch cubes
Mango Mousse
2 cups mango purée
1 cup (4 ounces) confectioners' sugar
6-1/2 silver gelatin sheets or 3 tablespoons + 2 teaspoons powdered gelatin
2 cups heavy cream
Coconut Whipped Cream
1/2 cup chilled Trader Joe's coconut cream or coconut milk (do not shake, use solid off the top)
2 tablespoons confectioners' sugar
1/4 teaspoon coconut extract
Assembly
Mango Mousse Tarts
Mango Mousse domes
Coconut Whipped Cream
Toasted Coconut flakes (optional)
Sugar flowers and pearls (optional)
Directions:
Pâte Sucrée
1. Whisk together yolk, cream, and vanilla in small bowl; set aside. In bowl of food processor, fitted with steel blade, pulse flour, sugar, and salt to combine. Scatter butter pieces over flour mixture; pulse to cut butter into flour until mixture resembles coarse meal, about fifteen 1-second pulses. With machine running, add egg mixture and process until dough just barely comes together, about 25 seconds. Divide dough into six equal portions and press each portion into a small disk. Wrap in plastic and refrigerate at least 2 hours.
2. Unwrap dough, lightly flour surface roll out dough and line six 4-inch tart pans. Freeze dough 30 minutes.
3. Adjust oven rack to lower-middle position; heat oven to 375℉. Place chilled tart shell on baking sheet; press a 6-inch square of foil inside each tart shell and fill with pie weights. Bake for 20 minutes, rotating halfway through baking time. Carefully remove foil and weights by gathering edges of foil and pulling up and out; continue to bake until shells are golden brown, about 5 minutes longer. Remove from heat and cool on cooling rack completely.
Mango Mousse
1. Soak gelatin sheets in ice water until softened, about 10 minutes. Squeeze gently to remove excess water and set aside.
2. Combine mango purée and sugar in a medium saucepan, whisk to combine and bring it to a simmer. Add gelatin and whisk to fully combine. Pour mango mixture into a large bowl, set aside to cool for 30 minutes.
3. In the bowl of a stand mixer fitted with a whisk attachment, whisk heavy cream to soft peak on medium-high speed. Fold some whipped cream to the mango mixture to lighten. Fold in remaining whipped cream until no remaining white streaks of whipped cream are visible. Pour some mango mixture into prepared tart shells to almost level with edge. Spoon remaining mango mixture into cavities of 3-inch dome silicon mold. Refrigerate filled tart shells and freeze silicon molds to set, at least one hour.
Coconut Whipped Cream
1. Combine coconut cream and sugar in a medium bowl and whisk to stiff peak. Place whipped cream into pipping bag fitted with tip of your choice.
Assembly
1. Release mango mousse domes for silicon mold and place on top of prepared tarts. Pipe coconut whipped cream along the edges or however you like. Decorate with flowers and pearls (if use).