Spoon-fed – Dulce de Leche Chocolate Cake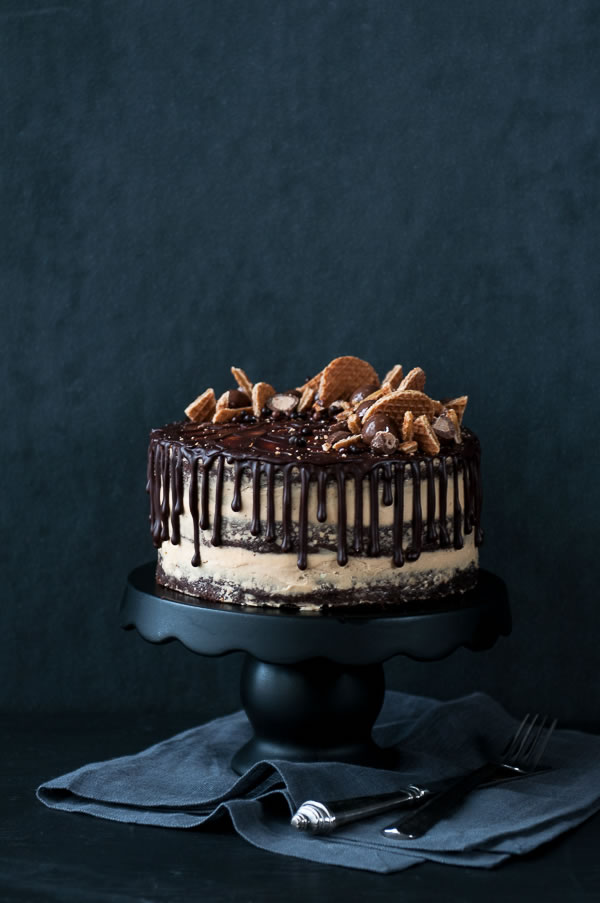 Ever since I got back from my retreat in Chile, there's been one ingredient that I've kept thinking about—Dulce de Leche. It's a prominent dessert/snack ingredient in Chile. They use it, and they use it well.
Finally, after two months back in NYC, I decided to make something with it before I just spoon-feed myself an entire can of this caramelized milk delight. Dulce de Leche was once an ingredient that was only available in ethnic food stores, but thanks to the food blogging world for increasing its popularity, it's now readily available in most grocery stores and supermarkets.
As if chocolate and dulce de leche weren't enough to make this cake a decadent treat, I dulced some more with Stroopwafels and malted milk balls, which adds a candy-like and playful quality to the cake. This cake will certainly gives you the satisfaction of spoon-feeding an entire can of dulce de leche.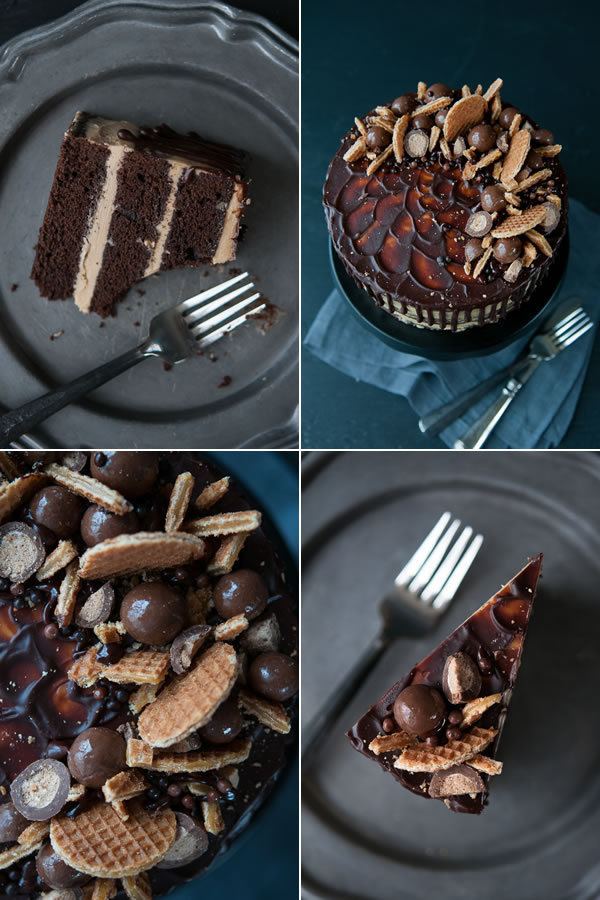 Dulce de Leche Chocolate Cake
Ingredients:
Chocolate Cake
4 ounces semisweet or bittersweet chocolate, chopped fine
1/4 Dutch-processed cocoa, sifted
1/2 teaspoon instant espresso powder
1/2 cup boiling water
2 cups unbleached all-purpose flour (10 ounces), plus additional for dusting cake pans
3/4 teaspoon baking soda
12 tablespoons (6 ounces) unsalted butter, softened
1 cup granulated sugar (7 ounces)
2/3 cup packed light brown sugar (about 4-3/4 ounces)
1/2 teaspoon fine sea salt
4 large eggs, room temperature
1 teaspoon vanilla extract
3/4 cup sour cream, room temperature
Dulce de Leche Frosting
4 large egg whites, room temperature
1 cup (8 ounces) packed light brown sugar
1/4 teaspoon fine sea salt
24 tablespoons (12 ounces/3 sticks) unsalted butter,  cut into 24 pieces, softened
1/2 cup dulce de leche
1 teaspoon pure vanilla extract
Chocolate Ganache and Assembly
1/4 cup heavy cream
1 tablespoon corn syrup
2 ounces semi-sweet or bitter sweet chocolate, finely chopped
1/8 teaspoon pure vanilla extract
Chocolate Cake layers
Dulce de Leche Frosting
Caramel Cookies (optional)
Malt Milk Balls (optional)
Directions:
Chocolate Cake
1. Adjust oven rack to lower-middle position; heat oven to 350℉. Combine chocolate, cocoa and espresso powder in small bowl; pour boiling water over and let stand to melt chocolate, about 30 seconds. Whisk until smooth; set aside until cooled to room temperature.
2. Spray three 8-inch-round cake pans with nonstick cooking spray; line bottoms with parchment rounds. Spray paper rounds, dust pans with flour, and knock out excess. Combine flour and baking soda in a small bowl, set aside.
3. In bowl of standing mixer fitted with paddle attachment, beat butter, sugars, and salt at medium-low speed until sugar is moistened, about 30 seconds. Increase speed to medium-high and beat until mixture is light and fluffy, about 3-4 minutes, scraping down bowl with rubber spatula as needed.
4. Reduce speed to medium, add eggs one at a time, beating well after each addition, scrape down bowl as needed. Reduce speed to low, add vanilla and room temperature chocolate mixture, then increase speed back to medium and beat until combined, about 30 seconds.
5. With mixer running at low speed, add dry ingredients in 3 additions, alternating with sour cream (in 2 additions), beginning and ending with dry ingredients, and beating in each addition until barely combined. Stir by hand with rubber spatula to finish mixing batter, scraping bottom and sides of bowl, to ensure that batter is homogenous (batter will be thick). Divide batter evenly between prepared cake pans; spread batter to edges of pans with rubber spatula and smooth surfaces.
6. Bake cakes until toothpick inserted into center of cakes comes out clean, about 25-30 minutes. Cool in pans for 15 minutes, then invert cakes onto greased wire rack; peel off and discard paper rounds. Cool cakes to room temperature, about 1 hour.
Dulce de Leche Frosting
1. Combine whites, sugar, and salt in bowl of standing mixer; set bowl over saucepan containing 1-1/2-inches of barely simmering water. Whisk constantly until mixture is opaque and warm to the touch and registers about 120℉ on an instant-read thermometer, about 2 minutes.
2. Transfer bowl to mixer and beat whites on high speed with whisk attachment until barely warm. whites are glossy and sticky, about 7 minutes. Reduce speed to medium-high and beat in butter 1 piece at a time. Beat in dulce de leche and vanilla extract. Stop mixer and scrape bottom and sides of bowl. Continue to beat at medium-high speed until well-combined, about 1 minute.
Chocolate Ganache and Assembly
1. Bring cream and corn syrup to a full simmer over medium heat in a small saucepan (alternatively, heat in microwave). Off heat, add chocolate; cover and let stand for 8 minutes. (If chocolate has not completely melted, return saucepan to low heat; stir constantly until melted.) Add vanilla; stir very gently until mixture is smooth. Cool slightly.
2. Trim top of each cake layer to level, place one cake layer on a cake stand or serving platter, Spread about 1 cup frosting over cake layer and top with another layer. Repeat with 1 cup frosting and cake layers. Spread remaining frosting evenly over top and sides of cake. Spread Chocolate Ganache on top of cake and allow chocolate to drip down the side. Decorate with cookies and malt balls (if use), pressing lightly to adhere. Serve. (Cake can be refrigerated for up to 2 days.)