Indian Accent – Walnut Chai Cake w Mocha Frosting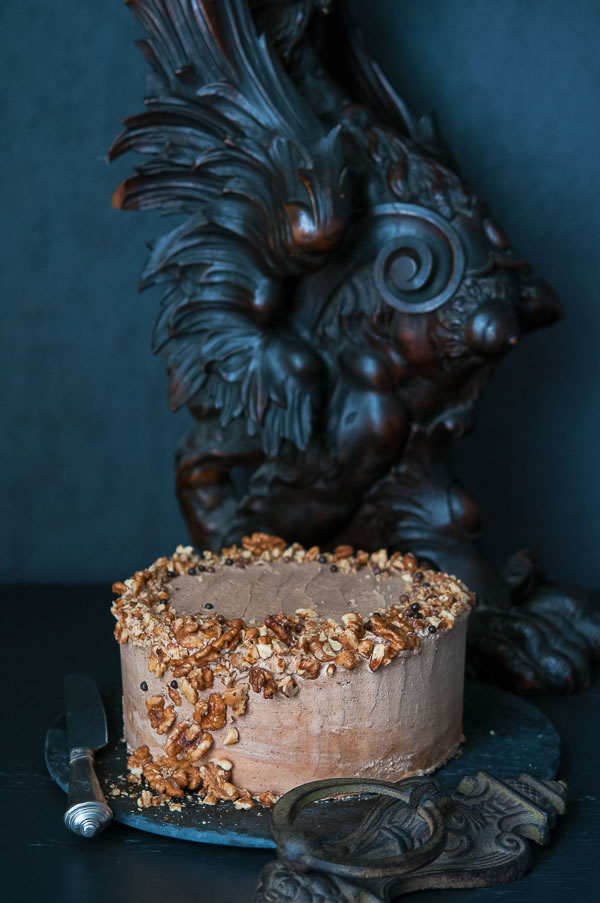 During our travels in India, one thing was clear—the teas were far superior to the coffee. Granted we only had coffee at hotels and didn't search out for that perfect cup, but I still recommend that you enjoy a pot of tea when you experience the glorious culture of India.
It's been two months since we're back, and I miss that aroma of masala chai. While planning on getting some chai, I thought, why not combine the earthy spices of chai and coffee to get the best of both? After all, people order coffee with cinnamon all the time. Wouldn't chai and coffee be a better combination?
With that combo churning in my head, I couldn't resist turning it into a dessert. Walnut and chai spices set the tone in the cake layers, while mocha frosting adds a tantalizing touch. The additional combination of chocolate and coffee makes this cake that much more enjoyable. With each bite, it reminded me of sipping coffee every morning in India while the aroma of chai perfumed the air.
Now that I have tried chai and coffee, maybe mocha walnut cake with chai frosting isn't that far away . . .
Walnut Chai Cake w Mocha Frosting
Ingredients:
Walnut Chai Cake
2-3/4 cups walnuts, toasted
1 cup, plus 2 tablespoons (5-5/8 ounces) unbleached all-purpose flour
4 tablespoons chai (about 4 tea bags)
1 teaspoon fine sea salt
3/8 teaspoon baking powder
1/4 teaspoon baking soda
6 large eggs, room temperature
2 cups (14 ounces) granulated sugar
1 teaspoon pure vanilla extract
1 teaspoon Nocello (walnut liqueur, optional)
8 tablespoons (4 ounces/1 stick) unsalted butter, melted
1/2 cup coconut oil, in liquid form
Mocha Frosting
24 tablespoons  (12 ounces/3 sticks) unsalted butter, cut into pieces and softened
3 tablespoons heavy cream
1 teaspoon pure vanilla vanilla extract
1/2 teaspoon Nocello (walnut liqueur, optional)
1/4 teaspoon fine sea salt
3 cups (12 ounces) confectioners' sugar
3 tablespoons cocoa
1 tablespoons instant espresso
Assembly
Walnut Cake layers
Mocha Frosting
Candied walnuts (optional but recommended)
Directions:
Walnut Cake
1. Adjust oven rack to middle position and heat oven to 300℉. Grease two 8-inch round cake pan and line with parchment paper. Pulse walnuts, flour, chai salt, baking powder, and baking soda in food processor until walnuts are finely ground, about 10 pulses. Transfer walnut mixture to bowl.
2. Process eggs, sugar, vanilla and Nocello (if use) in now-empty processor until very pale yellow, about 2 minutes. With processor running, add melted butter and coconut oil in steady stream, until incorporated. Add walnut mixture and pulse to combine, 4 to 5 pulses. Divide batter evenly into prepared pans.
3. Bake until center of cake is set and bounces back when gently pressed and toothpick inserted in center comes out clean, 50-60 minutes, rotating pan after 35 minutes. Let cake cool in pan on wire rack for 15 minutes. Run paring knife around sides of pan. Invert cake onto greased wire rack, discard parchment, and reinvert cake onto second wire rack. Let cake cool, about 2 hours.
Mocha Frosting
1. In an stand mixer fitted with whisk attachment, beat butter, cream, vanilla, Nocello (if use) and salt on medium-high speed until combined.
2. Reduce mixer speed to medium-low. With motor running, slowly add confectioners' sugar, cocoa, and instant espresso and mix until smooth, 1-2 minutes. Increase speed to medium-high and beat frosting until light and fluffy, about 5 minutes.
Assembly
1. Cut each cake in half horizontally. Place one cake layer on a cake stand or serving platter, Spread about 1 cup of frosting over cake layer and top with another layer. Repeat with 1 cup frosting and cake layers. Spread remaining frosting evenly over top and sides of cake. Decorate with candied walnuts (if use), pressing lightly to adhere.