Special Healing – Citrus Ginger Kugelhopf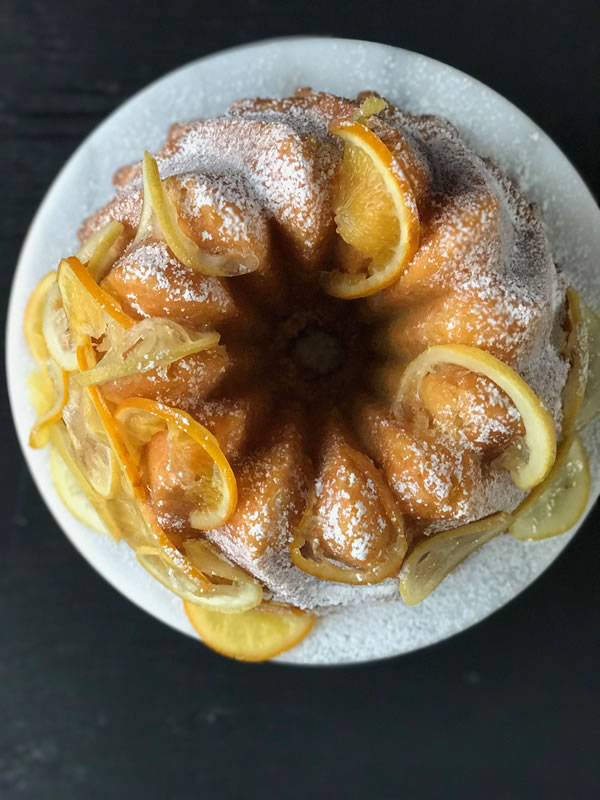 With the darkening US political landscape, we all need something to cheer us up—even if it's for a few moments in our daily lives. I can't think of anything sunnier than citrus.
It's also a great opportunity to break out my brand new Kugelhopf bundt pan, a holiday present I got myself. I believe bundt cake has special healing powers, sending calming signals to the brain, encouraging culinary meditation, and bringing calmer breathing.
Besides using citrus juice and zest, I dialed up the citrus factor with candied citrus slices. The slices not only serve as decoration but also add texture and an extra tangy dimension.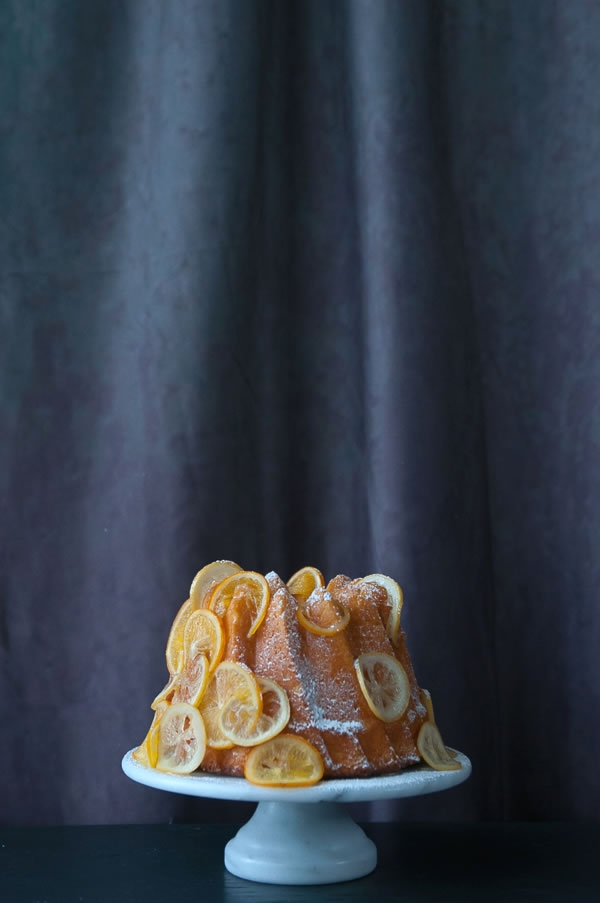 Citrus Ginger Kugelhopf
Ingredients:
Citrus Cake
2-3/4 cups (13-3/4 ounces) unbleached all-purpose flour
1 teaspoon ground ginger
1-1/ 2 teaspoons baking powder
1/ 4 teaspoon baking soda
1/ 4 teaspoon fine sea salt
1-3/ 4 cups (12-1/4 ounces) granulated sugar
2 teaspoons lemon zest
1 teaspoon orange zest
16 tablespoons (8 ounces/2 sticks) unsalted butter, softened
4 large eggs, room temperature
3 tablespoons fresh ginger, grated
2 tablespoons lemon juice
2 tablespoons orange juice
1 teaspoon vanilla extract
1 cup sour cream
Citrus Syrup
3 tablespoons unsalted butter
1/4 orange juice concentrate
1/8 teaspoon fine sea salt
1/4 cup limocello
Candied Citrus Slices (optional)
1 lemon
1 orange
2 cups water
1-1/2 cups (10-1/2 ounces) granulated sugar
Directions:
Citrus Cake
1. Adjust oven rack to lower-middle position; heat oven to 350℉. Butter and flour a 12-cup bundt cake pan; set aside.
2. Combine flour, ground ginger, baking powder, baking soda and salt in a medium bowl, set aside.
3. In the bowl of a stand mixer fitted w a paddle attachment, beat sugar and zest on medium-low speed until combined. Add butter, increase speed to medium-high and beat until light and fluffy, about 2-3 minutes. Reduce speed to low and add eggs slowly until well combined.
4. Add flour mixture in 3 additions, alternating with sour cream (in 2 additions), beginning and ending with dry ingredients, beat in each addition until barely combined. Finish by scraping bowl and batter with rubber spatula.
5. Pour cake batter into prepared pan and smooth top with small off-set spatula. Bake cake until skewer inserted into the center comes out clean, about 50-60 minutes. While cake is baking, make syrup.
6. Cool cake, in pans on cooling rack for 10 minutes. Using a skewer, poke several deep holes all over the top of cake. Slowly spoon syrup over the top, giving it time to soak in; allow the cake to cool completely, at least 2 hours.
7.Invert cake onto a cake stand or serving platter and garnish with candied lemon and orange slices (if use). Dust confectioners' sugar over top and serve.
Citrus Syrup
1. Combine butter, orange juice concentrate and salt in a small sauce pan and cook over medium heat until butter is melted. Remove from heat, stir in limoncello and set aside.
Candied Citrus Slices
1. Using a mandoline or sharp knife, cut lemon and orange into thin slices.
2. Bring water and sugar to a boil in a medium skillet, swirling to dissolve sugar. When liquid is clear and bubbling, reduce heat to medium-low. Add citrus slices, arranging them in one layer with tongs. Simmer until rinds are slightly translucent, about 30-40 minutes.
3. Transfer to a baking sheet lined with parchment. Let stand until ready to serve.