Ras Malai Interrupted – Cardamon Saffron Cake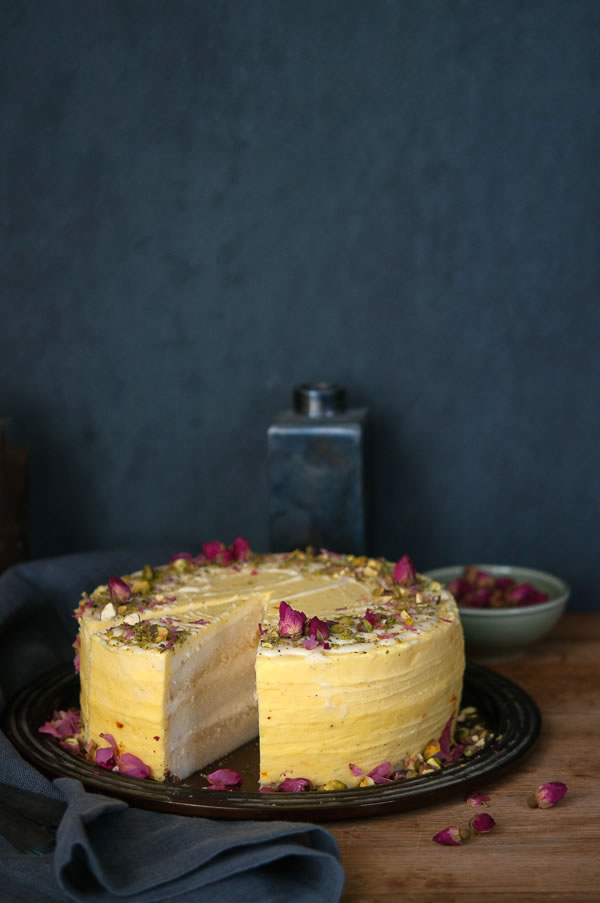 Happy New Year! I wish you all a joyful, prosperous and a deliciously sweet 2017. I've been away, traveling through Asia most of December and part of January. With that vacation comes rest and rejuvenation. It was much needed after the election,  and it was nice to get out of the country to see the world from a different point of view.
All my vacations are opportunities to experience the world through the culinary perspective, and this one was no exception. Our whirlwind tour of India gave us a small glimpse into the colorful culture of this spectacular country. Not only did we experience the splendor of northern India, the cuisine provided me with expansive inspiration for desserts. Indian desserts made properly are not sugary sweet like the ones we have in the US.
Throughout our visit, we came upon different versions of a dessert called Ras Malai. It's soft spongy chhena (a form of farmer's cheese, or as they translate it in India, cottage cheese) cooked in sweet milk syrup, scented with cardamom and saffron. We've tried it several times just to make sure it wasn't the fault of one restaurant, but alas, the texture of the chhena lost me as a fan.
As much as I was drawn to the perfume of cardamom and the earthy nature of saffron, the spongy cheese reminded me of squished Wonder bread that did nothing but as a vessel to soak up the flavors. Each time I took a bite, I reminded myself that I had to recreate the flavor profile with textures that are more pleasing to my palette and hopefully yours.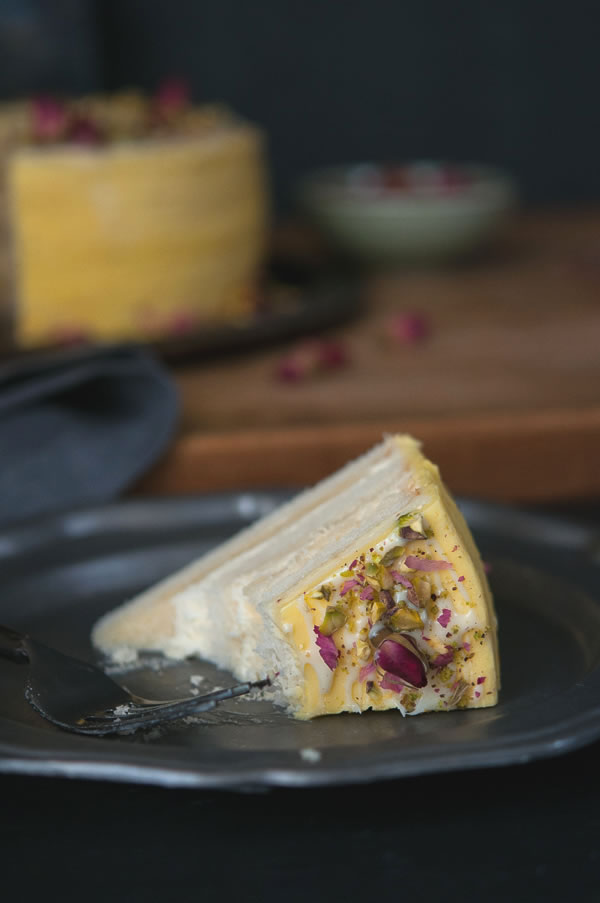 Ras Malai Cake
Ingredients:
Cheese Filling
1-1/2 (2 1/2 cups)  pounds whole-milk ricotta
1/2 cup heavy cream
3/4 cup confectioners' sugar
1 teaspoon rose water
White Cake
1 cup whole milk, at room temperature
6 large egg whites, at room temperature
1 teaspoon rose water
1 teaspoon vanilla extract
2-1/4 cups cake flour (9 ounces), plus more for dusting the pans
1-3/4 cups (12-1/4 ounces) granulated sugar
4 teaspoons baking powder
1 teaspoon fine sea salt
1/8 teaspoon ground cardamom
12 tablespoons (6 ounces/1-1/2 sticks) unsalted butter, softened but still cool
Milk Syrup
2 cups whole milk
6 cardamom pods, crushed or 1/4 teaspoon ground cardamom
6 tablespoons granulated sugar
2 teaspoons rose water
Saffron Frosting
1 teaspoon rose water
1/4 teaspoon pure vanilla extract
1/8 teaspoon (generous pinch) saffron threads
12 tablespoon (6 ounces/1-1/2 sticks) unsalted butter, softened
1 cup (4 ounces) confectioners' sugar
1/8 teaspoon ground cardamom
1/8 teaspoon fine sea salt
8 ounces cream cheese, cut into 8 pieces
Assembly
White cake layers
Milk syrup
Cheese Filling
Saffron Frosting
1/4 cup pistachios, toasted and chopped (optional)
Dried roses (optional)
Directions:
Cheese Filling
1. Drain the ricotta in a fine mesh sieve placed in a large bowl for 1-2 hours until very thick. If you've bought very thick, very freshly made ricotta from a specialty shop (not the standard supermarket brand), you can skip this step.
2.In the bowl of a stand mixer fitted with the whisk attachment, beat the ricotta, cream, confectioners' sugar and rose water until smooth, about 1 minutes. Increase speed to medium-high and beat for another minute. The mixture should thicken. Refrigerate until ready to use.
White Cake
1. Adjust oven rack in middle position, heat oven to 350℉. Spray three 8-inch round cake pans with nonstick cooking spray; line the bottoms with parchment. Spray the paper rounds, coat pans with flour and tap out excess flour.
2. Combine milk, egg whites, and extracts into 2-cup glass measure, and whisk with a fork to combine.
3. In the bowl of a stand mixer fitted with a whisk attachment, combine cake flour, sugar, baking powder, salt and cardamom, beat on low speed until combined (10 seconds). Add butter; continue beating at low speed until mixture resembles moist crumbs, with no powdery streaks remaining.
4. Add about 3/4 of milk mixture to crumbs and beat on medium speed until combined, about 1-1/2 minutes. Add remaining milk mixture, scrape sides of bowl and beat for one minute longer.
5. Divide batter evenly between three prepared cake pans; using rubber spatula, spread batter to pan walls and smooth tops. Bake until thin skewer or toothpick inserted in the center comes out clean, 22-25 minutes.
6. Let cakes rest in pans for 3 minutes. Loosen from sides of pans with a knife and invert onto wire racks. Reinvert onto additional wire racks. Let cool completely, about 1 hour.
Milk Syrup
1. Bring milk and cardamom pods/ground cardamom to a boil, then reduce heat and simmer the milk until it reduces by half, 30 to 45 minutes. Stir in the sugar until it dissolves, then continue to simmer until the mixture thickens to the texture of half and half, about 10 minutes longer. Let cool, strain the mixture to get rid of the cardamom and any coagulated milk, then stir in the rose water. (Syrup can be prepared up to 3 days ahead and refrigerated.)
Saffron Frosting
1. Combine rose water, vanilla and saffron in a small bowl and let steep for 10 minutes, stir to combine.
2. In the bowl of a stand mixer fitted with a paddle attachment, cream butter, confectioners' sugar, cardamom, salt & saffron mixture on medium speed until fluffy, about 2 minutes. Add cream cheese, one piece at a time, until combined. Increase speed to medium-high and beat for another 30-45 seconds.
Assembly
1. Place one cake layer on a cake stand or serving platter, brush top of cake with milk syrup, wait for 1 minute and repeat with 2nd brushing of syrup. Spread half of the cheese filling evenly on top. Repeat with remaining cake layers and filling. Wrap cake gently with plastic wrap and refrigerate for 20-30 minute for cake to set before applying frosting.
2. Remove cake from refrigerator, spread  frosting decoratively on top and side of cake. Sprinkle top with pistachio and dried roses (if use).