Coconut Cake w Coconut White Choc Glaze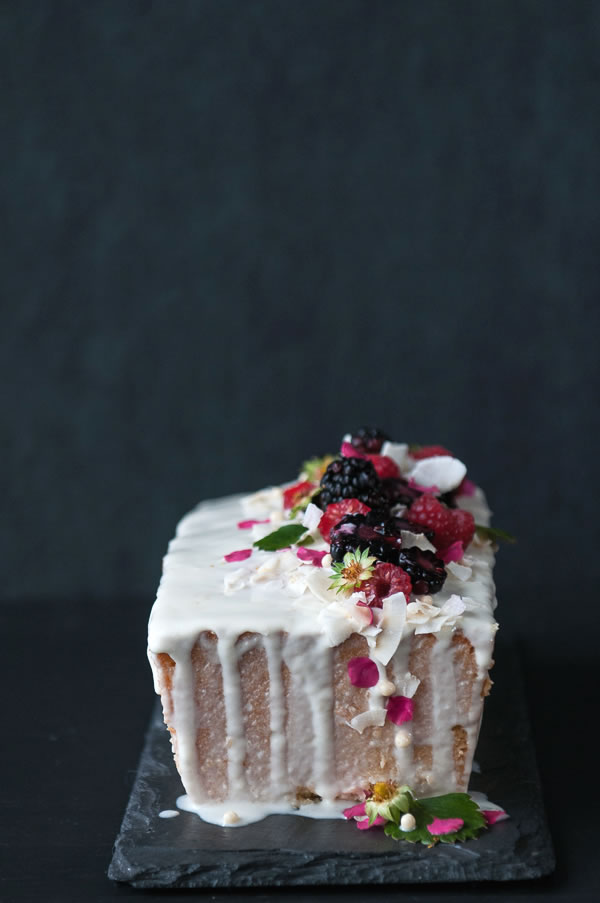 One month ago, the long awaited bakery, Mah-Ze-Dahr, opened in my neighborhood. Of course, we dropped by to check out the shop and purchase a few items to sample. The hype was legit. The buttery scone was flakey with crispy edges. The coconut loaf was moist and loaded with the essence of coconut. I was impressed by their baked goods and will definitely go back for more, but in the meantime, I can't get my mind off that coconut cake (I adore everything coconut).
If you have read my previous posts, you know the loaf pan has been something I wasn't comfortable using. So, I've tried baking with it on and off for the last year to get more experience. My recent obsession with coconut loaf was the perfect object to pursue and finally conquer my uneasiness.
This loaf is perfect on its own, but how could you refuse to a blank canvas that screams paint me? The coconut white chocolate glaze amps up the coconut factor and the berries counterbalanced the richest of the cake.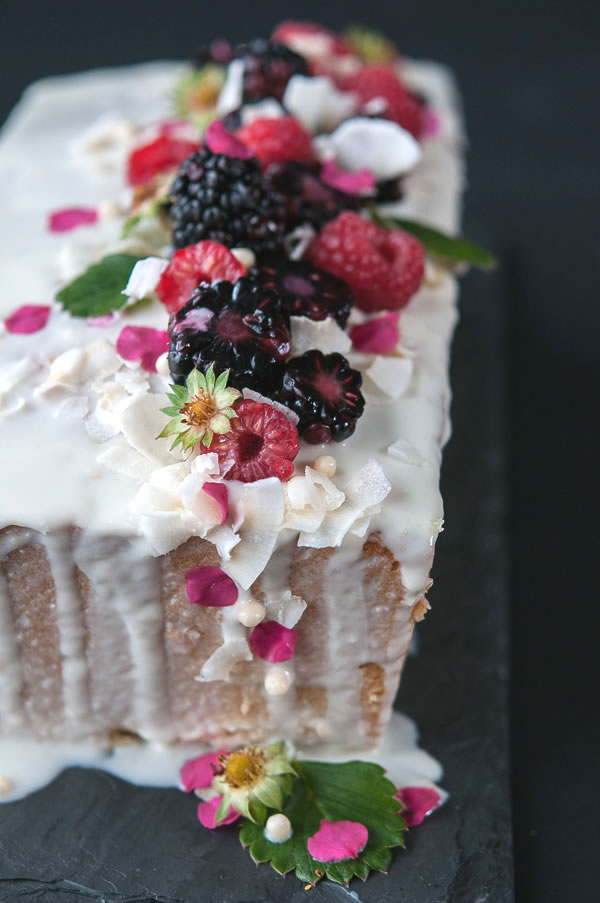 Coconut Cake w Coconut White Choc. Glaze
Ingredients:
Coconut Cake
1 cup unsweetened coconut
2 tablespoons coconut rum
1-1/2 cups unbleached all-purpose flour
2 teaspoons baking powder
1/4 teaspoon fine sea salt
3 large eggs, room temperature
1 cup (7 ounces) granulated sugar
1/2 teaspoon pure vanilla extract
1/2 teaspoon coconut extract
1 cup sour cream
4 tablespoons coconut oil (liquid form)
4 tablespoons unsalted butter, melted and cooled slightly
Coconut Syrup
1/4 cup canned coconut milk
2 tablespoons coconut rum
2 tablespoons granulated sugar
Coconut White Chocolate Glaze and Assembly
1/4 cup canned coconut milk
1 tablespoon light corn syrup
Pinch of fine sea salt
2 ounces white chocolate, finely chopped
1/4 teaspoon pure vanilla extract
1 teaspoon coconut rum
2 tablespoons cream cheese, room temperature
Coconut flakes (optional)
1/2 cup berries, such as raspberry, blackberry (optional)
Directions:
1. Adjust oven rack to middle position and heat oven to 350℉. Grease a 9×5 loaf pan, dust with flour, then tap out any excess, set aside.
2. In a small bowl, combine unsweetened coconut and rum, stir to moisten. In a separate medium bowl, whisk together flour, baking powder and salt, set aside.
3. In a large bowl, whisk together sugar, eggs, extracts. then sour cream. Slowly add coconut oil and melted butter. Fold in flour mixture and prepared unsweetened coconut until just combined (do not over mixed)
4. Pour batter into pan and bake for 55-65 minutes, until a skewer inserted into the centre comes out clean. Cool loaf in the pan on wire rack.
5. While loaf is cooling, make syrup. In a small saucepan over medium heat, stir together coconut milk, rum and sugar until dissolved. Use a toothpick to poke holes on the top of the loaf, then brush with coconut syrup. Let sit for 5 minutes to let the loaf soak in the syrup, then baste again. Repeat two more times. Let cool completely.
6. When loaf has cooled, make glaze. Bring coconut milk, corn syrup and salt, bring it to a simmer over medium-low heat. Remove from heat and add white chocolate and vanilla. Whisk gently until smooth, 30 seconds. Refrigerate until thickened, about 30 minutes.
7. Remove mixture from refrigerator and whisk to loosen up glaze. Add cream cheese and rum, whisk vigorously to combine and lightened. Remove loaf from pan, set on wire rack over parchment lined baking sheet. Pour glaze over loaf, letting excess drip decoratively down sides. Let glaze set for 20 minutes, then decorated with berries and coconut flakes on top (if use).