Gone Nuts – Pistachio Lemon Cake
One of the most memorable ingredients I had in Sicily and throughout my travels in Bologna and Modena was the famous Bronte pistachio. The flavor is vibrant. I confess that I had pistachio gelato whenever I got the chance, and that was pretty much everyday.
There were other foods made with pistachios, as well, such as pesto and cookies, but I fell more in love with the gelato with every bite. I ate and posted so many gelato on Instagram that my friends said I depleted the pistachio supply for export.
Even after a month of settling back in New York, I still swoon over pistachios. I couldn't help but make another dessert (even though I posted an Apricot Pistachio Cake right before my Sicilian retreat).
The focus of the Apricot Pistachio Cake was on the apricots with a pistachio buttercream. This Pistachio Lemon Cake is all about the nuts, with the intense flavor coming from 2 cups of toasted pistachios in the cake. I also took clues from Italian recipes to add almonds to the mix to assist on the nuttiness. This combo results in a rich moist pistachio cake that gets better after a day or two of baking.
I spoke about the fresh lemons from the property of the retreat, so naturally a tangy lemon curd filling is the right choice for a cake that is so reminiscent of this summer.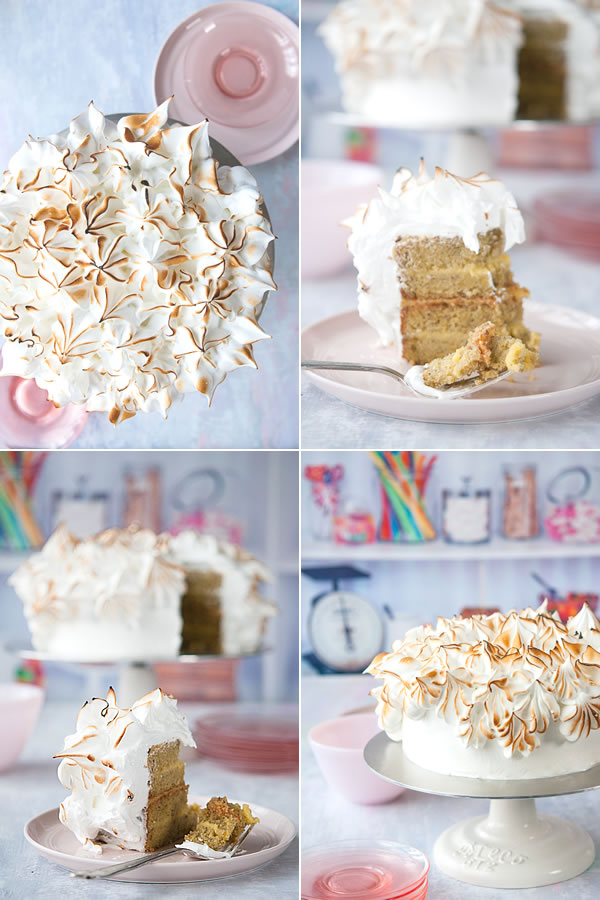 Pistachio Lemon Cake
Ingredients:
Lemon Curd Filling
1/2 cup fresh lemon juice from about 6 lemons
1/2 teaspoon powdered gelatin
3/4 cup (5-1/4 ounces) granulated sugar
1/8 teaspoon fine sea salt
2 large eggs
3 large egg yolks (reserve 4 egg whites for icing)
1/8 teaspoon pure vanilla extract
4 tablespoons (2 ounces) unsalted butter, cut into 1/2-inch cubes and chilled
Pistachio Cake
1 cup plus 2 tablespoon (5-5/8 ounces)  all-purpose flour
1/2 teaspoon baking powder
1/4 teaspoon baking soda
1/4 teaspoon fine sea salt
2 cup (8 ounces) unsalted pistachios
1 cup (5-1/4 ounces) blanched almonds
2 cup (14 ounces) plus 2 tablespoon granulated sugar, divided
16 ounces (4 sticks) unsalted butter, softened
2 tablespoons orange zest
6 large eggs
2 teaspoon rosewater
1 cup orange juice, freshly squeezed
Assembly & Meringue Icing
Pistachio Cake Layers
Lemon Curd Filling
Meringue Icing (recipe to follow)
Meringue Icing
Note: If you are not piping the icing, you can cut the recipe by half, but it taste really good with more icing.
4 large egg whites
2cup granulated sugar (14 ounces)
1/2 cup water
2 tablespoon fresh lemon juice
2 tablespoon corn syrup
Directions:
Lemon Curd Filling
1. Measure 1 tablespoon lemon juice into small bowl; sprinkle gelatin over top. Heat remaining lemon juice, sugar, and salt in medium nonreactive saucepan over medium-high heat, stirring occasionally, until sugar dissolves and mixture is hot but not boiling. Whisk eggs and yolks in large nonreactive bowl. Whisking constantly, slowly pour hot lemon-sugar mixture into eggs, then return mixture to saucepan.
2.Cook over medium-low heat, stirring constantly with heatproof spatula, until mixture registers 170℉ on instant-read thermometer and is thick enough to leave trail on a wooden spatula, 4-6 minutes. Immediately remove pan from heat and stir in gelatin mixture until dissolved. Stir in vanilla and butter until incorporated. Pour filling through fine-mesh strainer into nonreactive bowl. Cover surface directly with plastic wrap; refrigerate until firm enough to spread, at least 4 hours.
Pistachio Cake
1. Adjust oven rack to middle position; heat oven to 325℉ convection or 350℉. Line the bottom of two 8-inch cake pan with parchment paper, butter pan and parchment, set aside.
2. Whisk together flour, baking powder, baking soda and salt  in a medium bowl, set aside. Combine pistachios, almonds and 2 tablespoons of sugar in the food processor fitted with a metal blade. Pulse until finely grounded (do not over process or it will turn into a paste).
3. In the bowl of a stand mixer fitted w a paddle attachment, beat butter, sugar and orange zest on medium high speed until light and fluffy, about 2-3 minutes.  Reduce speed to low and add eggs slowly, one at a time, until well combined. Add rose water and ground nut mixture until incorporated. Add flour mixture in 3 additions, alternating with orange juice (in 2 additions), beginning and ending with dry ingredients, beat in each addition until barely combined. Use rubber spatula to finish mixing.
4. Divide batter evenly into prepared cake pans, bake until light golden brown, toothpick inserted into the center comes out clean, about 40-45 minutes. Remove cake from oven and cool cakes in the pan for 20 minutes. Gently run paring knife around the edges to loosen cake. Remove cake from pan and cool completely on wire rack, about 60 minutes.
Assembly and Meringue Icing
1. Use serrated knife to cut each cake into 2 even layers. Place bottom layer of 1 cake on cake stand or serving platter. Using icing spatula, spread 1/3 lemon filling evenly on cake, leaving 1/4-inch border around edge; using cardboard round, gently place top layer over curd filling. Spread 1/2 of remaining filling on top. Using cardboard round, gently slide bottom half of second cake into place. Spread remaining cup filling on top. Using cardboard round, place top layer of second cake. Smooth out any filling that has leaked from sides of cake; cover with plastic wrap and refrigerate while making icing.
Meringue Icing
1. Combine all ingredients in bowl of stand mixer set over medium saucepan filled with 1 inch of barely simmering water (do not let bowl touch water). Cook, stirring constantly w stand mixer's whisk attachment, until mixture registers 160℉ on instant-read thermometer, about 5 minutes. Remove bowl from heat and transfer mixture to stand mixer fitted with the whisk attachment. Beat on medium speed until soft peaks form, about 5 minutes. Increase speed to medium-high and continue to beat until mixture has cooled to room temperature and stiff peaks form, 4-5 minutes longer.
2. Remove cake from refrigerator, spread or pipe icing on cake. Torch icing with blow torch (optional). Serve. (Cake can be refrigerated for up to 1 day before serving.)