Cherish – Matcha Black Sesame Babka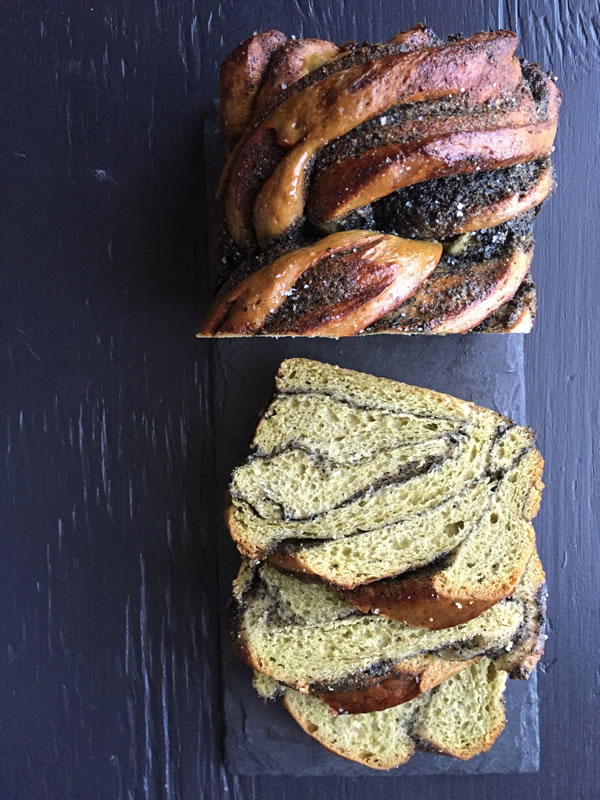 My favorite stories about M's family are his recollection of his grandmother in the kitchen–all things Jewish, made from scratch and with love. As in all traditions of matriarchal cooking, there were no recipes, everything was done by instinct and decades of experience of these brilliant home cooks.
Of course, I wanted to make everything. I've been gathering various recipes for babka, rugelach, challah, etc. to study and compare the subtle differences within the ingredients and methods.  One version isn't necessarily better than another, but the different family stories make then unique.
This babka is based on my research into infusing Asian flavors. After all, this is a Jewish-Chinese home that loves food from both sides of the union. True to tradition, the Jews and the Chinese have joined forces for decades. Who fills Chinese restaurants on Christmas?
As Rosh Hashanah approaches, cheers to the New Year and may we all enjoy good health, delicious food, and cherish the traditions for years to come.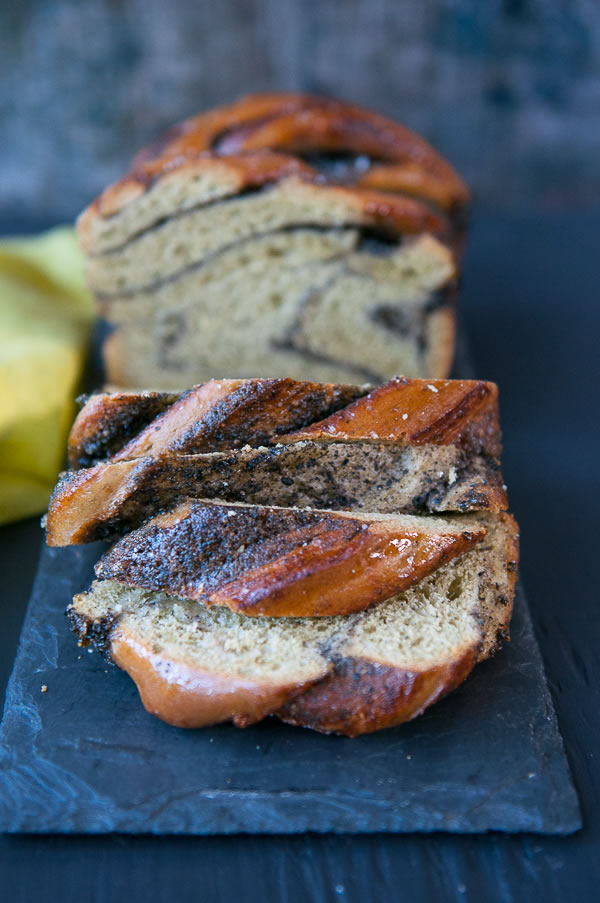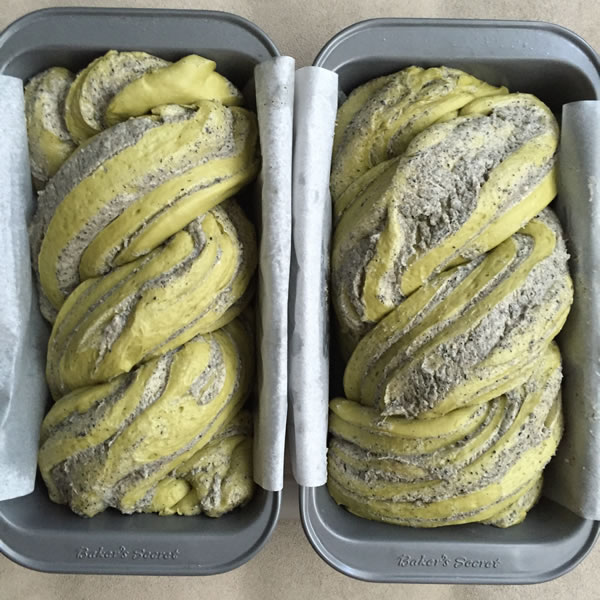 Matcha Black Sesame Babka
Ingredients:
Matcha Bakka
1 cup whole milk
1 package (2-1/4 tsp) active dry yeast
4-3/4 cups (20-3/4 ounces) unbleached all-purpose flour, divided
2 tablespoons matcha powder
1/2 teaspoon fine sea salt
3 large eggs, room temperature
1 large egg yolk, room temperature
2 teaspoons pure vanilla extract
10 tablespoons (5 ounces) unsalted butter, room temperature
1/4 cup (1-1/4 ounces) granulated sugar
Black Sesame Filling
12 tablespoons (6 ounces/1-1/2 sticks) unsalted butter, softened
1/2 cup (3-1/2 ounces) granulated sugar
1/4 cup honey
5 tablespoons toasted black sesame seeds, coarsely ground
Simple Syrup
3 tablespoons water
1/4 cup (1-1/4 ounces) granulated sugar
Directions:
Matcha Bakka
1. Warm milk in small saucepan or in microwave until thermometer reads 100 – 110°F.
2. Combine warm milk and yeast in a medium bowl, whisk to combine. Add 1 cup of the flour an continue to whisk until fully combined. Let the mixture stand for 20 minutes, uncovered at room temperature.
3. Combine remaining flour, matcha and salt in a medium bowl, whisk to combine, set aside. Combine eggs, egg yolk and vanilla in a 2-cup measuring cup, whisk to combine and set aside.
4. In the bowl of stand mixer, fitted with paddle attachment, add butter and granulated sugar. Beat on medium speed until light and fluffy, about 3-4 minutes.
5. With the mixer running, add egg mixture in several additions, each about 20-30 seconds; scrape down sides as needed.
6. Reduce speed to medium-low and add flour mixture in several additions until almost combined. Add milk-yeast mixture and continue to beat until fully combined. The dough will start to cleanly pull away from the bowl and the color is consistent.
7. Transfer dough to a lightly oiled bowl and cover with plastic wrap. Refrigerate overnight or at least 8 hours.
Black Sesame Filling
1. In the bowl of stand mixer, fitted with paddle attachment, combine butter, sugar, honey, and sesame seeds. Beat on medium speed until slightly fluffy and thoroughly combined, about 3-4 minutes.
Assembly and Simply Syrup
1. Line two 8" x 5" loaf pans with parchment paper, spray parchment paper with cooking spray and set aside.
2. Remove dough from refrigerator, remove plastic wrap, punch down dough and divide into two equal pieces.
3. On a lightly floured work surface, roll one piece of dough into approximately 12" x 20" rectangle. Using an offset spatula, spread half of the sesame filling evenly on top of rolled out dough.
4. Tightly roll dough from the short end (12-inch), ending with seam side down.
5. With the roll perpendicular to your body, gently cut the roll into half lengthwise, open each half with cut-side up.
6. Starting at the top, place the top-left end over the right, pinching together lightly, then lifting the right side over the left and repeating until the two halves are completely intertwined.
7. Transfer twist into one of the prepped pans. Cover with a damp, clean kitchen or paper towel and let rise in the a warm, draft free area for 1 hour. Repeat with second loaf.
8. Adjust one oven rack to middle position and another in the lower-middle position. Preheat oven to 325°F.
9. Place a foil lined rimmed baking sheet on lower-middle rack to catch any butter mixture that might bubble over. Remove towels and place babka on middle rack. Bake until a skewer inserted into the center comes out clean, about 45-55 minutes.
10. Prepare syrup while babka is baking. Combine water and granulated sugar in small saucepan over medium heat and bring to a boil. Remove from heat as soon as all the sugar has dissolved. Allow cool slightly.
11. Brush babka several times with syrup as soon as they come out of the oven.  Cool babka in pan on cooling rack for 30-40 minutes, then remove from pan and continue to  cool on rack completely.