Buggin' – Strawberry Rhubarb Pie
Freezer space is like a New York apartment—one must strategically organize every cubic inch to find something that works. Besides the usual frozen veggies and fruit I reach for on a regular basis, there are homemade lemon curd and pastry cream that I make with leftover egg yolks.
As organized as I try to be, I tend to forget the freezer items that I don't use regularly.
I found pie dough I made a few months ago hidden under frozen strawberries. I took this discovery as a sign that I need to make a pie for Memorial Day weekend. As a pie lover, M would appreciate this decision.
Since the rhubarb season was flashing by, I stocked up to prep for a classic strawberry and rhubarb combination. I made a decorative pie top (which seems to be the latest trend on the Internet) to celebrate the unofficial kickoff of summer. I had so much fun creating the design that now I understand the allure.
M thoroughly enjoyed this pie over the weekend, and so did I. Now that I caught the pie-making bug, I see myself going full throttle, being playful with the designs, and embracing the fruits of the summer season.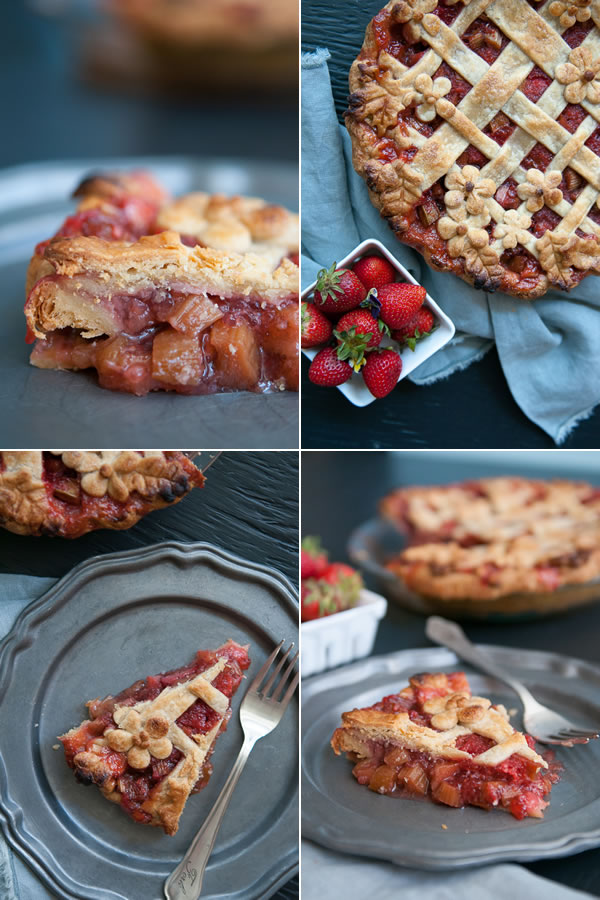 Strawberry Rhubarb Pie
Ingredients:
All-Butter Pie Crust
2-1/2 cups unbleached all-purpose flour (12-1/2 ounces), plus additional flour for work surface
1 teaspoon fine sea salt
1 tablespoon granulated sugar
16 tablespoons unsalted butter (2 sticks), cold, cut into 1/2-inch cubes and frozen for 10 minutes
3 tablespoons sour cream
1/3 cup ice water, or more if needed
Strawberry Rhubarb Filling
2 pounds rhubarb (about 7 cups), trimmed and cut into 1/2-inch pieces
1-1/4 cups (8-3/4 ounces) granulated sugar
1 pound (3 to 4 cups) fresh strawberries, hulled, halved if less than 1 inch, quartered if more than 1 inch
3 tablespoons instant tapioca
1/2 teaspoon rose water (optional)
1/4 teaspoon pure vanilla extract
1/8 teaspoon almond extract
Assembly
Prepared pie dough
Strawberry Rhubarb Filling
1 tablespoon ice water
2-3 tablespoons granulated sugar
Directions:
All-Butter Pie Crust
1. Process flour, salt, and sugar together in food processor until combined, about 3 seconds. Add butter and pulse until butter is size of large peas, about ten 1-second pulses.
2. Using fork, mix sour cream and 1/3 cup ice water in small bowl until combined. Add half of sour cream mixture to flour mixture; pulse for three 1-second pulses. Repeat with remaining sour cream mixture. Pinch dough with fingers; if dough is floury, dry, and does not hold together, add 1 to 2 tablespoons ice water and process until dough forms large clumps and no dry flour remains, three to five 1-second pulses.
3. Turn dough out onto work surface. Divide dough into 2 balls and flatten each into 6-inch disk; wrap each disk in plastic and refrigerate until firm but not hard, 1 to 2 hours, before rolling. (Dough can be refrigerated for up to 24 hours. Let thoroughly chilled dough stand at room temperature for 5-10 minutes before rolling.)
4. Roll one on lightly floured surface into approximately a12-13-inch circle and transfer to a pie plate. Trim overhang of dough and crimp decoratively around the edges.  Roll out second disc into a 12-inch round or into various sizes (flowers, stripes, etc) as per your design. Wrap all dough in plastic and refrigerate for 20 minutes or until ready to use.
Strawberry Rhubarb Filling
1. Combine rhubarb and sugar in bowl and microwave for 12 minutes. Stir and continue to microwave until sugar is mostly dissolved, about 1 minute longer. Stir in 1 cup strawberries and set aside for 30 minutes, stirring once halfway through.
2. Drain rhubarb mixture through fine-mesh strainer set over large saucepan. Return drained rhubarb mixture to bowl and set aside. Add remaining strawberries to rhubarb liquid and cook over medium-high heat until strawberries are very soft and mixture is reduced to 1-1/2 cups, about 10 to 15 minutes. Mash berries with fork (mixture does not have to be smooth). Add strawberry mixture, tapioca, rose water (if use) and extracts to drained rhubarb mixture and stir to combine. Set aside to cool.
Assembly
1.  Adjust oven rack to lower-middle position and heat oven to 425℉. Transfer filling to chilled dough-lined plate and spread into even layer. Decoratively place prepared pie dough pieces on to of filling. Brush dough pieces thoroughly with extra water (careful not to drag filling onto the dough) and sprinkle with granulated sugar. Refrigerate for 15 minutes.
2. Place pie on parchment-lined rimmed baking sheet and bake until crust is set and begins to brown, about 25 minutes. Rotate pie and reduce oven temperature to 375 degrees; continue to bake until crust is deep golden brown and filling is bubbling, 30 to 40 minutes longer. If edges of pie begin to get too brown before pie is done, cover loosely with parchment or aluminum foil. Let cool on wire rack for 2-1/2 hours before serving.