Boy Just Wanna have Fun – Rhubarb Custard Pie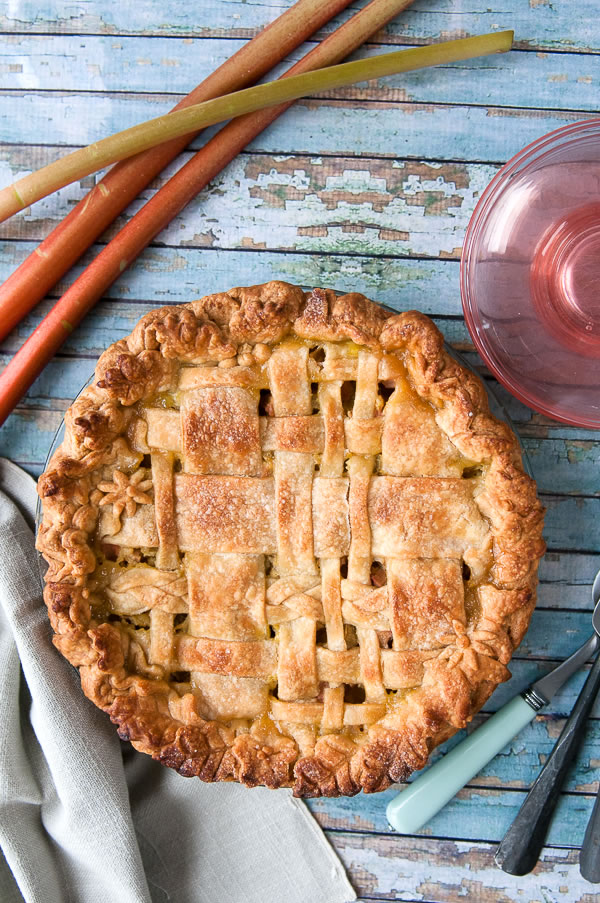 Last week, I posted a Strawberry Rhubarb Pie with a decorative pie top that was so much fun to design. I finally understood the allure of fancy crusts, which seem to be the latest trend on the Internet.
I'm at it again this week, partly because I'm taking advantage of rhubarb season and trying to make as many pies with this tart vegetable as possible.
For this recipe, rhubarb is the solo star, and the filling can't be any easier to make. All you have to do is toss all the ingredients together and set them aside, which then leaves plenty of time to roll the dough and get creative. 
As the weather gets warmer, rolling a pie dough gets a bit tougher because it softens rather quickly. Be patient. If the dough turns too limp, place it back in the fridge to firm up before cutting all the pieces for the pie top. You don't want to rush this part, or your pie top will loose its sharp edges, and the design will not be as clean as you want it to be. If you are really pressing for time, simply make a solid top crust with slits. The pie will still be delicious.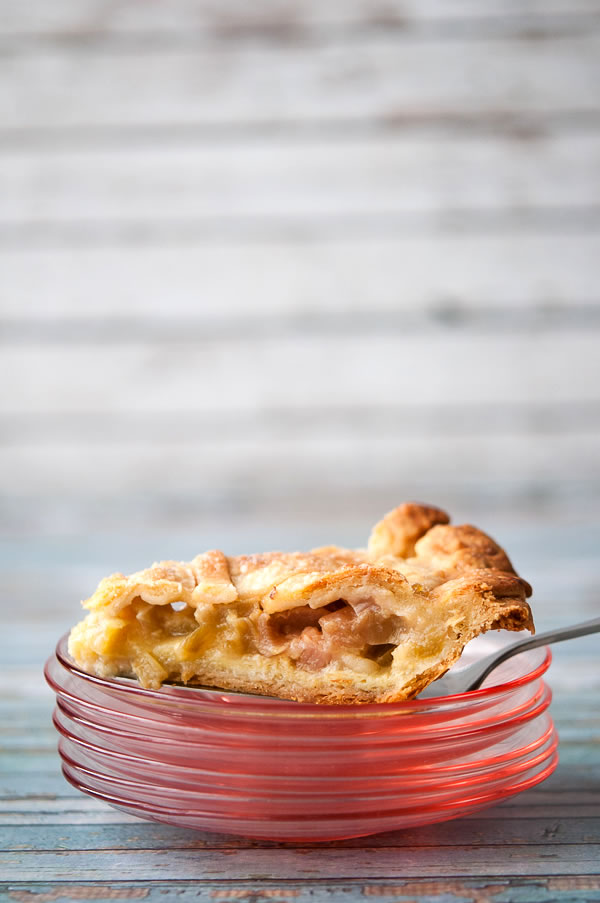 Rhubarb Custard Pie
Ingredients:
All-Butter Pie Crust
2-1/2 cups unbleached all-purpose flour (12-1/2 ounces), plus additional flour for work surface
1 teaspoon fine sea salt
1 tablespoon granulated sugar
16 tablespoons unsalted butter (2 sticks), cold, cut into 1/2-inch cubes and frozen for 10 minutes
3 tablespoons sour cream
1/3 cup ice water, or more if needed
Rhubarb Custard Filling
1 cup (7 ounces) granulated sugar
2 large eggs, room temperature
2 tablespoons unbleached all-purpose flour
1/2 teaspoon fine sea salt
1 pound rhubarb, trimmed, halved lengthwise, and chopped
Assembly
Prepared pie dough
Strawberry Rhubarb Filling
1 tablespoon ice water
2-3 tablespoons granulated sugar
Directions:
All-Butter Pie Crust
1. Process flour, salt, and sugar together in food processor until combined, about 3 seconds. Add butter and pulse until butter is size of large peas, about ten 1-second pulses.
2. Using fork, mix sour cream and 1/3 cup ice water in small bowl until combined. Add half of sour cream mixture to flour mixture; pulse for three 1-second pulses. Repeat with remaining sour cream mixture. Pinch dough with fingers; if dough is floury, dry, and does not hold together, add 1 to 2 tablespoons ice water and process until dough forms large clumps and no dry flour remains, three to five 1-second pulses.
3. Turn dough out onto work surface. Divide dough into 2 balls and flatten each into 6-inch disk; wrap each disk in plastic and refrigerate until firm but not hard, 1 to 2 hours, before rolling. (Dough can be refrigerated for up to 24 hours. Let thoroughly chilled dough stand at room temperature for 5-10 minutes before rolling.)
4. Roll one on lightly floured surface into approximately a12-13-inch circle and transfer to a pie plate. Trim overhang of dough and crimp decoratively around the edges.  Roll out second disc into a 12-inch round or into various sizes (flowers, stripes, etc) as per your design. Wrap all dough in plastic and refrigerate for 20 minutes or until ready to use.
Rhubarb Custard Filling
1. Whisk sugar, eggs, flour, and salt in large bowl. Stir in rhubarb until evenly coated.
Assembly
1.  Adjust oven rack to lowest position and heat oven to 375℉. Transfer filling to chilled dough-lined plate and spread into even layer. Decoratively place prepared pie dough pieces on to of filling. Brush dough pieces thoroughly with extra water (careful not to drag filling onto the dough) and sprinkle with granulated sugar. Refrigerate for 15 minutes.
2. Place pie on parchment-lined rimmed baking sheet and bake until crust is set and golden brown, about 50-60 minutes. (If edges of pie begin to get too brown before pie is done, cover loosely with parchment or aluminum foil.) Let cool on wire rack for 2-1/2 hours before serving.