Summer Blueprint – Ginger Berry Lemon Cake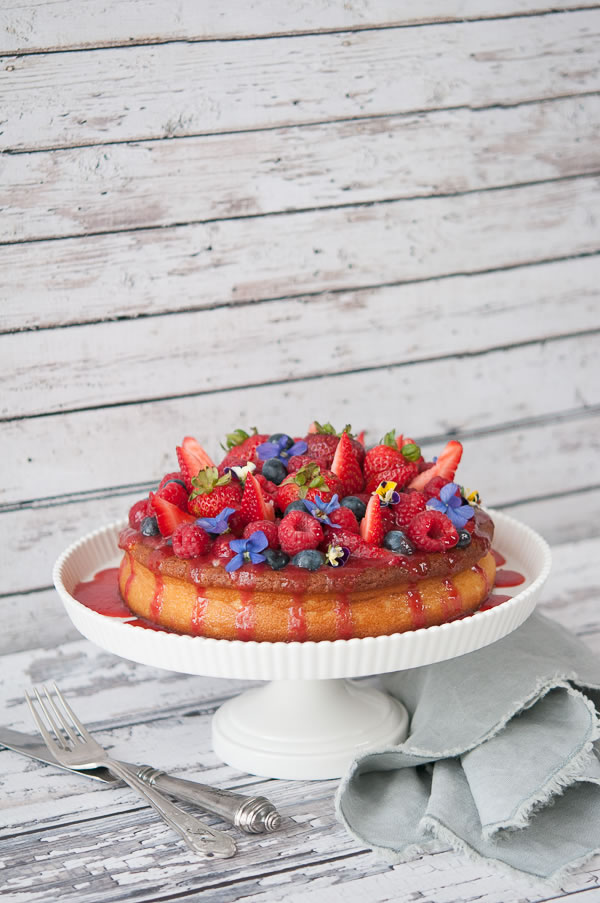 Summer is about outdoor gatherings—and barbecues or not, there must be dessert.
Sometimes there's a theme or a decor, but how do you pick the right dessert for the occasion? We often stress over the perfect dessert, searching the Internet, asking friends for suggestions, and ending up unable to decide what to make. This happens to me all the time. That's why I came up with this recipe.
There are many great attributes of this cake that make it the perfect dessert for summer—or anytime of the year. It's flourless and therefore gluten-free.  It's a sturdy version of your typical cheesecake, which means it travels well. The addition of white chocolate creates a luscious creamy yet light texture. The recipe allows you to be creative. I use lemon zest for this version, but you can try other citrus or spices to change the flavor profile.
The range of toppings is also endless; change the fruit to suit the theme of your party or to whatever is in season. Cherries, peaches, and apricots are great representatives for summer. You can use chocolate, marshmallow, and graham cracker crumble to create a Smore's version, instead. How about caramel, peanut butter, and bananas?
I recently used coconut milk/cream and coconut flour in lieu of heavy cream and almond flour for a coconut cake. Topped with mango and pineapple, it became tropical.
Go ahead and try it out. You can thank me after Labor Day.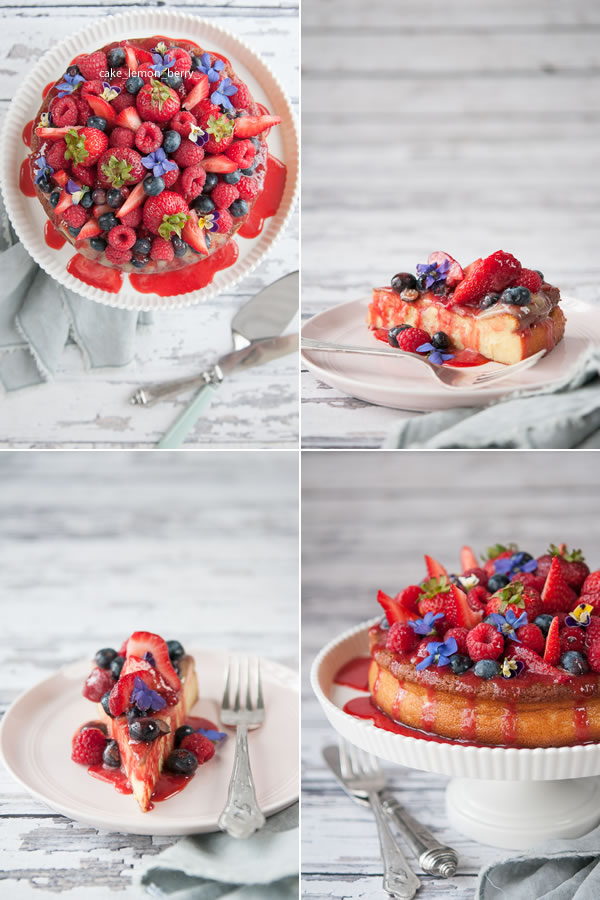 Ginger Berry Lemon Cake
Ingredients:
Ginger Lemon Cake
1 cup heavy cream
1 tablespoon lemon zest
10 slices fresh ginger
8 ounces white chocolate, finely chopped
5 large egg yolk, room temperature
5 large egg white, room temperature
1/2 cup (3-1/2 ounces) granulated sugar
8 ounces cream cheese, room temperature
2 teaspoons pure vanilla extract
1/4 teaspoon fine sea salt
1 cup (4 ounces) almond flour/ground almonds
1 teaspoon ground ginger
Lemon Curd
* you will not use the entire recipe for the cake
1/3 cup lemon juice, freshly squeezed
2 large eggs
1 large egg yolk
1/2 cup (3-1/2 ounces) granulated sugar
2 tablespoons unsalted butter, cut into 1/2-inch cubes and chilled
1 tablespoon heavy cream
1/4 teaspoon vanilla extract
Pinch fine sea salt
Ginger Berry Compote
2-1/2 cups fresh/frozen strawberries and/or raspberries
1 cup (7 ounces) granulated sugar
20 slices fresh ginger (or to taste, flavor mellows out as it cools)
1 tablespoon fresh lemon juice
1/8 teaspoon fine sea salt
2 teaspoons balsamic vinegar
1/8 teaspoon cracked black pepper (optional)
1/4 cup confectioners' sugar
Assembly
2 cups fresh strawberries, cut in half (leave some whole for garnish if desire)
1 cup fresh blueberries
1-1/2 cups fresh raspberries
Ginger Berry Compote
1/2 cup lemon curd
Ginger Lemon Cake
Directions:
Ginger Lemon Cake
1. In a small saucepan, whisk together heavy cream, lemon zest and ginger. Bring mixture to a near boil, remove from heat and let steep for 20 minutes. Strain cream, press on ginger to extract liquid. (You might need to add more cream to measure 1 cup). Return cream to saucepan and bring into a simmer.
2. In a medium bowl, add white chocolate, pour Ginger-lemon cream over white chocolate. Allow mixture to sit for 1 minute, whisk until white chocolate has melted and smooth. Set aside to cool slightly.
3. Adjust oven rack to center position and heat oven to 350℉. Line bottom of one 9-inch round cake pan with parchment, set aside.
4. In the bowl of a stand mixer with a whisk attachment, whisk egg white on medium speed to soft peaks. Slowly add 2 tablespoons sugar, increase speed to medium-high and beat to stiff peaks. Transfer egg whites to a medium and set aside.
5. In the now empty bowl add egg yolks and remaining sugar, beat on medium-high speed until pale and creamy about 2-3 minutes. Reduce speed to medium, add cream cheese, one piece at a time, until incorporated. Add melted white chocolate, vanilla and salt, until combined. Add almond flour and beat until fully incorporated.
6. Stir 1/3 of the egg whites into the batter until combined. Using a rubber spatula, gently fold in remaining egg whites until there are no white streaks remain.
6. Pour batter into prepared pan and bake until set, 45-50 minutes. Turn oven off and cool cake for an hour in oven with door ajar. Cover with plastic wrap and refrigerate cake until use. (Cake will collapse slightly which will be perfect to hold the berry toppings.
Lemon Curd
1. Heat lemon juice in small nonreactive saucepan over medium heat until hot but not boiling. Whisk eggs and yolk in medium nonreactive bowl; gradually whisk in sugar. Whisking constantly, slowly pour hot lemon juice into eggs, then return mixture to saucepan and cook over medium heat, stirring constantly with wooden spoon, until mixture registers 170 degrees on instant-read thermometer and is thick enough to cling to spoon, about 3 minutes. Immediately remove pan from heat and stir in cold butter until incorporated; stir in cream, vanilla, and salt, then pour curd through fine-mesh strainer into small nonreactive bowl. Cover surface of curd directly with plastic wrap; refrigerate until needed.
Ginger Berry Compote
1. Add all the ingredients except confectioners' sugar in a medium saucepan and bring it to a simmer over medium heat. Reduce heat to medium-low and continue to simmer until berries are very soft. Mash berries and ginger with a masher and continue to cook until mixture is syrupy, about 5 more minutes. Transfer to fine-mesh strainer set over medium bowl and press on solids to extract liquid, set aside to cool.
Assembly
1. Spread lemon curd on top of the cake and leave a 1-inch border all around. Toss half the strawberries, blueberries and raspberries with the berry compote and pour on top of cake. Decorate with the rest of the berries.