One Fine Day – Merry Berry Cake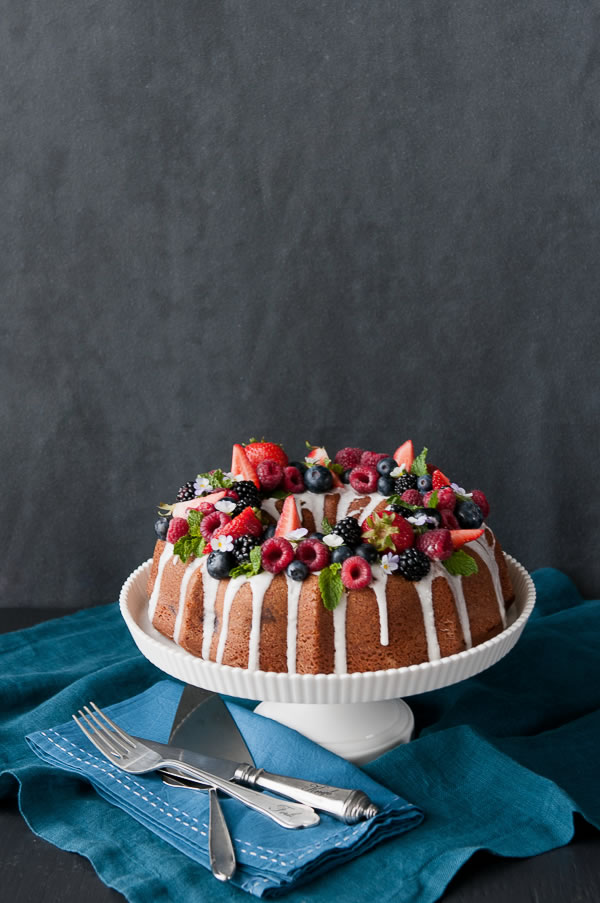 Just like any New York City dweller, I yearn for beautiful spring weather to soak up every minute of that glorious sunshine. Last week, we had just that and I miraculously made up long list of errands to run so I could traverse the neighborhood.
Somewhere along the route, I came upon my favorite produce vendor on 14th street. Lately, he has had more vegetables, such as peppers and avocados, than fruit. On this day, like flowers in the meadow blooming at the same time, there were strawberries, blueberries, raspberries, blackberries, and more. The range of colors got me excited, and I knew I had to bring a part of this stunning palette home.
I didn't know where to start. I thought of what I could use in my desserts. I came up with at least 15-20 recipes that made the decision even harder.
I decided to just get all the best looking berries and decide later what to do with them. After all, we could just eat them fresh or freeze them for later use.
Then I got the answer–use everything and make a Merry Berry Cake. It showcases not only fresh berries but the joy of a spectacular day.
Merry Berry Cake
Ingredients:
White Chocolate Berry Cake
1 cup (6 ounces) white chocolate chips
2 cups (10 ounces) unbleached all-purpose flour. plus 2 tablespoons
3 tablespoons freeze dried strawberry powder
1 tablespoon malt milk powder (optional)
4 teaspoons baking powder
1/2 teaspoon fine sea salt
16 tablespoons (8 ounces/2 sticks) unsalted butter, softened
1-1/2 cups (10-1/2 ounces) granulated sugar
4 large eggs. room temperature
1 teaspoon pure vanilla extract
1 teaspoon rose water (optional)
1 cup sour cream
3 cups fresh berries such as raspberry, blueberry, strawberry and blackberry. (cut strawberries in half or quarter)
Lemon Glaze and Assembly
1/4 cup fresh lemon juice
1 tablespoon heavy cream
1 tablespoon sour cream
2 teaspoons limoncello or more heavy cream or lemon juice.
2 cups (8 ounces) confectioners' sugar
1-2 cups of fresh berries (optional)
Directions:
White Chocolate Berry Cake
1. Adjust oven rack to lower-middle position; heat oven to 350℉. Butter and flour a 12-cup bundt cake pan; set aside. Melt white chocolate until smooth, using a double boiler or in the microwave, set aside.
2. Combine flour, strawberry powder, milk powder (if use), baking powder and salt in a medium bowl, set aside. In a small bowl, whisk eggs, vanilla and rose water (if use) to combine, set aside.
3. In the bowl of a stand mixer fitted w a paddle attachment, beat butter and sugar on medium high speed until light and fluffy, about 2-3 minutes. Reduce speed to low and add egg mixture slowly until well combined. Add melted white chocolate and beat until well combined.
4. Add flour mixture in 3 additions, alternating with sour cream (in 2 additions), beginning and ending with dry ingredients, beat in each addition until barely combined. Toss fresh berries with remaining 2 tablespoons flour to coat. Fold into the batter.
5. Pour cake batter into prepared pan and smooth top with small off-set spatula. Bake cake until toothpick inserted into the center comes out clean, about 50-60 minutes.
6. Cool cake, in pans on cooling rack for 10 minutes, invert cake on to cooling rack and cool completely, about 1-1/2 hours.
Lemon Glaze and Assembly
1. Whisk 2 tablespoons lemon juice, heavy cream, sour cream, limoncello (if use) and confectioners' sugar until smooth, adding more lemon juice gradually as needed until glaze is thick but still pourable. Pour glaze decoratively over top of cake and let stand for 30 minutes to set. Decorate top of cake with fresh berries (if use). Serve.