Caffeinated – Earl Grey Banana Cake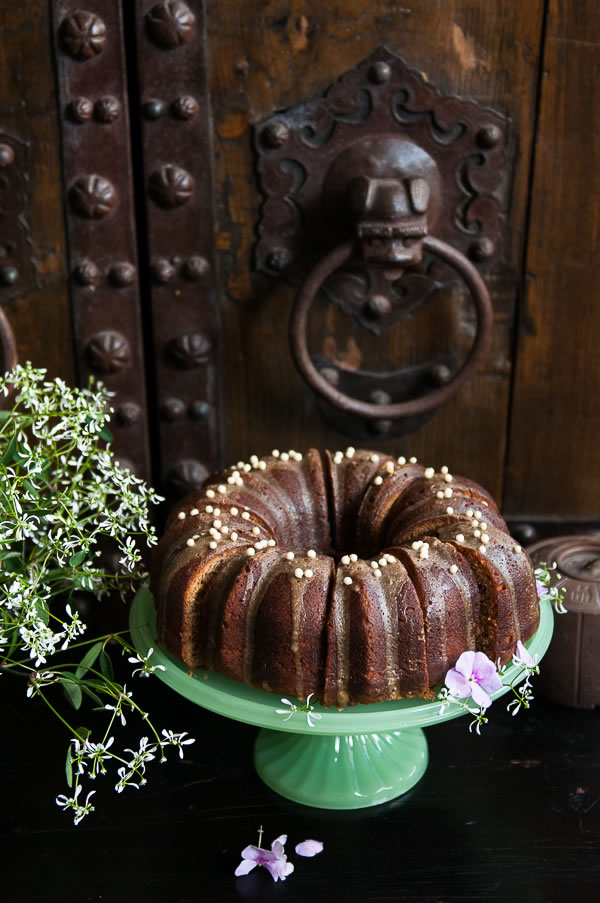 Are you #teamCoffee or #teamTea when it comes to that first cup of caffeine in the morning? If you're one of those super humans who don't need that kind of kick to get started, lucky you.
I'm a coffee drinker in the morning but other than that, I can enjoy a cup of tea or an espresso in the afternoon. More importantly, it depends what kind of afternoon treat I get. It's my daily afternoon dessert pairing if you will.
I've been making more elaborate cakes and tarts lately and have forgotten the joy of a simple cake such as a bundt. Bundts are easy to assemble, once baked, their flavor gets better after a day or so. The best part is that bundts are fabulous for pairing with afternoon tea or coffee, especially for a weekday treat.
The choice between tea and coffee got me thinking—why not add them to baked goods. With that in mind, I chose tea for this version, infusing Earl Grey into a basic banana bundt. You will immediately identify the banana with Earl Grey providing an under note, almost a hint of bitterness but not an unpleasant one, to temper the sweetness of the bananas.
The aroma of the tea in the cake is accented every time you take a sip of your favorite hot beverage. It's the elegant surprise that makes your cup of caffeine that much more enjoyable.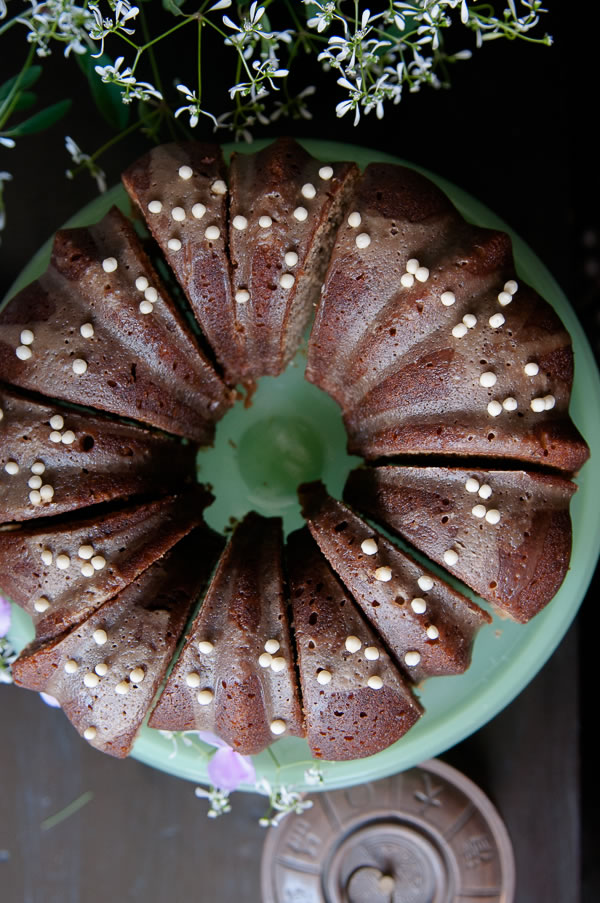 Earl Grey Banana Cake
Ingredients:
Earl Grey Banana Cake
4 Earl grey tea bags (about 5 teaspoons)
1/2 cup hot water
3-4 ripe banana
3 cups (15 ounces) unbleached all-purpose flour
2 teaspoons baking soda
1/2 teaspoon fine sea salt
16 tablespoons (8 ounces/2 sticks) unsalted butter, softened
2 cups (14 ounces) granulated sugar
1 tablespoon pure vanilla extract
2 large eggs, room temperature
1 cup sour cream
Earl Grey Glaze
2 cups (8 ounces) confectioners sugar, divided
1/2 cup Earl Grey tea, made with 3 tea bags.
1/8 teaspoon fine sea salt
1/4 teaspoon pure vanilla extract
3 tablespoon malt milk powder or dry milk powder
Directions:
Earl Grey Banana Cake
1. In a measuring cup, combine 3 tea bags and hot water and let steep for 5 minutes. Remove tea bags and squeeze over measuring cup to extract tea. Add a touch of water to yield 1/2 cup of tea, set aside.
2. Cut bananas in half, crosswise, and place in a microwave-safe bowl; cover with plastic wrap and cut several steam vents in plastic with paring knife. Microwave on high power until bananas are soft and have released liquid, about 5 minutes. Mash bananas to yield 1-1/2 cups, set aside to cool.
2. Adjust oven rack to middle position; heat oven to 350℉.  Generously butter a 12-cup Bundt pan, set aside. Whisk flour, baking soda, salt together. Cut remaining tea bag and add loose tea leaves in to flour mixture, whisk to combine, set aside.
3. In the bowl of a stand mixer fitted with a paddle attachment, beat butter on medium speed until creamy, about 2 minutes. Add sugar and continue to beat until pale and fluffy, about 2-3 minutes. Add vanilla and cooled tea then the eggs one at a time. After both eggs are combined, continue to beat on medium speed. Reduce speed to low and mix in mashed bananas. Add the flour mixture in 2 additions, alternating with sour cream, scrape down bowl as needed. Scoop batter into prepared bundt pan, lightly rap the pan on the counter to release large bubbles in the batter, smooth top with small off-set spatula or spoon.
4. Bake for 60-70 minutes until a long skewer inserted deep into the center of the cake comes out clean.
Earl Grey Glaze
1. While cake is in the oven, whisk 1-1/2 cups confectioners' sugar, tea and salt together in a medium bowl until smooth. Transfer the cake to a rack and cool for 15 minutes, unmold onto the rack over a rimmed baking sheet. Brush warm cake with 1/4-cup of the glaze and let cool for an hour. Whisk in remaining confectioners sugar, vanilla and malt milk powder into the remaining glaze and pour evenly over top. Let stand and cool completely, about an hour. Serve.