Matcha Matcha Man – Matcha Chocolate Tart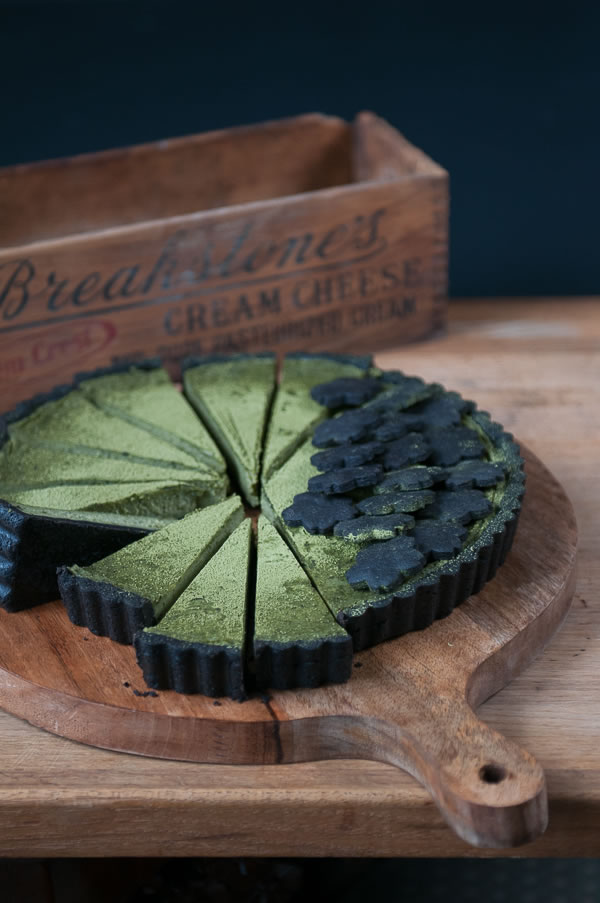 I usually plan my posts a week or two ahead. After a sudden encounter with this beautiful matcha cream puff from Bibble & Sip, I had to switch to a matcha dessert of my own.
I've always adored this flavor in desserts and will check out a new one at every opportunity.
I haven't used the ingredient in my own baking for quite some time, however, except for decorative purposes on the Pineapple Coconut Carrot Cake a few weeks back. During our travels in Asia, we enjoyed more than our share of matcha desserts, so there was no craving to satisfy with a new treat.
I've never before paired chocolate with matcha, so there were hundreds of possible outcomes.  I decided on this Matcha Chocolate Tart because (1) I wanted to practice my pie/tart dough rolling technique and (2) M loves a good crust.
With this awakening of matcha + chocolate, you'll probably see more combinations in the near future. Any requests?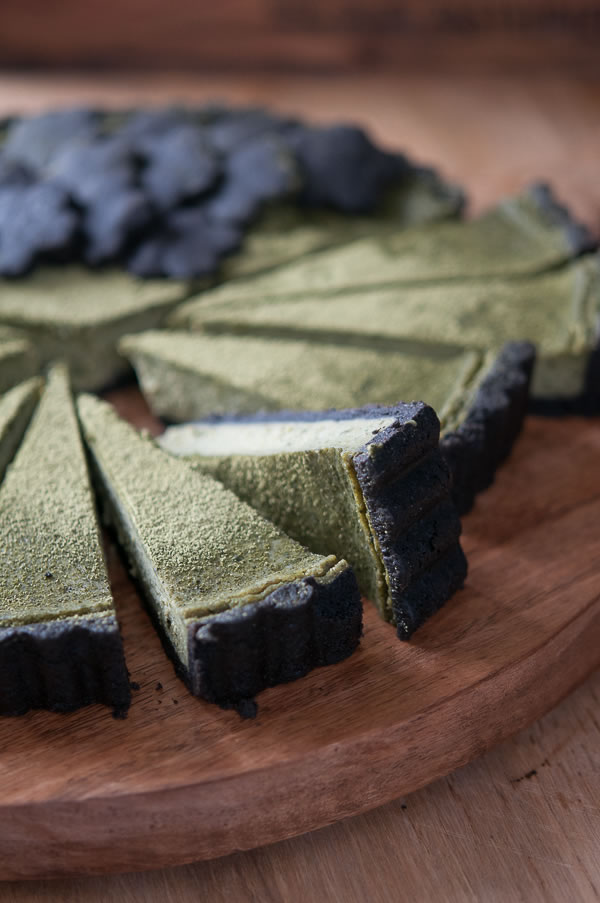 Matcha Chocolate Tart
Ingredients:
Chocolate Tart Dough
1-1/2 cups (7-1/2 ounces) unbleached all-purpose flour
1/4 cup (1 ounce) dutch-processed cocoa powder
1/2 cup (3-1/2 ounces) granulated sugar
1/4 teaspoon fine sea salt
8 tablespoons (4 ounces/1 stick) unsalted butter, cut into 1/2-inch pieces, chilled
2 large egg yolks, room temperature
2 tablespoons heavy cream, chilled
1/2 teaspoon pure vanilla extract
Matcha Custard Filling
2 cups whole milk
1 cup coconut milk or heavy cream
3 large eggs
2/3 cup (5-3/4) granulated sugar
3 tablespoons cornstarch
2 tablespoons matcha powder
2 teaspoons pure vanilla extract
1/4 teaspoon pure almond extract
Pinch fresh grated nutmeg
1/8 teaspoon fine sea salt
Assembly
Matcha Custard Tart
Matcha powder
Chocolate Cookies (optional)
Directions:
Chocolate Tart Dough
1. Place flour, cocoa, sugar, and salt in the bowl of a food processor fitted with a metal blade; pulse to combine. Add butter; pulse until mixture resembles coarse meal, about 10 one second pulses. Add yolks, cream, and vanilla; process until mixture barely comes together (slightly crumbly).
2. Scrape dough onto a piece of plastic wrap and flatten into a 6-inch disk. Wrap tightly and refrigerate for at least 30 minutes or up to 2 days.
3. Unwrap dough; lightly flour large sheet of plastic wrap and place dough in center. roll out dough and line tart pan, trim to fit. Freeze dough 30 minutes.
Note: Reroll dough to make cookies for decoration (optional)
4. Adjust oven rack to lower-middle position and heat oven to 375℉. Place chilled tart shell on cookie sheet; press 12-inch round parchment inside tart shell and fill with pie weights. Bake for 20 minutes, rotating halfway through baking time. Carefully remove parchment and weights by gathering edges of parchment and pulling up. Continue to bake until bottom of shell has no more moist spots , about 5-8 minutes longer.
Matcha Custard Filling
1. While tart shell is  in the oven, heat milk and coconut milk in medium saucepan over medium-low heat until simmer, about 5 minutes. Meanwhile, whisk together eggs, sugar, cornstarch, matcha powder vanilla, nutmeg, and salt in medium bowl.
2. Whisk warm milk mixture into egg mixture in slow, steady stream. Return egg and milk mixture to saucepan and cook over medium-low heat, stirring constantly with wooden spoon, scraping bottom of pan, until custard begins to thicken and forms a ridge on tip of spoon when bottom of pan is scraped and spoon is lifted, about 4-6 minutes.  Remove tart shell form oven and pour custard into hot tart shell. Bake until custard has set around edges but jiggles slightly in the center when shaken, 12-15 minutes. Cool to room temperature, about 2 hours.
Assembly
1. Dust top of tart with matcha powder and decorate with cookies, cut into wedges and serve.