tailor-made – Chocolate Lemon Bonbon Cake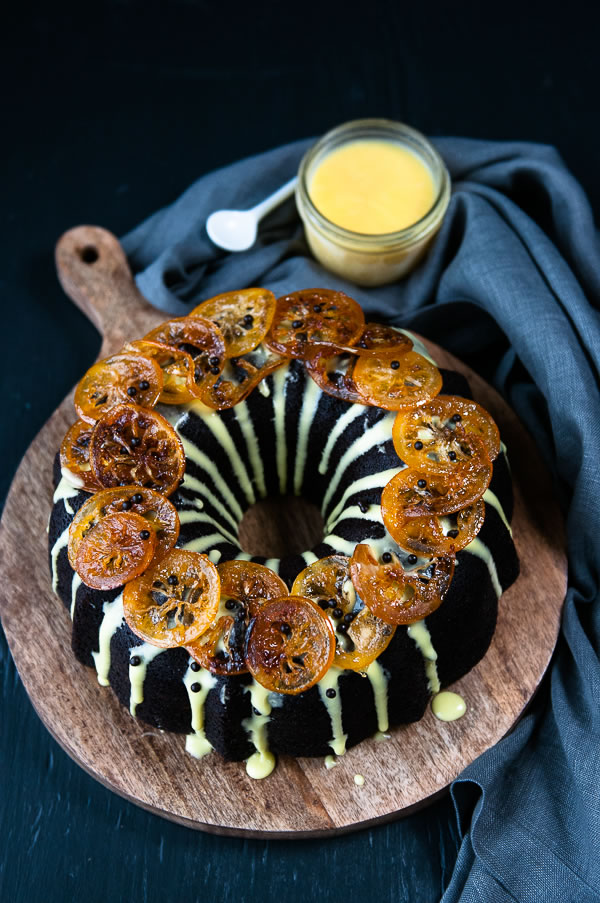 For the longest time, I thought chocolate and lemon were an odd combination. Chocolate and orange, yes, chocolate and berries, definitely yes, but chocolate and lemon? The odd couple.
My motto is try something once (unless it's harmful to health) before I dismiss it. So, why have I hesitated all my life about this combo?Enlightenment came by way of the Top 10 Chocolatier event I attended a month ago. There were exquisite, high quality chocolates and strong accent flavor combinations that complimented each other.  My favorites were passion fruit, peanut butter, caramels and to my big surprise—lemon.
Lemon gives chocolate a burst of brightness yet allows the richness of the chocolate to linger on your palette. It's like the ideally matched couple who finish each other's sentences; they understand each other's strength and allow the counterpart to shine brightly. After the event, this experience of the lemon chocolate combination was further confirmed by the chocolates from Stick With Me (NYC) and Christopher Elbow (SF). Both had exceptional chocolate/lemon bonbons that I loved.
This experience inspired me to make a cake that embodies this perfect partnership. Rich chocolate envelops the lemon curd that provides the tangy punch, while the lemon glaze further reaffirms the tailor-made union.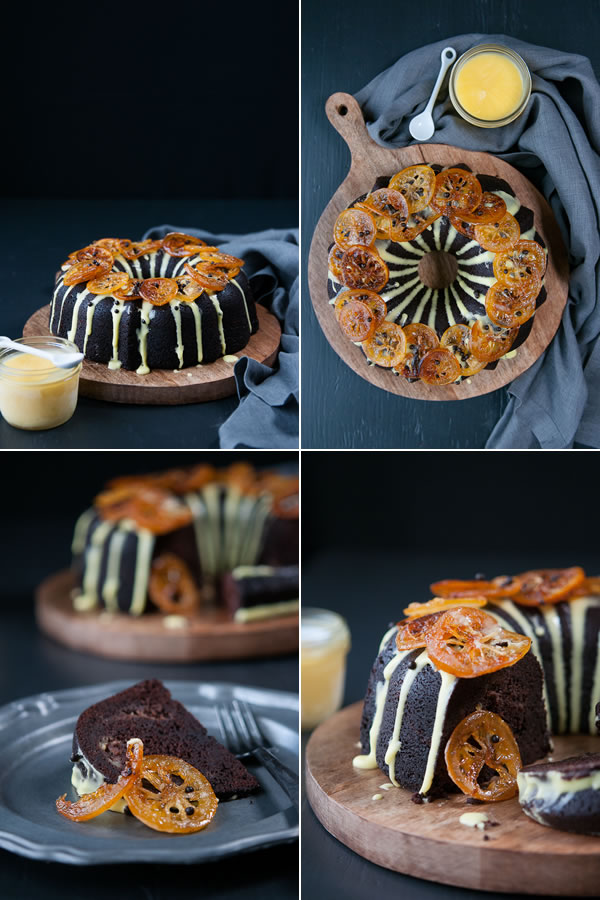 Chocolate Lemon Bonbon Cake
Ingredients:
Lemon Curd
1/3 cup lemon juice
2 large eggs
1 egg yolk
1/4 honey
2 tablespoons unsalted butter, cut into 1/2-inch cubes and chilled
1 tablespoon heavy cream
1/4 teaspoon vanilla extract
1/8 teaspoon fine sea salt
Caramelized Candied Lemon (optional)
2 lemon, wash and cut into 1/8-inch slices
1 cup water
1/2 cup (3-1/2 ounces) granulated sugar
Chocolate Cake
3/4 cup (3 ounces) dutch processed cocoa
6 ounces bittersweet chocolate, chopped
1 teaspoon instant espresso powder
3/4 cup boiling water
1cup sour cream, room temperature
1-3/4 cups (8-3/4 ounces) unbleached all-purpose flour
1teaspoon fine sea salt
1 teaspoon baking soda
12 tablespoons (6 ounces/1-1/2 sticks) unsalted butter, softened
2cups packed light brown sugar (14 ounces)
1tablespoon vanilla extract
5 large eggs, room temperature
1 cup lemon curd
Lemon Glaze
1/4 cup heavy cream
1 tablespoon fresh lemon juice
Pinch of fine sea salt
1 ounce white chocolate, finely chopped
1/8 teaspoon lemon extract
Yellow food coloring (optional)
2 tablespoons confectioners' sugar
Directions:
Lemon Curd
1. Heat lemon juice in small nonreactive saucepan over medium heat until hot but not boiling. Whisk eggs and yolk in medium nonreactive bowl; gradually whisk in honey. Whisking constantly, slowly pour hot lemon juice into eggs, then return mixture to saucepan and cook over medium-low heat, stirring constantly with rubber spatula, until mixture thickens, enough to cling to a spoon, about 3 minutes.
2. Remove pan from heat and stir in cold butter until incorporated; stir in cream, vanilla, and salt, then pour curd through fine-mesh strainer into small nonreactive bowl. Cover surface of curd directly with plastic wrap; refrigerate until needed.
Caramelized Candied Lemon (optional)
1. Combine water and sugar in a medium saucepan and bring it to a simmer over medium heat. Add lemon slices and stir to combine. Continue to cook on low heat until lemon have softened and lightly caramelized, about 30-40 minute.
2. Remove from heat and place slices in a single layer on a parchment lined baking sheet to cool completely.
Chocolate Cake
1. Butter the interior surfaces of a 12-cup Bundt pan and dust it with cocoa powder, shake off excess, set aside. Adjust oven rack to lower-middle position; heat oven to 350℉.
2. Combine cocoa, chocolate, and espresso powder in medium bowl; pour boiling water over and whisk until smooth. Cool for 10 minutes; then whisk in sour cream. Whisk flour, salt, and baking soda in second bowl to combine, set aside.
3. In the bowl of a stand mixer fitted with a paddle attachment, beat butter, sugar, and vanilla on medium-high speed until pale and fluffy, about 3 minutes. Reduce speed to medium and add eggs one at a time until combined (scrape down bowl with rubber spatula as needed). Reduce to medium-low speed, add about one third of flour mixture and half of chocolate/sour cream mixture and mix until just incorporated, about 20 seconds. Scrape bowl and repeat using half of remaining flour mixture and all of remaining chocolate mixture; add remaining flour mixture and beat until just incorporated, about 10 seconds. Scrape bowl and mix on medium-low until batter is thoroughly combined, about 30 seconds.
4. Pour 1/3 batter into prepared Bundt pan, smooth top with small off-set spatula. Dollop 1/3 cup of lemon curd on top and gently swirl into the batter. Pour half of the remaining batter on top and repeat with lemon curd and batter.
5. Bake until wooden skewer inserted into center comes out with few crumbs attached, 45-50 minutes. Cool in pan 10 minutes, then invert cake onto parchment-lined wire rack; cool to room temperature, about 3 hours.
Lemon Glaze
1. Bring heavy cream, lemon juice and salt to a simmer in a small saucepan over medium heat. Remove from heat and stir in white chocolate. extract and a drop of food coloring (if use). Let stand for 2 minutes, then whisk to combine. Refrigerate until slightly thickened, about 25-30 minutes. Whisk in confectioners' sugar until fully combined. Pour glaze over cake and let it drip down the sides. Decorate with caramelized candied lemon (if use). Serve.