Snow Day – Chocolate Caramel Spice Cake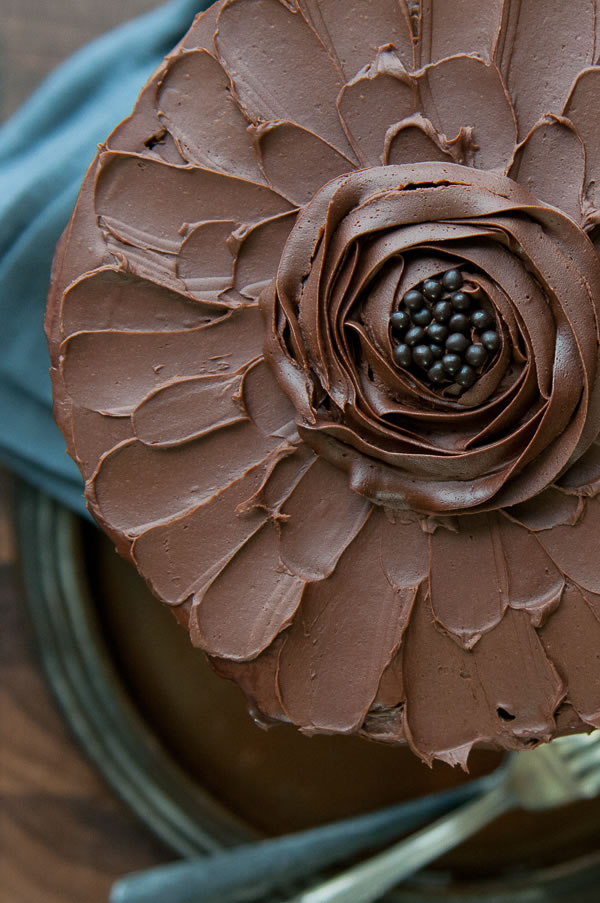 Two weeks ago, we had a big storm . . . for one day. It didn't stop New Yorkers from forming long lines at the grocery checkout lines after hording everything on the shelves as if they expected to spend the rest of winter in their apartments to finally emerge in the spring.
Luckily, I was ahead of the game and got my groceries early to avoid the chaos. There was a small hiccup. I totally forgot about dessert.
Nothing says comfort more than a homemade dessert during a storm. While the snow was pounding and the wind was whipping, curling up in front of the TV for a marathon viewing of a show seemed like the thing to do. Besides the usual snacks, I wanted a decadent cake that kept you going back for more through out the day. The answer was obvious — a chocolate cake.
Fortunately, I had all the ingredients, and more importantly, enough chocolate to achieve the required decadent quota.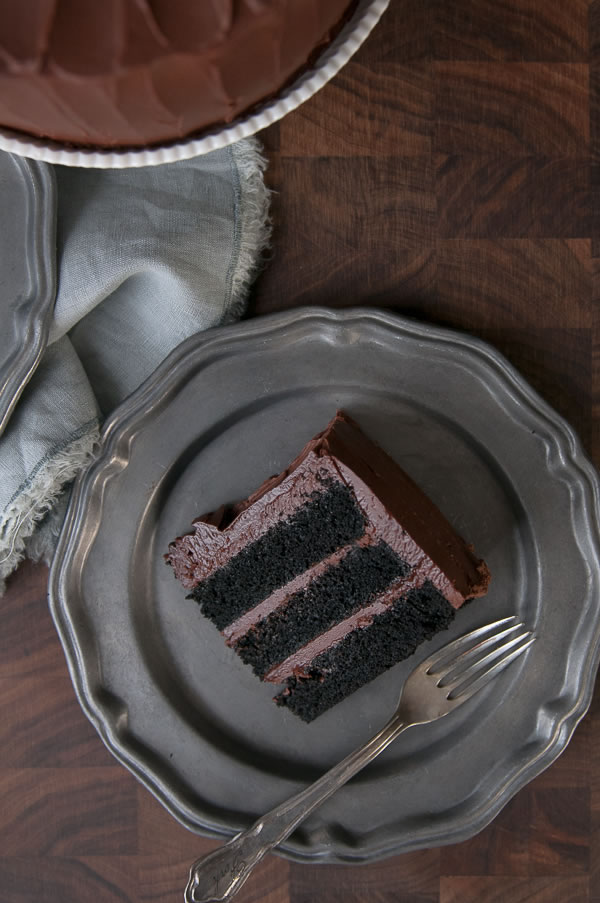 Chocolate Caramel Spice Cake
Ingredients:
Chocolate Caramel Frosting
9 ounces milk chocolate, finely chopped
18 ounces bittersweet chocolate, finely chopped
1/4 teaspoon instant espresso powder
1 teaspoon fine sea salt
1-1/2 cups (10-1/2 ounces) granulated sugar
1/2 cup water
1 tablespoon corn syrup
2-1/4 cups heavy cream
Chocolate Spice Cake
12 tablespoons (6 ounces/1-1/2 sticks) unsalted butter, at room temperature
1-1/2 cups (10-1/2 ounces) granulated sugar
3/4 teaspoon fine sea salt
3 large eggs, at room temperature
2 teaspoons pure vanilla extract
2-1/4 cups (11-1/4 ounces) unbleached all-purpose flour
3/4 cup (3 ounces) dutch-processed cocoa powder
1-1/2 teaspoons baking soda
3/4 teaspoon ground cinnamon
1/4 teaspoon ground cardamom
1/8 teaspoon ground nutmeg
1-1/2 cups buttermilk
3/4 cup boiling water
Directions:
Chocolate Caramel Frosting
1. Combine milk chocolate,bittersweet chocolate, espresso and salt in large bowl. Stir sugar, water and corn syrup in medium saucepan over medium heat until sugar dissolves. Boil without stirring until syrup is deep amber color, occasionally brushing down sides of pan with wet pastry brush, about 10 minutes. Carefully add heavy cream (mixture will bubble vigorously). Stir over low heat until any hard caramel bits dissolve and mixture is smooth. Pour caramel over chocolate; let stand 1 minute to allow chocolate to soften, then whisk until chocolate is melted and smooth. Let chocolate-caramel frosting cool completely at room temperature, about 2 hours. Let stand 1 hour at room temperature before continuing.
2. In the bowl of a stand mixer fitted with a paddle attachment, add cooled chocolate-caramel frosting, beat  until frosting has lightened in color, creamy and spreadable, about 1 minute
Note: Do not overbeat or frosting will become stiff and grainy. If necessary to correct graininess, set bowl with frosting over saucepan of simmering water for 10-second intervals, whisking just until frosting is smooth and spreadable.
Chocolate Spice Cake
1. Adjust the oven rack to middle position and preheat the oven to 350℉. Lightly butter three 8-inch cake pans, set aside. Combine flour, cocoa powder, baking soda, cinnamon, cardamom and nutmeg in a medium bowl, whisk to combine, set aside.
2. In the bowl of a stand mixer fitted with paddle attachment, add butter, sugar, and salt; beat on medium speed until light and fluffy, 4-5 minutes. Reduce speed to low and add eggs one at a time; beat until fully incorporated. Add vanilla and beat to combine. Scrape down sides of bowl to ensure all the ingredients have been fully incorporated. Add flour mixture in 3 additions, alternating with buttermilk (in 2 additions), beginning and ending with dry ingredients, and beating in each addition until barely combined. Add boiling water and mix just until the batter is smooth. Divide batter evenly between prepared cake pans; spread batter to edges of pans with rubber spatula and smooth surfaces.
3.Bake cakes until toothpick inserted into center of cakes comes out clean, about 25 minutes. Cool cake, in pans on cooling rack, about one hour.
Assembly
1. Place 1 cake layer on cake stand or a serving platter, spread 1 cup frosting evenly over top. Top with second cake layer, flat side up, pressing slightly to adhere. Spread 1 cup frosting over top. Top with third cake layer, rounded side up, pressing slightly. Spread remaining frosting over top and sides of cake decoratively.
Note: Can be made 2 days ahead. and store, covered, at room temperature.