essences of fall harvest – butternut squash soup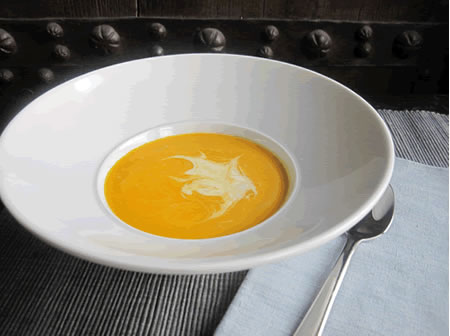 Fall is definitely my favorite season for food. Don't get me wrong, I adore the freshness of Spring vegetables and the abundance of sweetness of Summer produce. Fall to me is in the perfect harmony of all seasons—proud yet humble, bold yet subtle. The flavors of the earth come forth with unassuming presence.
Butternut Squash is a great representation of the Fall. You can practically cook it any way you want—roast, steam, sauté, purée—and it will still be delicious. For years, I found most recipes muddle the natural sweetness of butternut squash by adding too much dairy and sugar. I've been on a lookout for recipes that bring forth the natural earthy sweetness of this Fall gem.
It's no surprise that if anyone could solve this challenge, it would be America's Test Kitchen. For those who are not familiar with their good work, they take common simple recipes and find way to improve and perfect them. In this case, a most delicious Butternut Squash Soup.
They actually discovered the secret of how to extract the flavor of the squash—the seeds. Most people will toss them into their compost without thinking, but ATK says no, sauté them with a bit of shallots and you'll have a natural flavor booster. Everything is done in a Dutch oven or pot, plus a steamer. When it's done in 25 minutes, strain and purée in blender. Add a hint of brown sugar to enhance the sweetness and a dash of cream for smoothness.
I've been making this Butternut Squash Soup ever since I discovered it and have actually use it as a broth for my Butternut Squash Risotto. The saffron color liquid is the pure gold of Fall.
Butternut Squash Soup
Ingredients:
2 tablespoons unsalted butter
2 medium shallots, minced (about 4 tablespoons)
3 pounds butternut squash (about 1 large), unpeeled, squash halved lengthwise, seeds and stringy fibers scraped with spoon and reserved (about ¼ cup), and each half cut into thirds (long as it fits in the steamer basket)
Kosher salt
2 tablespoons heavy cream*
1 teaspoon dark brown sugar*
Directions:
*If you plan on freezing the soup for later use: Proceed with the recipe until you reach the last step. Do not add cream and brown sugar before freezing. Add them after defrosting and rewarmed when you are ready to serve the soup. This will ensure the sweetness and creamy texture of the final product.
1. Heat butter in large Dutch oven over medium-low heat until foaming; add shallots and cook, stirring frequently, until softened and translucent, about 3 minutes. Add squash scrapings and seeds and cook, stirring occasionally, until fragrant and butter turn saffron color, about 4 minutes. Add 6 cups water and 1½ teaspoons salt to Dutch oven and bring to boil over high heat; reduce heat to medium-low, place squash cut-side down in steamer basket, and lower basket into pot. Cover and steam until squash is completely tender, about 30 minutes. Off heat, use tongs to transfer squash to rimmed baking sheet; reserve steaming liquid. When cool enough to handle, use large spoon to scrape flesh from skin into medium bowl; discard skin.
2. Pour reserved steaming liquid through mesh strainer into second bowl; discard solids in strainer. Rinse and dry Dutch oven.
3. In blender, puree squash and reserved liquid in batches, pulsing on low until smooth. Transfer puree to Dutch oven; stir in cream and brown sugar and heat over medium-low heat until hot. Add salt to taste; serve immediately.
Recipe Notes
If you don't own a folding steamer basket, a pasta pot with a removable pasta insert works well. Some nice garnishes for the soup are freshly grated nutmeg, a drizzle of balsamic vinegar, a sprinkle of paprika, or homemade cinnamon croutons.
recipe adapted from American Test Kitchen