Got the Blues – Blueberry Coconut Lemon Cake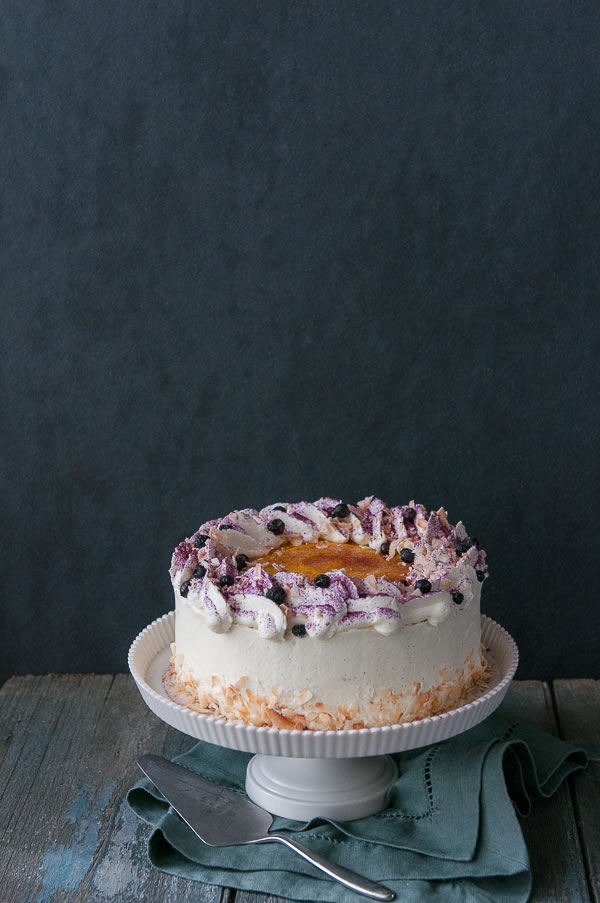 For the last several years, M & I looked forward to our vacation in Ogunquit, ME. The exception was last year when other travel and events made it too hard to schedule. Even though we only had a one-year hiatus, it feels like a decade since our last visit.
During these days just before Labor Day weekend, we see friends, hang out on the beach, eat as much seafood as possible (oh, the lobster rolls), and drink my local favorite–blueberry martinis. It's a quick end-of-summer recess of relaxation, rejuvenation, and recharge before we head into the Fall semester of activities and obligations.
I've spoken, blogged, and boast about the joy of this road trip and the deliciously addictive blueberry martini. It's not an overly sweet libation, just sweet enough to taste the essence of Maine's blueberries. The minute I start to think about this trip, I can't get the fruit out of my mind. I NEED to bake something.
This blueberry coconut cake has the feel of an old-fashioned American cake. The lemon curd filling brightens your palate like the summer sun and the vanilla frosting is so divinely light that you'll be relatively guilty-free with each bite. The only way to make it better is to enjoy a slice while sitting on the porch of a New England house overlooking the ocean in the evening.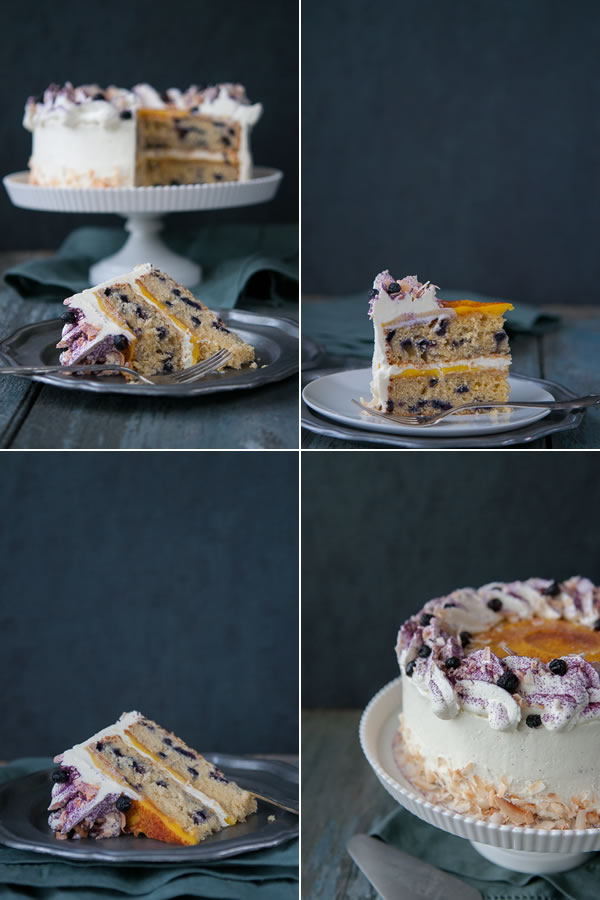 Blueberry Coconut Lemon Cake
Ingredients:
Lemon Curd Filling
1/2 cup fresh lemon juice from about 6 lemons
1/2 teaspoon powdered gelatin
3/4 cup granulated sugar (5-1/4 ounces)
1/8 teaspoon table salt
2 large eggs
3 large egg yolks
4 tablespoons unsalted butter, cut into 1/2-inch cubes and frozen
Blue Coconut Cake
2 cups (10 ounces) unbleached all-purpose flour, plus 2 teaspoons
1 tablespoon baking powder
1/2 teaspoon fine sea salt
16 tablespoons (8 ounces/2 sticks) unsalted butter, softened
3/4 cup (6 ounces) packed light brown sugar
1/2 cup (3-1/2 ounces) granulated sugar
3 large eggs. room temperature
1 teaspoon coconut extract
1 cup canned coconut milk
1 cup (about 4-1/2 ounces) fresh blueberries
1/2 cup (2 ounces) sweetened shredded coconut
Whipped Cream Frosting
1/2 teaspoon powdered gelatin
1-1/2 tablespoons water
1-1/2 cup heavy cream, chilled
2 teaspoons granulated sugar
1/4 teaspoon pure vanilla extract
Assembly
Blueberry Coconut Cake layers
Lemon Curd Filling
Whipped Cream Frosting
Freeze dried blueberry powder (optional)
Directions:
Lemon Curd Filling
1. Measure 2 teaspoons lemon juice into small bowl; sprinkle gelatin over top. Heat remaining lemon juice, sugar, and salt in medium nonreactive saucepan over medium-high heat, stirring occasionally, until sugar dissolves and mixture is hot but not boiling. Combine eggs and yolks in large nonreactive bowl, whisk to combine. Continue to whisk and slowly pour hot lemon-sugar mixture into eggs, then return mixture to saucepan. Cook over medium-low heat, stirring constantly with heatproof spatula, until mixture registers 170℉ and is thick enough to leave trail when spatula is scraped along pan bottom, about 5 minutes. Immediately remove pan from heat and stir in gelatin mixture until dissolved. Stir in frozen butter until incorporated. Pour filling through fine-mesh strainer into nonreactive bowl. Cover surface directly with plastic wrap; refrigerate until firm, at least 4 hours.
Blue Coconut Cake
1. Adjust oven rack to middle position and heat oven to 350℉. Spray two 9-inch-round cake pans with nonstick cooking spray; line bottoms with parchment rounds. Spray paper rounds, dust pans with flour, and knock out excess, set aside.
2. Whisk 2 cups flour, baking powder, and salt together in medium bowl. In the bowl of a stand mixer fitted with paddle attachment, beat butter and sugars on medium-high speed until fluffy, about 2 minutes. Add eggs, one at a time, beating until just incorporated. Add coconut extract and beat to combine.
3. With mixer running at low speed, add flour mixture in 3 additions, alternating with coconut milk  (in 2 additions), beginning and ending with flour mixture, and beating in each addition until barely combined. Remove bowl from mixer, gently stir in blueberries and shredded coconut by hand with rubber spatula, scraping bottom and sides of bowl, to ensure that batter is homogenous. Divide batter evenly between prepared cake pans; spread batter to edges of pans with rubber spatula and smooth surfaces. Bake until toothpick inserted in center of cakes come out clean, 45-50 minutes. Cool in pan for 20 minutes and invert cake onto cooling rack and continue to cool completely.
Whipped Cream Frosting
1. Sprinkle powdered gelatin over water in a microwave-safe bowl and let it stand for 3 minutes. Microwave the mixture in 5-second increments until the gelatin is dissolved and liquefied. In the bowl of a stand mixer fitted with a whisk attachment, whisk chilled heavy cream, sugar and vanilla extract on low speed until foamy with small bubbles. Increase speed to medium and continue to whisk until slightly thickened; slowly pour in the gelatin mixture and then increase the speed to high and continue to beat until soft peaks form. Use immediately or cover and chilled in refrigerator for up to 1 day.
Assembly
2. Trim top of each cake layer to level, place one cake layer on a cake stand or serving platter, Spread 1/2 of the filling over cake layer and top with another layer. Repeat with remaining filling. Pipe or spread frosting evenly over top edge and sides of cake. Sprinkle top with blueberry powder (if use).