Summer Breeze – Raspberry Lychee Chiffon Cake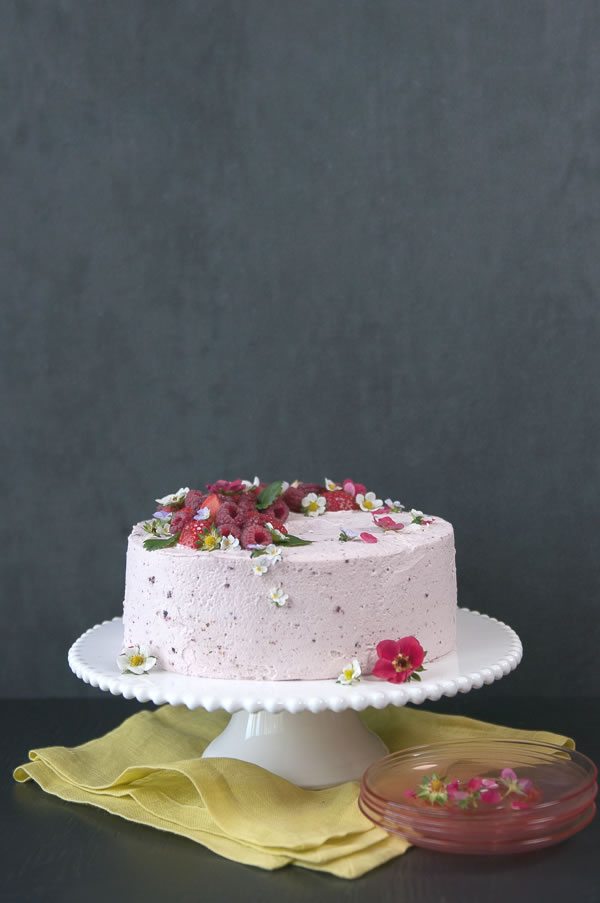 As the heat rises, I'm taking a break from pie making and turning to something with a much lighter texture—chiffon cake. The airiness of this cake seems fitting as we approach the official beginning of summer.
Chiffon cake, much like its cousin, angel food cake, relies on the lift provided by whipped eggs. Angel food is just egg whites, while chiffon is both whipped yolks and whites. With the yolks and the addition of a neutral oil, chiffon has a richness of a yellow cake but the lightness of angel food. It's the best of both worlds.
In this rendition of chiffon, I combine raspberry and lychee to create a delicate floral flavor profile to compliment the lightness of the texture. Each bite of this cake will remind you of a summer breeze wafting over your face, refreshingly warm and delightfully comfortable.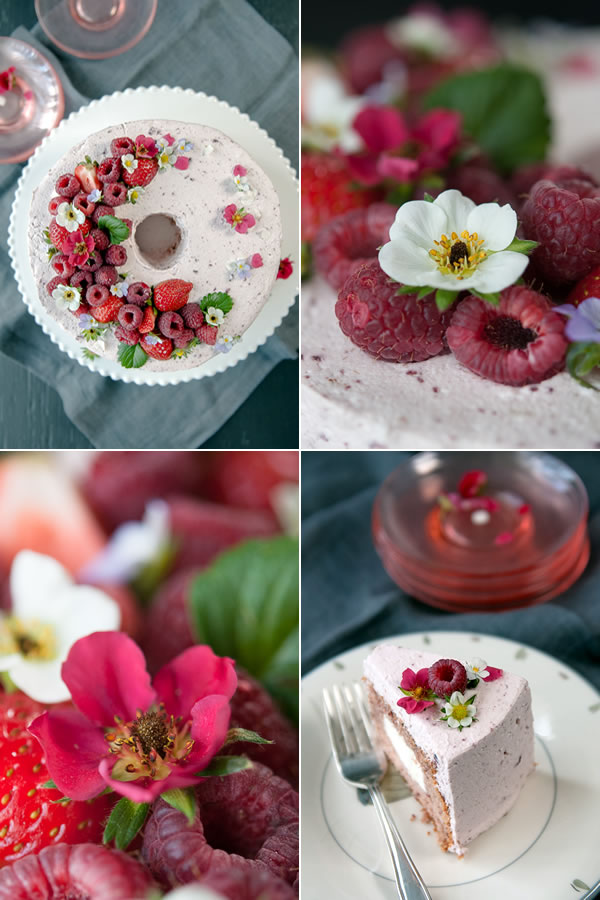 Raspberry Lychee Chiffon Cake
Ingredients:
Raspberry Chiffon Cake
5 large eggs, separated
1 teaspoon cream of tartar
1-1/2 cups (10-1/2 cups) granulated sugar
1-1/3 cups (5-3/8 ounces) cake flour
3 tablespoons freeze-dry raspberry powder
2 teaspoons baking powder
1/2 teaspoon fine sea salt
3/4 cup water
1/4 cup vegetable oil
1/4 cup coconut oil
1 tablespoon pure vanilla extract
Lychee Mousse
1 cup lychee purée
1/2 cup (2 ounces) confectioners' sugar
3-1/2 silver gelatin sheets
1 teaspoon rose water (optional)
1 cup heavy cream
Raspberry Frosting and Assembly
1/2 teaspoon unflavored gelatin
1 tablespoons raspberry liqueur
2 cups heavy cream, chilled
1/4 cup (1 ounce) confectioners' sugar
3 tablespoons  seedless raspberry jam
1-2 cups fresh raspberries
Directions:
Raspberry Chiffon Cake
1. Adjust oven rack to lower-middle position and heat oven to 325℉. In the bowl of a stand mixer fitted with whisk attachment, whip egg whites and cream of tartar on medium-high speed until soft peaks form, about 2 minutes. With mixer running, slowly add 2 tablespoons sugar and whip until just stiff and glossy, about 1 minute; set aside.
2. Combine flour, remaining sugar, raspberry powder, baking powder, and salt in large bowl. Whisk water, both oil, egg yolks, and vanilla in medium bowl until smooth. Whisk wet mixture into flour mixture until smooth. Whisk one-third whipped egg whites into batter, then gently fold in remaining whites, 1 scoop at a time, until well combined. Scrape mixture into 16-cup ungreased tube pan.
3. Bake until tooth-pick inserted into center comes out clean and cracks in cake appear dry, about 50-60 minutes. Cool, inverted, to room temperature, about 3 hours.
4. When the cake is cool, turn the pan right side up and run a flexible knife around the tube and outer edge. Use the tube to pull the cake out of the pan and cut the bottom free from tube. Now invert the cake onto a cake stand or serving plate and gently twist the tube to remove.
Lychee Mousse
1. Soak gelatin sheets in ice water until softened, about 10 minutes. Squeeze gently to remove excess water and set aside.
2. Combine lychee purée and sugar in a medium saucepan, whisk to combine and bring it to a simmer. Add gelatin and whisk to fully combine. Pour lychee mixture into a large bowl, add rose water (if use), stir to combine and set aside to cool for 30 minutes.
3. In the bowl of a stand mixer fitted with a whisk attachment, whisk heavy cream to soft peak on medium-high speed. Fold some whipped cream to the lychee mixture to lighten. Fold in remaining whipped cream until no remaining white streaks of whipped cream are visible.
4. Using serrated knife, cut 1-inch layer from top of cake. Using fork and a pairing knife, hollow out center of cake, leaving 1-inch border on all sides. Spoon lychee mousse into hollowed-out cake and spread level. Return top layer to cake and set aside while you make the frosting.
Raspberry Frosting and Assembly
1. Combine gelatin and liqueur in large bowl. Let stand 5 minutes to soften gelatin. Bring 3 tablespoons  of cream to simmer in small saucepan over medium heat, then whisk into gelatin mixture until no lumps remain; cool. Combine gelatin mixture, sugar and remaining cream in the bowl of a stand mixer fitted wit ha whisk attachment and beat on medium-high speed to stiff peaks, about 2 minutes. Add jam and continue to whisk until combined.
2. Frost top and sides of cake  and refrigerate until filling and frosting are set, about 2 hours. (Cake can be refrigerated for up to 24 hours.) Garnish with raspberries. Serve.