That will do – Asian Mango Pudding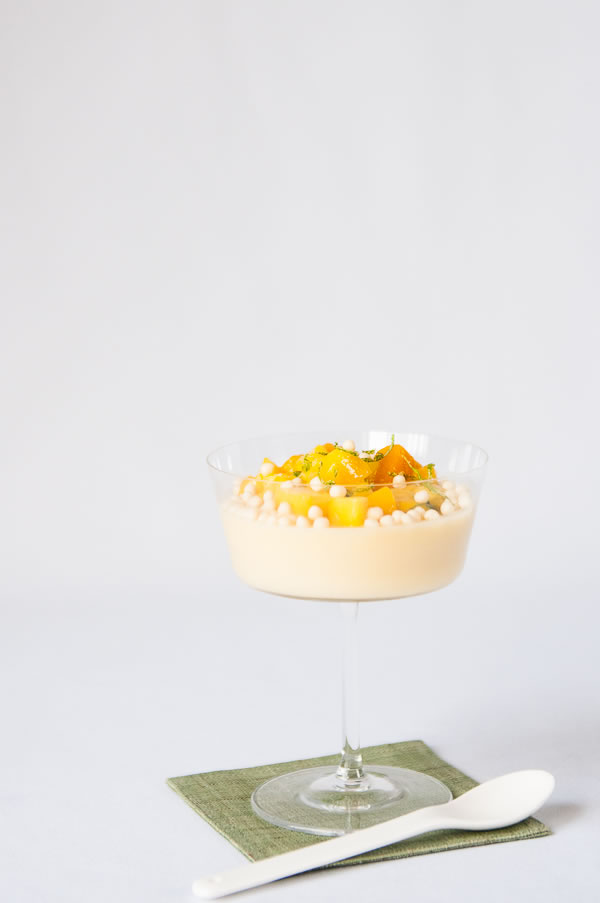 When I was a wee rabbit in Hong Kong, we didn't use a whole lot of dairy products, so when milk was needed for coffee or a spot of tea, we used evaporated milk. This preference was fairly common among Asian households.
We didn't drink fresh milk growing up, but there was a local company, Dairy Farm, which supplied fresh dairy in Hong Kong. I recall diving into their ice cream whenever I was allowed.  My everyday experience with dairy, though, was with evaporated milk.

Many Asian desserts use it or sweetened condensed milk. One of the most memorable ones is mango pudding. It's a combination of fresh mangoes, evaporated milk, and sugar bound together by gelatin. The dairy brings out the essence of the mango. I adored the simplicity of this dessert and made it often when I was growing up. (It's this dessert that probably made me a chubby kid.)
Fresh mango was not hard to find in Hong Kong but here in New York, it takes a bit of poking around to find good quality ones. Frozen mangoes are readily available and are fine for this purpose—all you need is a touch of lime juice to brighten their flavor. For this grownup version, I get to use real fresh milk and cream, though I do want to try an evaporated milk version.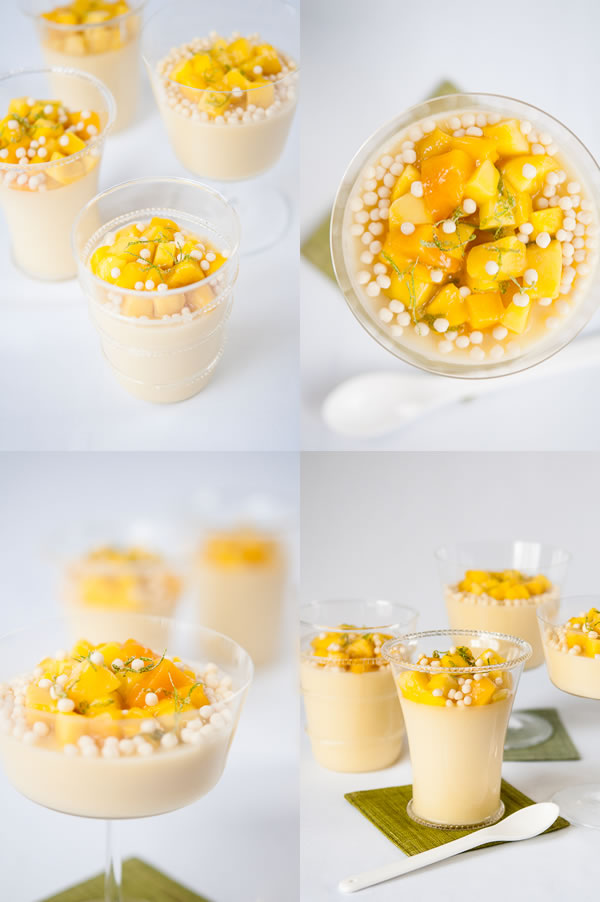 Asian Mango Pudding
Ingredients:
Mango Pudding
2-1/2 cups cold water, divided
1-1/4 cups granulated sugar, divided
1 pound frozen mango chunks, thawed
4-1/2 teaspoons (2 packets) unflavored powder gelatin
1/4 teaspoon fine sea salt
1 cup coconut milk or heavy cream, chilled
1 teaspoon freshly squeezed lime juice
1/4 teaspoons pure vanilla extract
Mango Compote
2 cups (10 ounces) fresh or frozen mango, diced
1 tablespoon granulated sugar
2 teaspoons fresh lime juice
1 teaspoon coconut rum (optional)
Zest of 1 lime, divided
White chocolate pearls (optional)
Directions:
Mango Pudding
1. Bring 1/2 cup of water and 1/2 cup of the sugar to a boil in a small saucepan over high heat, stir to combine. Remove from heat and set aside for 5 minutes.
2. Place mango and sugar mixture in a blender, and blend until very smooth. Pour through a fine mesh strainer set over a medium bowl and, using a rubber spatula, work the mixture through the strainer, discarding any solids; set aside.
3. Place 1-1/2 cups of water in a small saucepan over high heat and bring to a boil.
4. Meanwhile, place the remaining 3/4 cup sugar, gelatin, and salt in a large mixing bowl, add remaining 1/2 cup water, and whisk to incorporate, about 30 seconds. Add boiling water and whisk until gelatin and sugar are dissolved, about 1 minute.
5. Add mango purée, cream, lime juice, vanilla and whisk until fully combined. Divide the mixture evenly among glasses and refrigerate until set, at least 2 hours.
Mango Compote
1. Combine mango, sugar, lime juice, rum (if use) and half the lime zest in a bowl, stir to combine until sugar dissolves. Let macerate for 20 minutes. Divide compote evenly over pudding, sprinkle extra lime zest and white chocolate pearls (if use) on top, serve. (It's best to do this step right before serving.)