State of Mind – Goma Chocolate Cake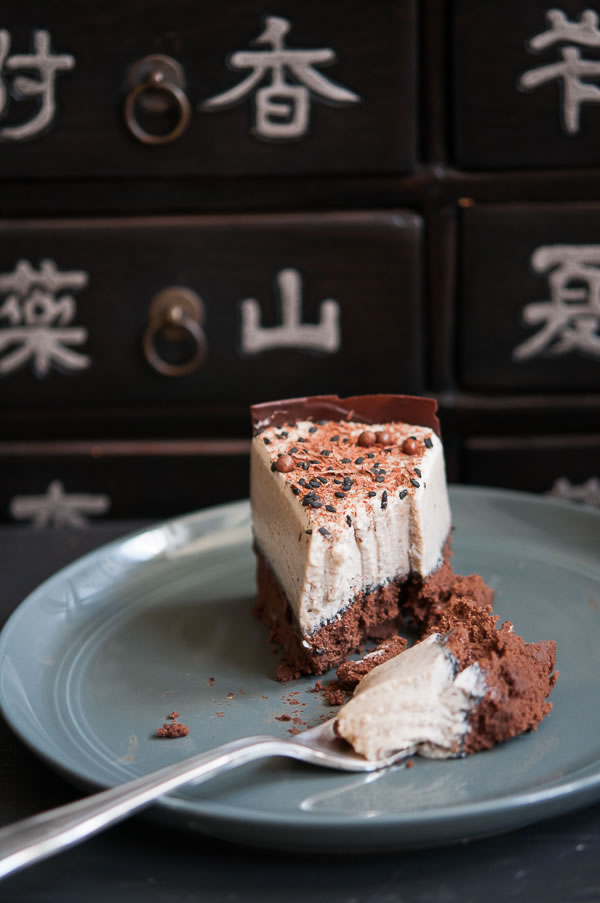 I've been in my Asian dessert phase recently, perhaps because I miss traveling in Asia—or maybe I'm just drawn to those desserts on Instagram. In either case, I'm all about matcha, sesame, and all the fruits associated with Asian desserts.
A few weeks ago, my friend Cindy and her husband bravely decided to become nomads for a year. They packed up their belongings in New York and began their travels with a first stop in Singapore (a city that we recently visited). With a good case of jet lag that first day, she started early to explore the food scene. Besides morning noodles and other scrumptious dishes at a hawker center, she visited cafes and pastries shops with the most incredible and inventive desserts, all with Asian flavors, of course.
Among the plethora of mouth watering sweets were Charcoal Kaya Lava Croissant, Matcha Lava Croissant and my favorite of them all, Black Velvet Waffle: black sesame waffle drizzled with black miso caramel and topped with black sesame ice cream. Just mentioning these few things makes me want to head to the airport.
Since a trip to Singapore is easier to imagine than realize, the alternative is to make desserts to satisfy my cravings. This Goma (sesame) Chocolate Cake is my initial indulgence, with Black Miso Caramel appearing next.
The combination of goma and chocolate also stems from my recent realization that I'd not made any Asian desserts with chocolate until the post a few weeks ago about the Matcha Chocolate Tart. This cake will be the second in that series.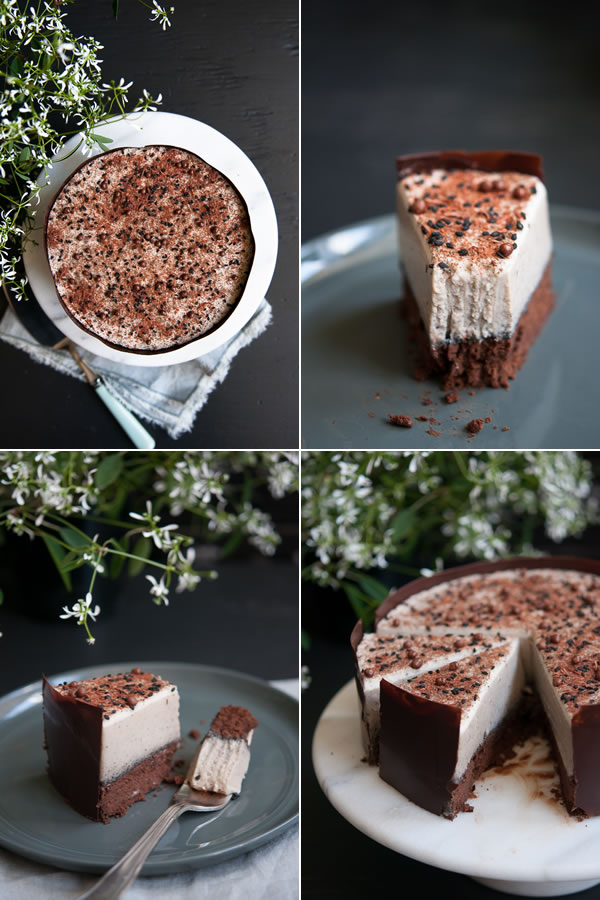 Goma Chocolate Cake
Ingredients:
Chocolate Cake
6 tablespoons (3 ounces) unsalted butter, cut into 6 pieces
7 ounces bittersweet chocolate, chopped fine
3/4 teaspoon instant espresso powder
1/8 teaspoon fine sea salt
1-1/2 teaspoons pure vanilla extract
4 large eggs, room temperature, separated
1/3 cup (2-3/8 ounces) packed light brown sugar
Goma Layer
5 silver gelatin sheets
4 cups heavy cream
3/4 cup (5-1/4 ounces) granulated sugar
1/8 teaspoon fine sea salt
1/3 cup tahini
Assembly
Goma Chocolate Cake
2 tablespoons  ground black sesame powder
2 tablespoons Dutch-processed cocoa powder
2 tablespoons black/white or mix sesame seed
2 tablespoons chocolate pearls (optional)
Directions:
Chocolate Cake
1. Adjust oven rack to middle position and heat oven to 325℉. Butter bottom and sides of 8-inch springform pan. Melt butter, chocolate, espresso powder and salt in large heatproof bowl set over saucepan filled with 1 inch of barely simmering water, stirring occasionally until smooth. Remove from heat and cool mixture slightly, about 5 minutes. Whisk in vanilla and egg yolks; set aside.
2. In stand mixer fitted with whisk attachment, beat egg whites at medium speed until frothy, about 30 seconds. Add brown sugar in few additions and beat until combined, about 5 seconds each. Increase speed to high and beat until soft peaks, about 1 minute longer, scraping down sides halfway through. Using whisk, fold one-third of beaten egg whites into chocolate mixture to lighten. Using rubber spatula, fold in remaining egg whites until no white streaks remain. Carefully transfer batter to prepared springform pan, gently smoothing top with offset spatula.
3. Bake until cake has risen, firm around edges, and center has just set but is still soft, 12-15 minutes. Transfer cake to wire rack to cool completely, about 1 hour. (Cake will collapse as it cools.) Do not remove cake from pan.
Goma Layer
1. Soak gelatin sheets in ice water until softened, about 5 minutes, squeeze out excess water, set aside.
2. In a medium saucepan, combine cream, sugar and salt, bring it  to a simmer. Remove from heat and add tahini and gelatin, stir to dissolve. Set aside to cool, about 20 minutes. Pour mixture on top of cooled chocolate cake. Refrigerate to set, at least 4 hours.
Assembly
1. Remove cake from refrigerator, using a small strainer, dust top of cake with black sesame powder, then cocoa. Sprinkle sesame sesame seeds and chocolate pearls (if use).
2. Run thin knife between cake and side of springform pan; remove side of pan. (Run warm spatula or knife along the outside of cake to smooth sides if necessary). Serve.