eternal sunshine – orange coconut oil cake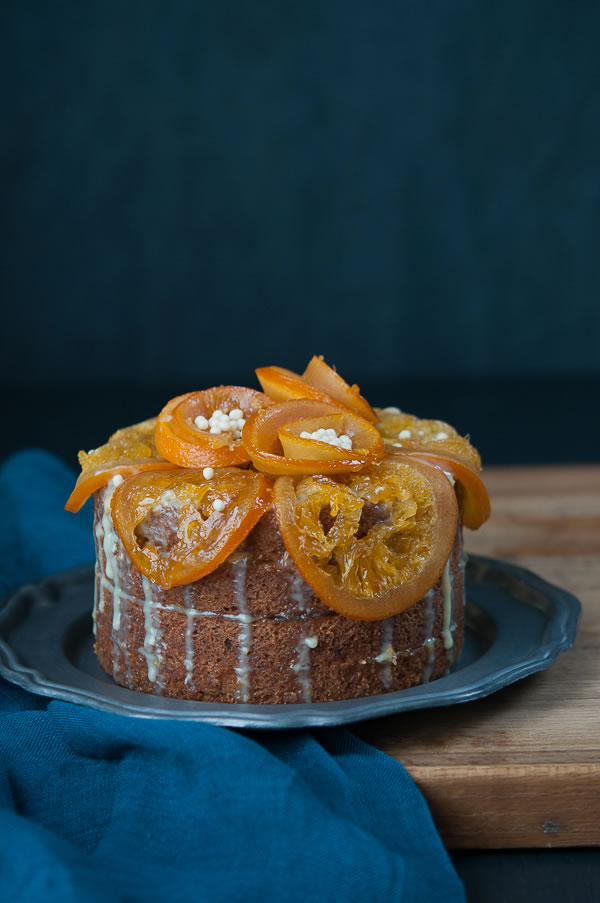 Every year I look forward to citrus season, eager to make desserts with those tangy, zesty fruits. Their flavors always provide a burst of freshness. I've been running around like the White Rabbit in Alice in Wonderland, however, seeming to be too late to bake with them.
On top of playing catch up, we've been traveling more than usual, thus the lack of time in the kitchen. The up side is we get to eat out more often and some of the pastries I've encountered were true perfection. If you are ever in San Francisco, you MUST go to b. patisserie and Mr. Holmes Bakehouse. Their pastries are so buttery and flakey that upon just inhaling the aroma, you'll instantly become a disciple. The lines outside these establishments are testament, if you need it.
In California, everyday is citrus season. The house we stayed in San Francisco had lemon and orange trees, and even kumquats. Nothing can be fresher than the taste these fruits freshly plucked from the source, which made me missed my baking all the more. So upon returning to New York, the first thing I could think of (besides the urgent need to diet) was the aroma of orange permeating the kitchen.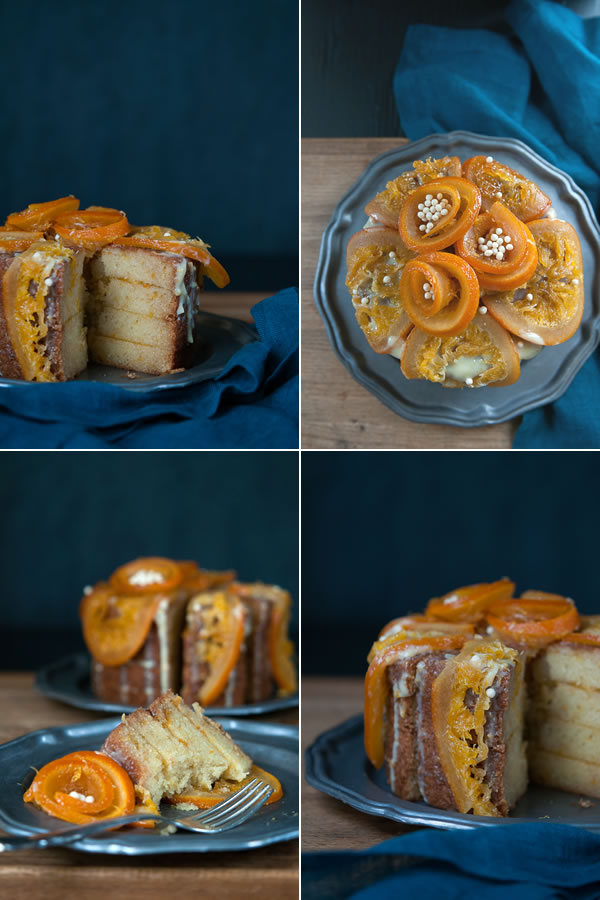 Orange Coconut Oil Cake
Ingredients:
Candied Orange
One large navel orange, cut into 1/4-inch thick slices
1/2 cup (3-1/2 ounces) granulated sugar
1 cup water
3 tablespoons honey
1/4 teaspoon fine sea salt
2 cardamom pod
Orange Coconut Oil Cake
2 cups (10 ounces) unbleached all-purpose flour
1-3/4 cups (12-1/4 ounces) granulated sugar
1 teaspoon fine sea salt
1/2 teaspoon baking soda
1/2 teaspoon baking powder
1-1/3 cups coconut oil
1-1/4 cups coconut milk
3 large eggs, room temperature
1-1/2 tablespoons grated orange zest
1/4 cup fresh orange juice
2 tablespoons Grand Marnièr
1/2 tablespoons Coconut rum
1/2 teaspoon vanilla
Orange Glaze
4 ounces white chocolate, finely chopped
1/8 teaspoon fine sea salt
1/4 cup coconut milk
1 teaspoon orange zest
Assembly
Orange cake layers
3/4 cup marmalade
Orange glaze
Candied Orange slices
White chocolate pearls (optional)
Directions:
Candied Orange
1. Combine all ingredients in a medium sauce pan and bring to a boil. Lower heat to a simmer and continue to cook mixture uncovered until liquid is reduce and becomes syrupy, about 40 minutes.
2. Remove from heat and place slices on a parchment lined baking sheet to cool completely.
Orange Coconut Oil Cake
1. Adjust oven rack to middle position and heat oven to 350℉. Spray two 6-inch cake pans with cooking spray and line the bottom with parchment paper.
2. In a medium bowl, whisk together flour, sugar, salt, baking soda and powder. In a large bowl, whisk together coconut oil, milk, eggs, orange zest, juice and Grand Marnier and rum. Add the dry ingredients; whisk until just combined.
3. Divide the batter evenly into the prepared pans and bake for 45-50 minutes, until the top is golden and a cake tester comes out clean. Transfer the cake to a rack and let cool for 15 minutes.
4. Run a knife around the edge of the pan, invert the cake onto the rack and let cool completely, about one hour.
Orange Glaze
1. While cake is baking, place white chocolate and salt in a bowl and set aside. Bring coconut milk and orange zest in a small sauce pan to a simmer over medium heat. Pour hot milk over white chocolate and stir to combine. Let mixture stand for 5 minutes, then stir to fully combine. (If white chocolate is not fully melted, place mixture in the microwave and heat at 10 sec interval.)
Assembly
1. Trim top of each cake layer to level, slice each cake horizontally into two even layers. Place one layer on a cake stand or serving platter and spread 1/4 cup of marmalade even on top. Spread a thin layer of glaze over marmalade and place another cake layer on top. Repeat with marmalade, glaze and remaining cake layers, finishing with plain cake layer on top.
2. Spread glaze over top of cake and let it drip over the edge. Place candied orange slices decoratively over the top and finsih with white chocolate pearls (if use). Let set for 30 minutes, serve.