hello, it's me – Lemon Cheesecake w Fresh Berries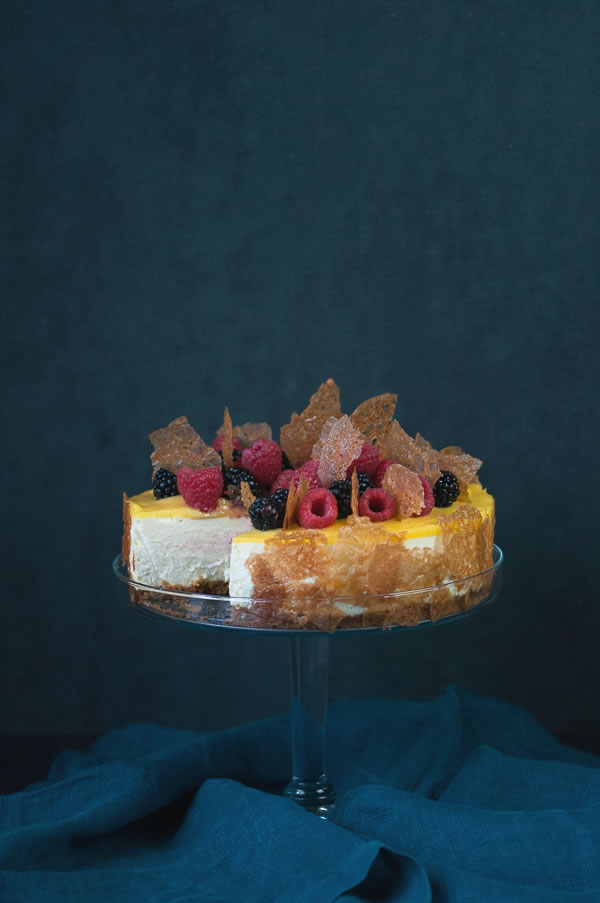 I've not posted much for the last two months—I've been revamping my site, traveling over the holidays to visit family, and vacationing in Asia. I came back refreshed with lots of good baking ideas food adventures in the East.
The new URL is hungryrabbit.com instead of hungryrabbitnyc.com. Don't fret, you'll be redirected to the new link if you bookmarked the old one or got into the habit of typing it. If you are subscribers, you'll receive email notices of new posts, as usual. Please let me know if there's anything you want to see to enhance your baking experience.
For a fresh start of 2016, I want to take advantage of the citrus season and bake up a lemon cheesecake with an airy texture, which I always associate with Asian desserts. The top layer of lemon curd, along with some fresh berries, makes it a welcome treat for snowy winter grey days.
The optional crunchy crocante is a great contrast to texture. It is easy to make but requires a bit of patience. Once you make a batch for the cheesecake, there's enough leftover for crumbling over ice-cream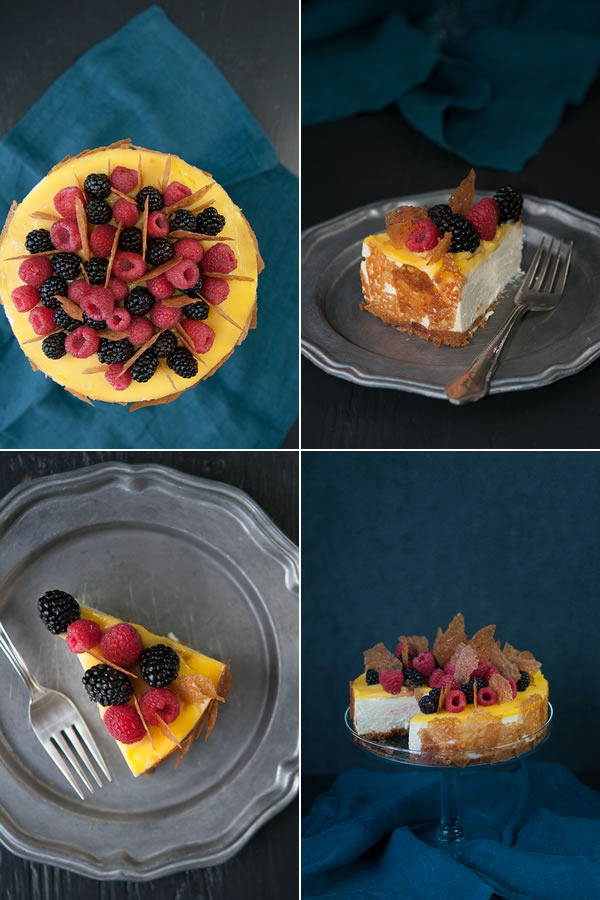 Lemon Cheesecake w Fresh Berries
Ingredients:
Lemon Cookie Crust
10 lemon sandwich cookies, broken into pieces (about 1-1/4 cups)
2 tablespoons unsalted butter, melted
1 teaspoon grated lemon zest
1/8 teaspoon fine sea salt
Lemon Curd
1/3 cup lemon juice, freshly squeezed
2 large eggs
1 large egg yolk
1/2 cup (3-1/2 ounces) granulated sugar
2 tablespoons unsalted butter, cut into 1/2-inch cubes and chilled
1 tablespoon heavy cream
1/4 teaspoon vanilla extract
Pinch fine sea salt
Lemon Filling
1 envelope (2-3/4 teaspoons) unflavored gelatin
1/4 cup (about 2 small or 1 medium lemon) lemon juice
3 8-oz package (1-1/2 pounds) cream cheese, cut into 1-inch pieces and softened
3/4 cup (5-1/4 ounces) granulated sugar
1/8 teaspoon fine sea salt
1-1/4 cups heavy cream, room temperature
Citrus Crocante (optional)
1 cup (7 ounces) granulated sugar
1/2 cup (5 ounces) unbleached all-purpose flour
Pinch of fine sea salt
6 tablespoons fresh orange juice
7 tablespoons (3-1/2 ounces) unsalted butter, melted
Assembly
Lemon Cheesecake
2 cups fresh berries (I used blackberries and raspberries)
Citrus Crocante
Directions:
Lemon Cookie Crust
1. Adjust oven rack to middle position and heat oven to 350℉. Process cookies in food processor until finely ground. Add butter and zest and pulse until combined. Press mixture into bottom of 8-inch springform pan. Bake until lightly browned and set, about 10 minutes. Cool completely on wire rack, at least 30 minutes.
Lemon Curd
1. Heat lemon juice in small nonreactive saucepan over medium heat until hot but not boiling. Whisk eggs and yolk in medium nonreactive bowl; gradually whisk in sugar. Whisking constantly, slowly pour hot lemon juice into eggs, then return mixture to saucepan and cook over medium heat, stirring constantly with wooden spoon, until mixture registers 170 degrees on instant-read thermometer and is thick enough to cling to spoon, about 3 minutes. Immediately remove pan from heat and stir in cold butter until incorporated; stir in cream, vanilla, and salt, then pour curd through fine-mesh strainer into small nonreactive bowl. Cover surface of curd directly with plastic wrap; refrigerate until needed.
Lemon Filling
1. Combine lemon juice and gelatin in small bowl and let stand until gelatin softens, about 5 minutes. Microwave until mixture is bubbling around edges and gelatin dissolves, about 30 seconds. Set aside.
2. In the bowl of a stand mixer, fitted with paddle attachment, beat cream cheese, sugar, and salt on medium speed until smooth and creamy, scraping down sides of bowl, about 2 minutes. Slowly add cream and beat until light and fluffy, about 2 minutes. Add gelatin mixture and ¼ cup curd, increase speed to medium-high, and beat until smooth and airy, about 3 minutes. Pour filling into cooled crust and smooth top. Cover with plastic wrap and refrigerate until set, about one hour.
3. When cheesecake is set, scrape lemon curd onto cheesecake still in springform pan; using offset icing spatula, spread curd evenly over top of cheesecake. Refrigerate for at least 4 hours or up to 24 hours.
Citrus Crocante (optional)
1. Adjust the oven rack to middle position and heat oven to 350℉. Line 2 baking sheets with nonstick baking mats, set aside.
2. In the bowl of a stand mixer, fitted with paddle attachment, mix sugar and flour on low speed until combined. Add orange juice and beat until incorporated. While mixer is running, pour melted butter in a steady stream until fully combined. Remove bowl from mixer and scrap bottom with rubber spatula to finish mixing.
3. Spread 2-inch rounds, three inches apart, on prepared baking sheet and baked for 8-10 minutes until golden brown. Remove from oven and rest for one minute before peeling them off onto a cool tray. Repeat with remaining batter.
Assembly
1. Remove sides of springform pan, decorate top of cake with fresh berries and shards of crocante (if use). Cut cake into wedges and serve.