rose to the occasion – apple frangipane tart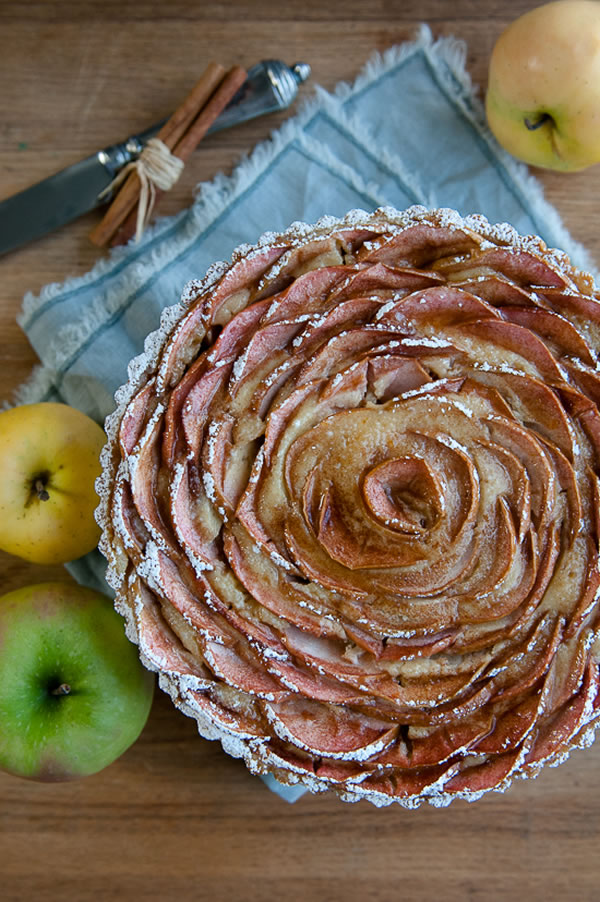 When M said he wanted a pie—preferable with apples—for his birthday instead of a cake, I was speechless. An apple pie is fine for some occasions, but it's not the most visually celebratory item.
I realized it was his birthday, and he should have his wish. My challenge was to make this pie look as special as the day. With this project and the upcoming Thanksgiving dinner, I wondered which apple dessert would stand out.
This Apple Frangipane Tart is my solution for both occasions. With a bit of patience in the arrangement of the apples, the results are well worth the effort as a classic frangipane tart becomes an homage to the Fall harvest.
Even if you are not an apple peel person, do leave the skin on per the recipe since it helps the slices keep their shape. If at all possible, search for apples that have a pinkish flesh, which adds a true rose palette to the tart. Be it a birthday treat for a Thanksgiving baby or dessert for the holiday table, this tart will stand proudly.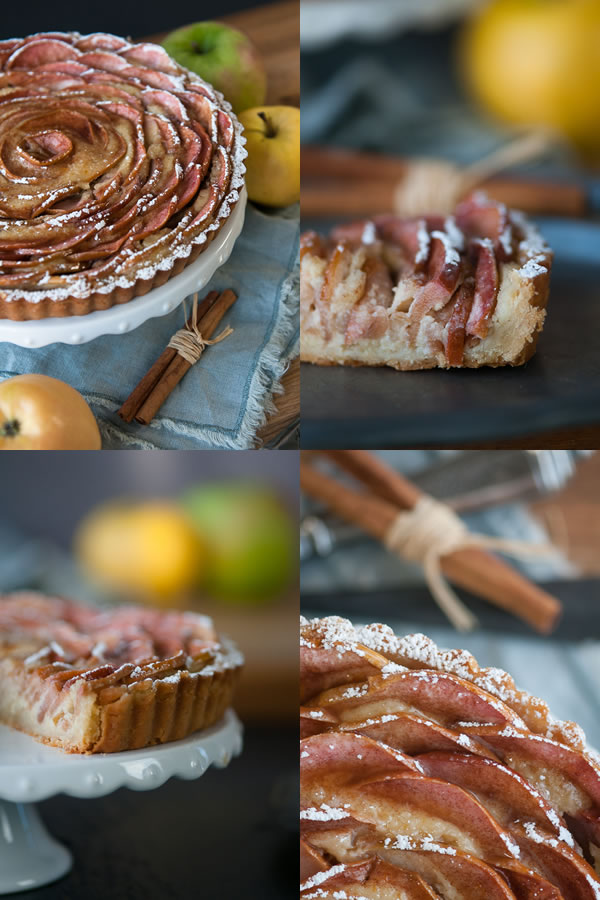 Apple Frangipane Tart
Ingredients:
Pâte Sucrée
1 large egg, room temperature
1 large egg yolk, room temperature
1/2 teaspoon pure vanilla extract
2 cups (10 ouches) all-purpose flour
16 tablespoons (8 ounces/2 sticks) unsalted butter, cut into 1/2-inch cubes, frozen
1/4 cup (1-3/4 ounces) granulated sugar
1/2 teaspoon fine sea salt
Cinnamon Apple Topping
3-4 medium apples, cored and cut into 1/4-inch slices
3-4 tablespoons lemon juice, freshly squeezed
Frangipane (Almond Filling)
4 ounces (1 cup) blanched slivered almonds
1/2 cup (3-1/2 ounces) granulated sugar
1/8 teaspoon fine sea salt
1 large egg, room temperature
1 large egg white, room temperature
1/2 teaspoon pure almond extract
1/2 teaspoon pure vanilla extract
6 tablespoons (3 ounces) unsalted butter, cut into 6 pieces and softened
Assembly
Pre-baked tart shell
Frangipane
Cooked apple slices
1 tablespoon granulated sugar
1-1/2 teaspoons ground cinnamon
Confectioners' sugar (optional)
Directions:
Pâte Sucrée
Combine egg, egg yolk and vanilla in a small bowl, whisk to combine, set aside.
Place flour, sugar and salt in the bowl of a food processor, pulse until combined and aerated, about five 1-sec pulses. Add frozen butter and pulse until butter is the size of peas. Add egg mixture until combined. Test the dough by squeezing with your fingers, if it holds, it's done. (If you let dough come together into a ball, you have over worked the dough).
Divided dough onto two large piece of plastic wrap. Gather each dough into a 6-inch disc by pulling up sides of plastic wrap and press lightly with your knuckles. Wrap dough with the plastic wrap, and refrigerate until cold but malleable, about 45 minutes. Note: you'll only use one of the two discs, refrigerate 2nd disc (up to 2 days) or freeze (up to 6 months).
Roll dough on lightly floured surface into a 12-inch circle, transfer dough to tart pan by rolling dough loosely over rolling pin and unrolling over 9-inch tart pan with removable bottom. Working around circumference of pan, ease dough into pan corners by gently lifting dough with one hand while pressing dough into corners with other hand. Press dough into fluted sides of pan, patching breaks or cracks if necessary. (If some edges are too thin, reinforce sides by folding excess dough back on itself.) Run rolling pin over top of tart pan to remove excess dough. Set dough-lined tart pan on baking sheet or large plate and freeze 30 minutes. (Frozen dough-lined tart pan can be wrapped tightly in plastic wrap and frozen up to 1 month.)
Adjust the oven rack to middle position and heat oven to 375℉. Remove tart shell from freezer, set dough-lined tart pan on baking sheet; lightly spray one side of 18-inch square heavy-duty extra-wide foil with nonstick cooking spray. Press foil, greased-side down, inside frozen tart shell, folding excess foil over edge of tart pan; fill with metal or ceramic pie weights. Bake until dry, pale gold, and edges have just begun to color, about 20 minutes, rotating halfway through baking. Remove from oven and carefully remove foil and weights by gathering edges of foil and pulling up and out. Set baking sheet with tart shell on wire rack and cool to room temperature, about 30 minutes.
Cinnamon Apple Topping
Combine apples, lemon juice in a large bowl and add enough water to cover the apples. Place a plate on top to help submerge the apples. Microwave on high until apple slices softens, pliable and still holds their shape, about 5-6
minutes.
Drain apples in a colander and set aside to rid of excess water.
Frangipane (Almond Filling)
Pulse almonds, sugar, and salt in food processor until finely ground, about 25 two-second pulses; process until as finely ground as possible, about 10 seconds longer. Add egg and egg white, almond and vanilla extracts; process until combined, about 10 seconds. Add butter and process until no lumps remain, about 10 seconds. Scrape bottom and sides of bowl with rubber spatula and process to combine thoroughly, about 10 seconds longer.
Assembly
Adjust the oven rack to middle position and heat oven to 350℉. Spread frangipane in prepared tart shell and arrange apple slices in a decorative pattern, Combine sugar and cinnamon in a small bowl, sprinkle liberally over apple slices.
Bake tart on baking sheet until crust is deep golden brown and almond filling is puffed, browned, and firm to the touch, about 45 minutes, rotating baking sheet halfway through baking time. Cool tart on baking sheet on wire rack to room temperature, about 1 hour.
Remove outer metal ring of tart pan, slide thin metal spatula between bottom of crust and tart pan bottom to release, then slip tart onto cake stand or serving platter; dust top with confectioners' sugar (if use), cut into wedges and serve.