the gift of gold – mango cupcakes
I recently read in University of California study that Asian Americans consume much more fruit than other groups. This reminded me that after Chinese meals, we often enjoy seasonal fruits as the finish in lieu of desserts. Most of the fruits in the local Hong Kong markets are imported from China, with others coming from other Asian countries, and even as far as Australia and America, so the varieties are endless.
During Chinese New Year and other festive occasions, the custom is to send baskets of oranges, clementines, tangerines and even mangos as gifts. This bounty resembles offerings of gold and thus carries auspicious intent and wishes of prosperity. In return, the recipient will send back one or two pieces of fruit along with a red envelope (with money inside) as a sign of gratitude.
These Mango Cupcakes are my offering to you during the celebration for the Year of the Snake. Each one brims with the golden fruit from the cake to the creamy buttercream. The center of tangy mango curd wakes up your senses and lets you appreciate the simplicity of a bake good that uses a single ingredient for it's flavor profile.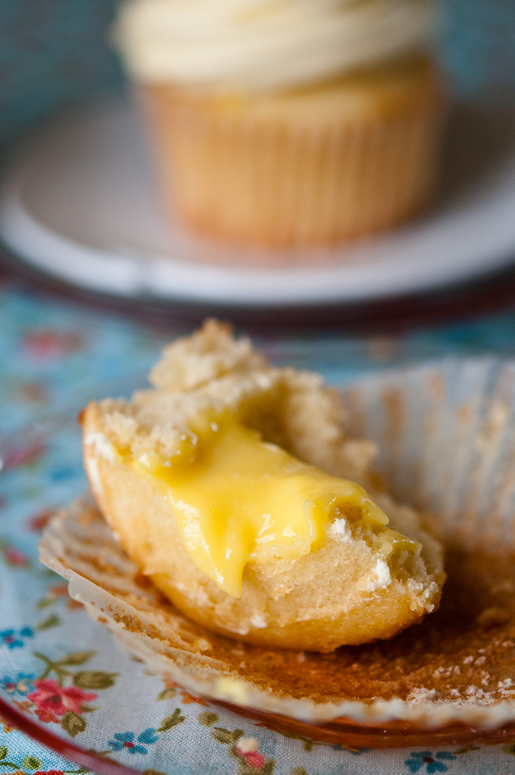 Mango Cupcakes
Ingredients:
Mango Pureé
Note: you will use portion of this recipe for the cupcakes
24 ounces frozen mango
1/4 cup (1-3/4 ounces) granulated sugar
Mango Curd
3/4 cup (12 ounces) mango pureé, from recipe above
1/4 cup sugar
3 tablespoons lime or lemon juice. freshly squeezed
1/8 teaspoon fine sea salt
4 large egg yolks
4 tablespoons (1/2 stick) unsalted butter, cut into small pieces
Mango Cupcakes
1/4 cup mango pureé, from recipe above
2 large egg white, room temperature
1 large egg, room temperature
1/4 cup unsweetened coconut milk
1 tablespoon coconut oil
1 teaspoon pure vanilla extract
1/4 teaspoon pure almond extract
1 cup (4 ounces) cake flour
1 tablespoon all-purpose flour
3/4 cup (5-1/4 ounces) granulated sugar
2 teaspoons baking powder
1/2 teaspoon fine sea salt
6 tablespoons (3 ounces) unsalted butter, cut into small pieces and softened
Mango Buttercream
1-1/4 cups (8-3/4 ounces) granulated sugar
5 large egg whites
1/8 teaspoons fine sea salt
28 tablespoons (3-1/2 sticks or 14 ounces) unsalted butter, cut into small pieces
2 teaspoons pure vanilla extract
1 cup mango curd, from recipe above
Directions:
Mango Pureé
1. Place mango and sugar in a blender, pureed on high until smooth and fully combined. Strain mixture through a sieve into a large bowl. Set aside.
Mango Curd
1. Place mango puree, sugar, lime juice, salt and yolks in a saucepan. Cook over medium-high heat,  whisk constantly, until thickened and thermometer registers 170°F., about 8-10 minutes.
2. Remove saucepan from heat and whisk in butter 1 piece at a time until fully incorporated. Strain mixture through a sieve into a container; place a piece of plastic wrap directly on top of mango curd. Cover and refrigerate for at least 4 hours or overnight.
Mango Cupcakes
1. In a 2-cup measuring cup, whisk together mango puree, egg whites, egg, coconut milk, coconut oil and extracts. Set aside.
2. Adjust oven rack to middle position and heat oven to 350℉. Grease and flour two silicon muffin pans or regular muffin pans, set aside.
3. In the bowl of a stand mixer fitted with paddle attachment, add both flour, sugar, baking powder, and salt; mix on low speed until combined. Add butter, 1 piece at a time, and mix until only pea-size pieces remain, about 2 minutes. Add half of mango mixture, increase speed to medium-high, and beat until light and fluffy, about 1 minute. Reduce speed to medium-low, add remaining milk mixture, and beat until incorporated, about 30 seconds. Give batter final stir by hand.
4. Place about 1/4 cup of batter into each cup of prepared pans and bake until toothpick inserted in center comes out clean, 18 to 20 minutes, rotating pans halfway through baking. Cool cakes in pans on wire rack for 10 minutes. Remove cakes from pans and cool on wire rack completely, about 30 minutes. (Cooled cakes can be stored in air tight container at room temperature for up to 2 days.)
Mango Buttercream
1. Place sugar, egg whites and salt in the bowl of a stand mixer. Set bowl over a pan of simmering water and whisk until sugar has completely dissolved and mixture registered around 160℉, about 3 minutes.
2. Transfer bowl to the mixer. with a whisk attachment, beat on high speed until mixture has cooled completely and formed stiff and glossy peaks, about 8-10 minutes.
3. Reduce speed to medium and add butter, one piece at a time, and beat until incorporated after each addition. (don't worry if buttercream appears curdled after all the butter has been added)
4. Switch to the paddle attachment, add vanilla, and beat on medium speed just until combined. Add mango curd in 1/4 cup increments, beat until fully incorporated. Place buttercream in a piping bag fitted with your choice of decorative tip. Set aside.
Recipe Notes: Buttercream can be stored in airtight container, and store in the refrigerator, up to 3 days. Before using, bring buttercream to room temperature, and beat on the lowest speed with the paddle attachment until smooth, about 5 minutes.
Assembly
1. Using a 1-inch cookie cutter or a small paring knife, Cut or carve a cavity from the top, going 3/4 way down. Trim the removed portion of the cake to about 3/4-inch thick.  scoop out additional cake; take care not to puncture the sides. Repeat with the rest of the cakes.
2. Using a spoon, fill the cavity of cake with mango curd and cover with the reserved corresponding cake tops. Pipe buttercream on top of each cake. Serve.