bewitched — brandy apple cake w maple walnut meringue frosting
As far as holiday birthdays are concern, Thanksgiving probably ranks in the middle of that list. Most people are either busy getting ready for Thanksgiving or simply take the week off for vacation. So if you are planning a big birthday party, you need to tell people far in advance. Well, good thing M is a low key kinda guy who doesn't like big B-day parties.
M was born on Thanksgiving Day many moons ago, and as long as I've known him, his birthday only fell on Thanksgiving once. Sometime we celebrate it quietly, just the way he likes it. A few years ago, we combined it with a vacation. Most of the time, it's simply dinners and presents. I love celebrating other people's birthdays, especially M's.
As the date approached this year, I asked M what kind of birthday cake he would like to have. All I got was a one-word answer: "apple." Now, I was not surprised by this choice, but M's idea for an ideal apple cake isn't that simple and obvious. My immediate thought was to use caramelized apples of some sort, perhaps in tarte tatin, my Toffee Apple Cake, or Spiced Apple Cake. These are all fine choices, but I wanted to add more of a birthday dimension to it.
If I know my M, he would love a cake that taste like apple sauce, an all time comfort flavor and texture for this Pennsylvania boy. He adores the simplicity and healthy aspect of the sauce, along with a mix of spices to remind him of this childhood pleasure. As I have mentioned, because of Thanksgiving preparation, I simply didn't have time to peel, cut and stir apples for hours. So I employed dried apples to speed up the process.

Thin layers of old-fashioned tender yellow cake alternate with brandy apple puree. This is absolutely sufficient for what he asked for, but where's the fun of a birthday surprise? I encased the cake with fluffy clouds of maple walnut meringue, so he might suspect citrus or chocolate lived inside—not an apple surprise.
As he cut into the cake, he discovered multi-layers of brandy apple puree. When he separately sampled the sweet meringue, his nose wiggled, like Samantha on Bewitched, as if he wanted to unmask the secret of nutty taste. M said the intriguing balance of the sweet meringue with the slightly tart brandy apple puree was a perfect combination of old flavors with a new twist. Birthday Surprise accomplished.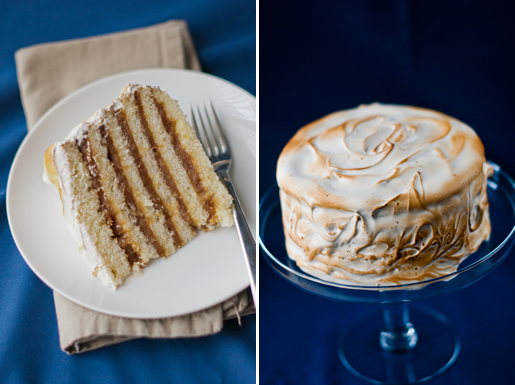 Brandy Apple Cake w Maple Walnut Meringue Frosting
Ingredients:
Brandy Apple Filling
9 ounces dried apples
4 cups apple cider or water
1/4 cup (2 ounces) packed light brown sugar
1/2 teaspoon ground cinnamon
1/8 teaspoon ground cloves
1/8 teaspoon ground allspice
1/4 teaspoon fine sea salt
2 tablespoons brandy
Yellow Cake
4 large eggs, room temperature
1/2 cup whole milk, room temperature
2 teaspoons pure vanilla extract
1-3/4 cups ( 7 ounces) cake flour
1-1/2 cups ( 7-1/2 ounces) granulated sugar
2 teaspoons baking powder
3/4 teaspoon fine sea salt
16 tablespoons (8 ounces/2 sticks) unsalted butter, softened and cut into 16 pieces
Maple Walnut Meringue Frosting
2 large egg whites
1-1/4 cups (10 ounces) packed brown sugar
1/4 cup maple syrup
3 tablespoons Nocella, walnut liquor
1/8 teaspoon cream of tartar
1/4 teaspoon fine sea salt
1/4 cup chopped walnuts, toasted (optional garnish)
Directions:
Brandy Apple Filling
1. Place apples and cider in a medium saucepan, add water if necessary to cover the apples. Cover and bring it to a boil. Reduce heat and simmer until apples are completely softened and most of the liquid is absorbed but not dry, about 10-15 minutes. Stir occasionally to avoid sticking.
2. Add sugar, cinnamon, cloves, allspice, salt and brandy to softened apples. Stir to combine and cook until sugar has dissolved and mixture is not wet, about 3-4 minutes.
3. Remove from heat and  cool until just warm, about 15 minutes. Puree apples in food processor until smooth or slightly chunky if you like.. Transfer to bowl and let cool completely. (Filling can be refrigerated for up to 2 days.)
Yellow Cake
1. Adjust oven rack to middle position and heat oven to 350 degrees. Spray bottom of two 8-by-1-1/2-inch cake pans with cooking spray and cover pan bottoms with rounds of parchment paper. Grease parchment rounds and side of cake pans, dust with flour, and tap out excess.
2. Beat eggs, milk, and vanilla with fork in small bowl; set aside. Combine flour, sugar, baking powder, and salt in bowl of standing mixer fitted with paddle attachment; mix on lowest speed to blend, about 15 seconds. With mixer running, add butter one piece at a time; mix until butter and flour begin to clump together and look sandy and pebbly, with pieces about the size of peas, 30 to 40 seconds after all butter is added.
3. Add 2/3 of egg mixture and mix at lowest speed until incorporated, 5 to 10 seconds. Increase speed to medium-high and beat until light and fluffy, about 1 minute. Stop mixer and thoroughly scrape sides and bottom of bowl. With mixer on medium-high speed, add remaining egg mixture in slow steady stream. Beat until thoroughly combined, batter will look slightly curdled, about 20-30 seconds longer.
4. Spread 2/3 cup of batter evenly in each pan, smooth with off-set spatula, and bake until edges are golden brown and cake springs back when touched, 10 to 14 minutes. Cool on rack 5 minutes. Run a knife around pan perimeter to loosen cake, then invert onto lightly greased rack to finish cooling. Clean cake pans and repeat process 2 more times for a total of 6 layer.
Maple Walnut Meringue Frosting
1. Add egg whites, brown sugar, maple syrup, water, cream of tartar and salt to the bowl of a stand mixer. Place it over 1-inch simmering water in a medium sauce pan. Lightly whisk until combine and egg white mixture reaches 140℉/60℃. Remove from heat and attach bowl to the stand mixer with whisk attachment.
2. On high speed, whisk until mixture has cooled completely and formed stiff and glossy peaks, about 6-8 minutes. Frost cake immediately and use a torch to brown the edges and sprinkle with toasted walnut if desire. Serve or keep at room temperature for up to 2 days.
Assembly
1. Place 1 cooled cake layer on serving platter. Spread about 3/4 cup apple filling over cake. Top with second cake layer and additional 3/4 cup filling. Repeat, alternating layers of cake and frosting and finishing with cake layer.
recipe adapted from Cook's Illustrated