capturing summer — bourbon peach torte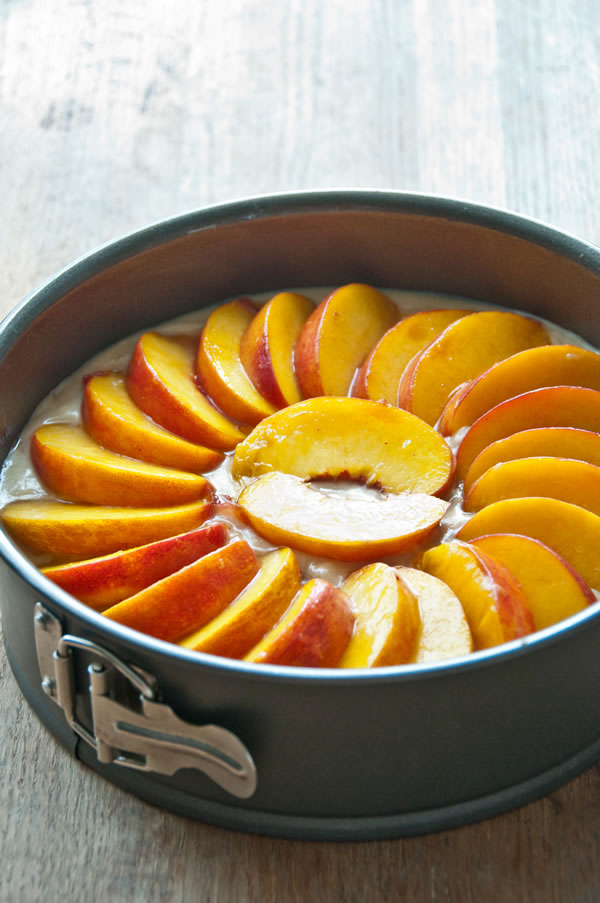 I first got the latest #baketogether theme, Summer Fruit Cake, in the middle of July and thought it would be fun, easy and the variations would be endless. HA—as if I ever choose the easy route.
So far, I've tried at least three or four recipes. There's a cake with bourbon cherries. There's one packed with blueberries, but it was too similar to the Blueberry Almond Coffeecake. I moved on to bananas; although the result was good, I didn't think it was fruity enough for this challenge. Next, I bought plums but got side tracked and poached them with wine and ate them with ice cream, instead.
That was all in the course of last three weeks. I was happy to give friends slices of these cakes/experiments but I still need the cake for submission. I wanted to bake the cake with peaches, but I initially resisted because I baked a Peach 'n Blueberry Pie not so long ago. Feeling a bit silly for not listening to my first instinct, I added peaches to my farmer's market shopping list.
I then started to think of how I could stud this cake with as many peaches as possible—not just adorn them on top,. Although this recipe was adapted from the ever trustworthy America's Test Kitchen, I still had to go through a few trial and error experiments.
I'm happy to report that my Bourbon Peach Torte is worth the time and frustration. Roasting the peaches intensified the flavor and got rid of excess liquid. This is that step that requires a bit of discipline and art. The best way to judge if the peaches are done roasting is if they've developed a syrupy glaze. Make sure you drain the peach slices that go on top thoroughly, or the cake will be soggy in the center and over bake on the edges.
We enjoyed the cake by itself to get the maximum impact of the peaches, but I'm sure a dollop of sweetened whipped cream or a generous scoop of vanilla ice cream would be perfect pairing. Nothing like the scent and taste of peaches to capture the essence of summer.
Bourbon Peach Cake
Ingredients:
2-1/2 pounds peaches , pitted and cut into 1/2 inch-thick wedges
6 tablespoons plus 1/3 cup granulated sugar
2 tablespoons bourbon
2 teaspoons lemon juice
1 cup (5 ounces) unbleached all-purpose flour
1-1/4 teaspoons baking powder
3/4 teaspoon fine sea salt
1/2 cup packed (3-1/2 ounces) light brown sugar
2 large eggs, room temperature
8 tablespoons (4 ounces) unsalted butter , melted and cooled
1/4 cup creme fraiche
1-1/2 teaspoons pure vanilla extract
1/2 teaspoon plus 1/4 teaspoon almond extract
1/3 cup panko bread crumbs , finely crushed
Directions:
1. Adjust oven rack to middle position and heat oven to 425 ℉. Line rimmed baking sheet with parchment and spray with vegetable oil spray. Gently toss 24 peach wedges with 1 teaspoon lemon juice, and 1 tablespoon granulated sugar in bowl; set aside.
2. Cut remaining peach wedges crosswise into thirds. Gently toss chunks with bourbon, remaining 1 teaspoon lemon juice, and 2 tablespoons granulated sugar in bowl. Spread peach chunks in single layer on prepared sheet and bake until exuded juices begin to thicken and caramelize at edges of sheet, 20 to 30 minutes. Transfer sheet to wire rack and let peaches cool to room temperature, about 30 minutes. Reduce oven temperature to 350 degrees.
3. Spray 9-inch springform pan with vegetable oil spray. Whisk flour, baking powder, and salt together in bowl. Whisk brown sugar, 1/3 cup granulated sugar, and eggs together in second bowl until thick, about 1 minute. Slowly whisk in butter until combined. Add sour cream, vanilla, and 1/2 teaspoon almond extract; whisk until combined. Add flour mixture and whisk until just combined.
4. Transfer half of batter to prepared pan; using offset spatula, spread batter evenly to pan edges and smooth surface. Sprinkle crushed bread crumbs evenly over cooled peach chunks and gently toss to coat. Arrange peach chunks on batter in even layer. Gently spread remaining batter over peach chunks and smooth top. Arrange reserved peach wedges, slightly overlapped, in ring over surface of cake. Stir together remaining 3 tablespoons granulated sugar and remaining 1/4 teaspoon almond extract in small bowl until sugar is moistened. Sprinkle sugar mixture evenly over top of cake.
5. Bake until center of cake is set and toothpick inserted in center comes out clean, 50 to 65 minutes. Transfer pan to wire rack; cool 5 minutes. Run paring knife around sides of cake to loosen. Loosen springform and remove, let cool completely, 2 to 3 hours. Cut into wedges and serve.
Recipe adapted from America's Test Kitchen