chocoHOlic and my virgin giveaway
I can't remember when I first fell in love with chocolate. It could be the Kit Kat bar or the Maltesers I indulged in as a kid. It's possible the Lindt chocolate bar seduced me. Regardless of the origins, I adore chocolate and I am eternally under its spell (although I've moved beyond commercial candy bars). Milk chocolate suited my virgin tongue, but my desire has gone to the dark side—I prefer bittersweet chocolate now. If offered a different choice of a good-quality chocolate, I'll swoon like a boy's first crush.
With all of the producers on the market, tasting chocolate is an on-going research project. From large companies to individual artisan chocolatiers, they offer a wide range of products, coco bean sources, and quality. So it comes as no surprise that I jumped at the opportunity when my fellow food blogger Catty of The Catty Life contacted me to review chocolates of a British company that she loves.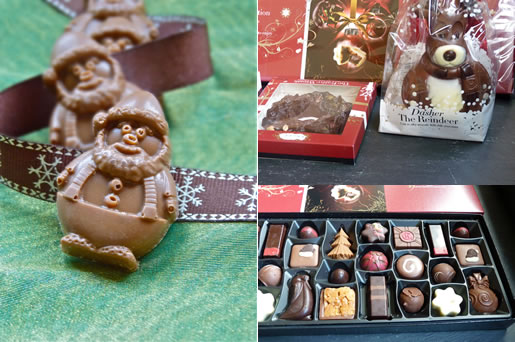 Hotel Chocolat began as an online company 15 years ago. In 2004, the company expanded into retail stores all over the world including 2 locations in Boston. The company's mission is to have authentic and wholesome ingredients, which led to the purchase of its own plantation, Rabot Estate in St. Lucia. Hotel Chocolat asked me to review their new Christmas Collection to be launched in November. Since I am not familiar with their products, I asked them to include other chocolates of my choosing in addition to the new collection. I needed to taste the base products without the embellishments to gain an understanding of the company's sense of quality.
I started with Serious Dark Fix™. It is exactly what the name says, the chocolate is bold and earthy; it has a deep rich flavor that comes through in every bite. The supporting flavors are as pure and intense as the chocolate—and they perfectly match each other without taking diminishing the leading role of the chocolate. The Giant Chocolate Slabs are unapologetically bold and playful, a greatly improved version of childhood bars boasting amplified flavor and texture.
The surprise came in the Purist Collection. Though one item is labeled as 50% milk chocolate with intense praline, for example, has a warm fullness of a darker chocolate yet the creaminess of milk chocolate.
With the confidence from having sampled other products, I delved into The Christmas Collection,  a catalog of goodies including several wrapped varieties of treats. There are dark truffles trees, caramel filled Santas and reindeers, plus Muled Wine Cherries and Chocolate Wreaths. You're likely to find a favorite for yourself or a holiday gift or stocking stuffer for a classic kind of chocophile. As much fun as I had breaking up Dasher and biting off Santa's head, I found a few from the selection too sweet and less distinctive for my dark palate. The quality is undeniable, however.
I was inspired by this chocolate tasting assignment to dig into my recipe files and stir up a simple elegant Chocolate Mousse. The mousse starts with the best chocolate, then you can adjust this basic recipe to add your favorite second flavor. Orange, praline, berries, chili, infused teas, all of which will be terrific if you start with a great quality bar of chocolate.
Giveaway!
I really didn't need to sample everything (but I did, along with M's eager volunteer efforts). Here's your chance to enjoy Hotel Chocolat. The company is giving away the Purist Dark Collection, which retails at US $100, to one lucky winner. All you have to do is leave a comment, by November 12, 9pm EST, and tell me what your favorite chocolate dessert is. The winner will be randomly selected. A bit of chocolate decadence is a good thing.
Extra!
To increase your chances of a chocolate filled holiday you can do all or one of the following:
1. Go to Hungry Rabbit's Facebook fan page and 'LIKE' me. Declare your love.
2. Follow @hungryrabbitnyc on Twitter if you haven't already.
3. RT my tweets about this giveaway.

Dark Chocolate Mousse
Ingredients:
8 ounces bittersweet chocolate (60% cocoa or higher), finely chopped
2 tablespoons (1/2 ounces) Dutch-processed cocoa
1 teaspoon instant espresso powder
6 tablespoons water
1-1/2 tablespoon brandy
2 large eggs, separated
1 tablespoon granulated sugar
1/4 teaspoon fine sea salt
1/4 teaspoon pure vanilla extract
1-1/4 cups heavy cream, chilled
Directions:
1. Melt chocolate, cocoa powder, espresso powder, water, and brandy in medium heatproof bowl set over saucepan with simmering water, stirring frequently until smooth. Remove from heat.
2. Whisk egg yolks, 1-1/2 teaspoons sugar, salt and vanilla in medium bowl until mixture lightens in color and thickens slightly, about 45 seconds. Pour melted chocolate into egg mixture and whisk until combined. Cool slightly to room temperature, 3 to 5 minutes.
3. Add egg whites to bowl of standing mixer fitted with whisk attachment, beat at medium-low speed until frothy, 1 to 2 minutes. Add remaining 1 1/2 teaspoons sugar, increase mixer speed to medium-high, and beat until soft peaks form, about 1-2 minute. Detach whisk and bowl from mixer and whisk last few strokes by hand, making sure to scrape any unbeaten whites from bottom of bowl. Using whisk, stir about one-quarter of beaten egg whites into chocolate mixture to lighten it; gently fold in remaining egg whites with rubber spatula until a few white streaks remain.
4. In now-empty bowl, whip heavy cream at medium speed until it begins to thicken, about 30 seconds. Increase speed to high and whip until soft peaks form when whisk is lifted, about 15 seconds more. Using rubber spatula, fold whipped cream into mousse until no white streaks remain. Press plastic wrap onto surface of mousse and refrigerate to chill, about 1 hour.
5. Spoon chocolate mousse into 6 individual glasses. Serve immediately on it's own, additional dollop od whipped cream or a sprinkle of cocoa nibs.
recipe adapted from Cook's Illustrated