to fu or not tofu – Five-Spice Tofu Cakes
I follow people on Twitter to enrich my knowledge and love for food. In my search, I discovered the "secret society" of the 4 Velveteers, which promotes culinary challenges with a twist. The premiere one asked participants to create the reddest possible Red Velvet Cake using only natural food coloring. The next one was to assemble a verrine (layered appetizer or desert in a small glass) using list of ingredients where each of the 4 Velveteers independently selected one item. The next few challenges appeared to be rather straight forward, so I asked if I could participate. The original 4 Velveteers (Alessio/@RecipeTaster, Pan/@theCookingNinja, Aparna/@aprna and Asha/@ashafsk) agreed to let me be a groupie.
I was eager to attack a new challenge until I found out that I had to make tofu . . . from scratch. I've purchased and cooked tofu many times but never started with a bag of dried soy beans.  After much research, I decided to solicit some help from Rachel/@fujimama, who is a fantastic tweeter I follow. Her recipe on tofu making was easy, and she provided a few alternative solutions for coagulants. Once I started the process, the aroma of warm fresh soy milk brought me back to the first time I had real soy milk, both sweet and savory, at age 11 while visiting Taiwan. Fresh soy milk was a staple of the Taiwanese breakfast—and nothing like the bottled soy milk that I drank in Hong Kong. The aroma was fragrant, the texture was silky smooth and the mouth-feel was complete comfort and satisfaction.
Another favorite tofu dish of mine is a simple Fried Tofu served with Five-Spice Salt for dipping. It has a crispy exterior to contrast with a velvety interior. The touch of the Five-Spice Salt allows it to play like a string quartet—simple understated elegance. As much as I want to fry up a few batches of these morsels, I try not to make fried food part of a regular diet routine. So instead of going for the texture, I focused on the flavor profile. My recipe for Five-Spice Tofu Cakes has a balance of vegetables and spices to boost the understated taste of tofu. I love the addition of nutritional yeast, which lends nuttiness to the pillows and it's so good for you.
These lightly sautéed pillows are healthier and have enough complexity to make up for the lack of crispy exterior. No matter if you make your tofu from scratch or buy your favorite brand from your market, these patties will surely satisfy anyone who thinks tofu is nothing more than white blocks of blandness.
Five-Spice Tofu Cakes
Ingredients:
Five-Spice Tofu Cakes
1-1/2 to 2 pound firm tofu, homemade or store bought
1 small yellow onion, fine diced
2 medium carrot, fine diced
3  cups scallions, fine chopped
1/2 teaaspoon Five-Spice Salt (available at most Asian markets)
1 tablespoon garlic, minced
1/4 teaspoon granulated sugar
3 tablespoons cornstarch
1/2 teaspoon white pepper
1/4 teaspoon Five-Spice Powder (optional)
1/4 cup nutritional yeast (available at Whole Foods and health food stores)
3 tablespoons fresh lemon juice
2 tablespoons vegetable oil
Five Spice Lemon Dipping Sauce
2 tablespoons fresh lemon juice
1/4 teaspoon Five-Spice Salt
1/2 teaspoon superfine sugar
2 tablespoon water or vegetable stock
Directions:
Five-Spice Tofu Cakes
1. Place a plate on top of store bought tofu and put weight on top of it (I used can goods). Let's stand at room temperature for 30-45 minutes. This will press out some of the excess liquid.
2. Heat a medium sauté pan over low heat for 4 minutes, add 1 tablespoon of oil to pan for 1 minute. Add onions, carrot and 2 cups of scallions to the pan an d cook until vegetables have soften but not brown, 3-5 minutes.
3. Add Five-Spice Salt, garlic, sugar and white pepper to the pan and stir  until fragrant, about 1 minute. Off heat, transfer mixture to the food processor and let cool completely, about 30 minutes.
4. Drained tofu and pat dry. Break up tofu into smaller pieces and add to cooled vegetable mixture in food processor. Add Five-Spice powder (if use), yeast, lemon juice and oil. Pulse tofu mixture until fully incorporated. The mixture doesn't not have to be totally smooth, a few small chunks of tofu is fine. Place tofu mixture into a bowl, stir in remaining cup of scallions, cover with plastic wrap and refrigerate for 45 minutes.
5. Remove mixture from the refrigerator and form cakes with a 1/3-measuring cup. Place them on a parchement lined baking sheet. (Larger cakes might fall apart due to it's delicate nature.) Cooked immediately or cover loosely with plastic wrap and place the sheet of cakes in the refrigerator.
6.. Heat a 12 inch non-stick skillet with 1 tablespoon of oil on medium heat for 3 minutes. (You should never heat up a non-stick skillet  'naked'.) Add another tablespoon of oil in the skillet for 30 seconds. Gently place 6 cakes into the skillet, do not overcrowd the pan. Sauté for 3 minute until patties are brown on the bottom, gently flip them with a spatula (fish spatula works beautifully). Cook for another 3 minutes until slightly brown.
7. Remove tofu cakes to a warm plate and tent with foil to keep warm. Wipe skillet with paper towel, add 1 tablespoon of oil and repeat Step 6 until all patties are cooked. Serve immediately with Five-Spice Lemon Dipping Sauce.
Five Spice Lemon Dipping Sauce
1. Combined all ingredient and stir until sugar dissolved.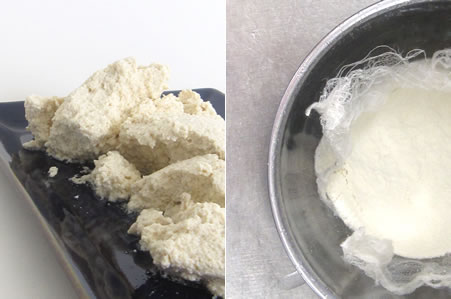 NOTES:
1. You can make this recipe up to Step 4 and leave it in refrigerator for up to 24 hours. If your mixture looks a bit watery from 'weeping' tofu, stir in cornstarch 1 teaspoon at a time to help firm up the mixture.
2. If by chance your tofu cakes fall apart, just treat them as a stir-fry/scramble. It will still taste good.