reboot #1— roll roll roll the dough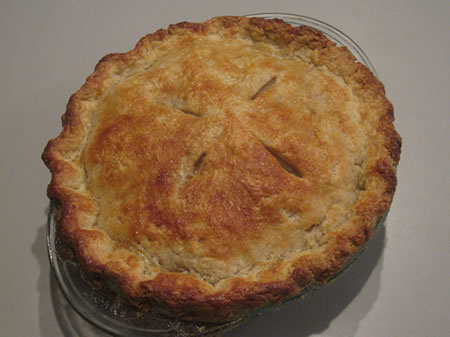 As I posted my New Year resolution to reboot my pastry-dough skills, I thought, why wait? So, I got a jump on my resolution. 'Twas the night before Christmas and I made a long anticipated attempt at the Foolproof Pie Dough from America's Test Kitchen (ATK). Since M loves pies and especially apples, I thought I would celebrate our quiet holiday at our house with an Apple Cranberry Pie . . . along with Golden Fruitcakes, Five Spice Peanut Brittle, and Walnut Cookies with Chocolate Walnut Filling.
I wanted to make a big leap with my first jump into the New Year's resolution, so I chose the ATK's Foolproof recipe. I have seen the episode about this pastry dough at least three times–each one almost driving me running into the kitchen. Somehow, procrastination, timing, or a temporary spell of health consciousness stopped me short of pulling out the butter and flour. The holidays, however are a time to indulge—a short period of dessert transgressions for which New Year's resolutions—with some luck—help shrink your caloric footprint.
I attacked the recipe a few days ahead of consumption, so I would have one less item to fuss about on Christmas Eve. The Foolproof recipe resolves three essential pastry dough dilemmas:
Butter has the flavor but shortening is better for baking. The recipe calls for both butter and shortening. Butter, provides the flavor, but with its high 20% water content, but by itself it would lead to a leathery crust from the over developed gluten. Shortening, on the other hand, has no water content—and zero flavor. The beauty of shortening is that it melts at a higher temperature than butter, and yields a nice tender texture.
Fat and water don't mix. The Foolproof mixing method is a scientifically logical solution to combining fat and water. The conventional method wants pockets of fat in the dough to yield flakiness. Not so fast says ATK, it's also the uncoated flour that mixes with water and forms gluten that yields a flaky crust. The solution is to mix fat with some of the flour till it's evenly coated. Then the remaining flour is added so there's a constant amount of uncoated flour to mix with the water.
Rolling the dough with water makes it more workable but tougher. Water makes the dough easy to roll out but toughens the crust. If you add less water, you'll end up with a short and sandy crust, which is not workable with a rolling pin. ATK's answer is a liquid that will evaporate faster than water–alcohol. It is also a scientific fact that gluten cannot form in alcohol, therefore gluten can only be developed in the water portion of the liquid, about 60%,  and not the alcohol part.
In the words of ATK's article, "The resulting dough was smooth as Play-Doh, and I couldn't have made it crack even if I'd wanted to."  With all the research and tests done by the good folks at ATK, my pie dough making experience was easy.
Assembling the pie, however, was another story. I realize now that my challenge was less in the making and rolling of the dough but in the crimping of the finish edges ( which may explain why I prefer free-form crust or a crostata).  It's a challenge for me to make the edges even and beautiful –they're too thick, and the dough feels a bit too soft for the edges to hold their shape. My instinct tells me to chill the pie for a bit before proceeding with crimping the edges. None of the recipes I have encountered suggested this extra step.
For this particular holiday effort, I resigned myself to a first attempt write-off.  After all, we were spending Christmas in the country, so shouldn't the pie be rustic looking? As you can see, the pie looked pretty good even with the thicker edges. Making the perfect edge will be added to this year's resolution.
Although this exercise is about making a great pie crust, this recipe has another treasure bit of insight. ATK included the genius solution of separating the cranberries from the apples–not only does this step makes a nice presentation, but both flavors comes through in harmony.
Apple Cranberry Pie
Ingredients:
Foolproof Pie Dough
Note: for one 9-inch double pie crust
2-1/2 cups (12-1/2 ounces) unbleached all-purpose flour
1 teaspoon fine salt
2 tablespoons granulated sugar
12 tablespoons (6 ounces/1-1/2 sticks) cold unsalted butter , cut into 1/4-inch slices
1/2 cup chilled solid vegetable shortening , cut into 4 pieces
1/4 cup vodka, cold
1/4 cup cold water
Apple Cranberry Filling
Note: Use sweet, crisp apples, such as Golden Delicious, Jonagold, Fuji, or Braeburn. The two fillings can be made ahead, cooled, and stored separately in the refrigerator for up to 2 days.
2 cups fresh or frozen cranberries
1/4 cup orange juice
1 cup granulated sugar (7 ounces) plus 1 tablespoon for top of pie
1/2 teaspoon ground cinnamon
1/2 teaspoon table salt
1/4 cup water
1 tablespoon cornstarch
3 1/2 pounds sweet apples (6 to 7 medium), peeled, cored, and cut into 1/4-inch-thick slices (see note above)
1 egg white , beaten lightly
Directions:
Foolproof Pie Dough
1. Process 1-1/2 cups flour, salt, and sugar in food processor until combined, about 2 one-second pulses. Add butter and shortening and process until homogenous dough just starts to collect in uneven clumps, about 15 seconds (dough will resemble cottage cheese curds and there should be no uncoated flour). Scrape bowl with rubber spatula and redistribute dough evenly around processor blade. Add remaining cup flour and pulse until mixture is evenly distributed around bowl and mass of dough has been broken up, 4 to 6 quick pulses. Empty mixture into medium bowl.
2. Sprinkle vodka and water over mixture. With rubber spatula, use folding motion to mix, pressing down on dough until dough is slightly tacky and sticks together. Divide dough into two even balls and flatten each into 4-inch disk. Wrap each in plastic wrap and refrigerate at least 45 minutes or up to 2 days.
Apple Cranberry Filling
1. Bring cranberries, juice, 1/2 cup sugar, 1/4 teaspoon cinnamon, and 1/4 teaspoon salt to boil in medium saucepan over medium-high heat. Cook, stirring occasionally and pressing berries against side of pot, until berries have completely broken down and juices have thickened to jamlike consistency (wooden spoon scraped across bottom should leave clear trail that doesn't fill in), 10 to 12 minutes. Remove from heat, stir in water, and cool to room temperature, about 30 minutes.
2. Meanwhile, mix 1/2 cup sugar, remaining 1/4 teaspoon cinnamon, remaining 1/4 teaspoon salt, and cornstarch in large microwave-safe bowl; add apples and toss to combine. Microwave on high power, stirring with rubber spatula every 3 minutes, until apples are just starting to turn translucent around edges and liquid is thick and glossy, 10 to 14 minutes. Cool to room temperature, about 30 minutes.
3. While fillings cool, adjust oven rack to lowest position, place rimmed baking sheet on oven rack, and heat oven to 425 degrees. Remove 1 disk of dough from refrigerator and roll out on generously floured (up to 1/4 cup) work surface to 12-inch circle about 1/8 inch thick. Roll dough loosely around rolling pin and unroll into pie plate, leaving at least 1-inch overhang. Ease dough into plate by gently lifting edge of dough with one hand while pressing into plate bottom with other hand. Leave dough that overhangs plate in place; refrigerate until dough is firm, about 30 minutes.
4. Transfer cooled cranberry mixture to dough-lined pie plate and spread into even layer. Place apple mixture on top of cranberries, mounding slightly in center; push down any sharp apple edges.
5. Roll second disk of dough on generously floured work surface (up to 1/4 cup) to 12-inch circle about 1/8 inch thick. Roll dough loosely around rolling pin and unroll over pie, leaving at least 1-inch overhang on each side.
6. Using kitchen shears, cut evenly through both layers of overhanging dough, leaving 1/2-inch overhang. Fold dough under itself so that edge of fold is flush with outer rim of pie plate. Flute edges using thumb and forefinger or press with tines of fork to seal. Brush top and edges of pie with egg white and sprinkle with remaining tablespoon sugar. Using sharp paring knife, cut four 1 1/2-inch slits in top of dough in cross pattern.
7. Place pie on preheated baking sheet and bake until top is light golden brown, 20 to 25 minutes. Reduce oven temperature to 375 degrees, rotate baking sheet, and continue to bake until crust is deep golden brown, 25 to 30 minutes longer. Transfer pie to wire rack to cool at least 2 hours. Cut into wedges and serve.
Recipe from America's Test Kitchen